Black Box Data Logger (acquisition)
Electronics to Record Flow Bench Data and Cam Measurement Data.
Black Box USB for Flow Bench with optional 3rd pressure sensor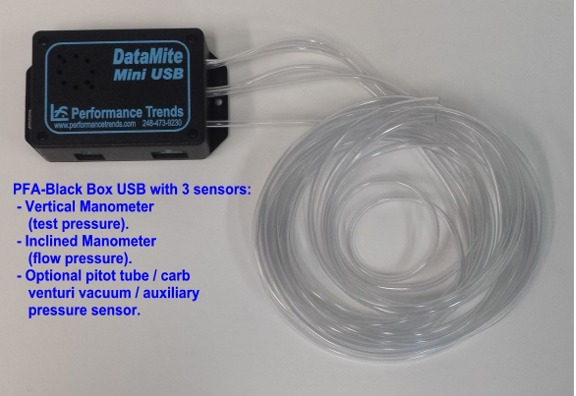 Black Box USB for Flow Bench with optional 3rd pressure sensor, 2 temperature sensors and recording switch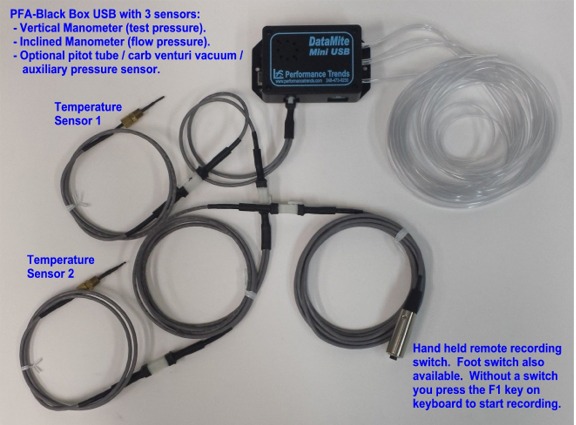 (click image to enlarge)
Black box USB shows with hoses for reading 3 pressures, with two temp sensors (not connected, which plug into the white connector on front of box). Two pressures is typical of a system for reading from an SF300 or SF600 (tm) flow bench. The third pressure would be for pitot tube port velocity measurements. Two temp sensors would be needed for SF 110 (tm) type benches or other benches needing temperature corrections or just for information. The Black Box USB can be set up to read both positive and negative pressures, which can greatly simplify your building of a custom DIY flow bench.
Performance Trends' Black Box USB is the data logger for doing Flow Bench Testing. For Flow Bench Testing, the standard Black Box USB comes with one 1 PSI sensor (28" water) and one 3.6 psi (100" water) sensors. (Other ranges available.) This is enough to do data logging for SuperFlow's (tm) SF 300 and SF 600 benches, or custom benches which operate on the same principle as these benches. You simply "tee" in the pressure lines shown above into your benches manometer lines and then do a quick calibration with our Port Flow Analyzer software (either Basic, Pro or Head Porter versions). Now you are ready to make a huge jump in time savings and data accuracy when you flow your heads.
The more flexible Black Box USB is ideal for custom benches or our EZ flow system which do not have valving to switch the manometer pressures when you switch flow direction.
The Black Box USB can be also be fitted with popular options should you need them:
Air Temperature Sensors (2 max at $65 each). These are required for SF 110 style benches.
3rd pressure sensor ($100) for recording port velocity with a pitot tube or carb vacuums.
Swirl Meter input standard for recording swirl or tumble RPM from Performance Trends' Swirl Meter and Tumble Fixture (going through separate computer USB port).
Hand or Foot Switch input, to allow recording from a switch input rather than a keyboard input.
Weather sensors available for certain applications.
Black Box II for Cam Measurement Testing with Rotary and Linear Encoders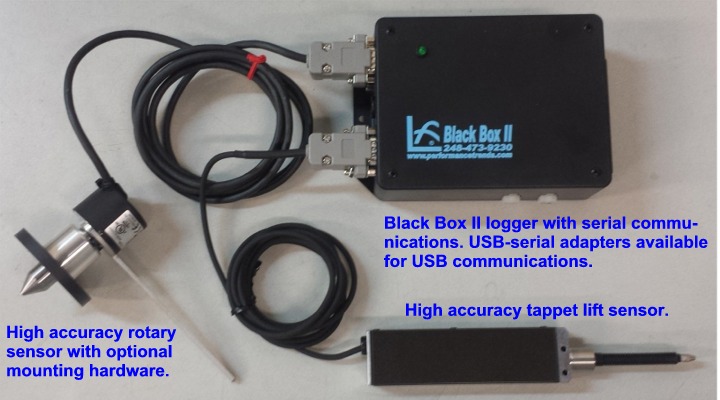 For Cam Testing, the Black Box II comes with inputs for a linear encoder and rotary encoder. For Cam Testing, it is only available in a package with our Cam Analyzer software.
CDRK40 The Cam Dr Retro-Fit Kit is the least expensive package and comes with just the Cam Analyzer software and Black Box II. This package is designed for those who already have a linear and rotary encoder with the proper connectors. This typically engine builders with the old Cam Dr system.
CTS-WOS The Cam Test Stand wo Stand is a mid range package and comes with the Cam Analyzer software and Black Box II, plus our linear and rotary encoders. You would provide the test stand with some method of mounting the proper follower directly over the cam.
CTS The full Cam Test Stand is our complete package and comes with the Cam Analyzer software and Black Box II, our linear and rotary encoders, plus the stand with V blocks and all mounting hardware for the sensors and the cam follower.
What You Need:
For Flow Bench measurements, our Port Flow Analyzer v3.5, either Basic, Pro or Head Porter version.
For Cam Testing, it comes with our CTS, Cam Test Stand and various retro-fit kits.
More Information, Download Demo:
Click here to go to our Demo Downloading page to download a FREE demo of the Port Flow Analyzer program, or Cam Analyzer program.
To Order:
Call 248-473-9230 for information about your particular applications and options you may want or need. We accept Visa, MC, AmExp or Discover card.