Suspension Spring Tester v1.1 for Windows 95/98/Me/NT/XP/2000
Computer Program, Electronics and Sensors to Measure Suspension (coils or sway bars) Spring Rates, Ride Height Force, Compressed Force, etc.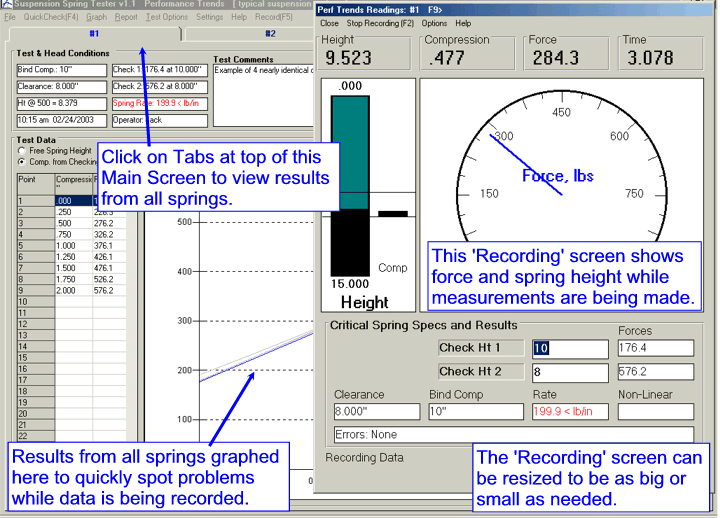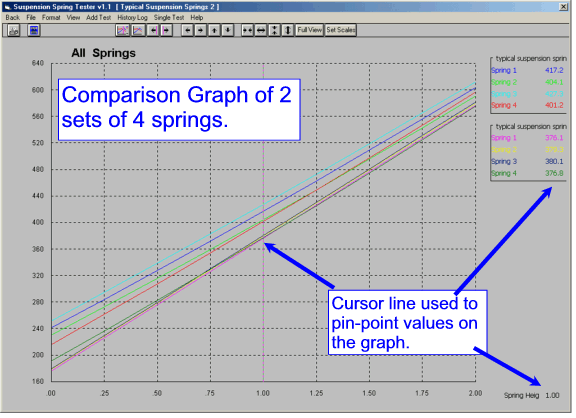 Our Suspension Spring Tester software works with our Black Box data logger and our spring tester. Or you can purchase a kit to instrument your own spring tester. It lets you record, save, analyze, compare, graph, report and print your results, saving you time and providing accurate and professional results. Results include:
| | |
| --- | --- |
| | Spring Rate |
| | Force at Checking Height 1 (for example, static ride height) |
| | Force at Checking Height 2 |
| | Height for a user defined spring force |
| | Free |
| | Linearity |
| | Test Cycle Time, Test Open Rate, Test Closing Rate |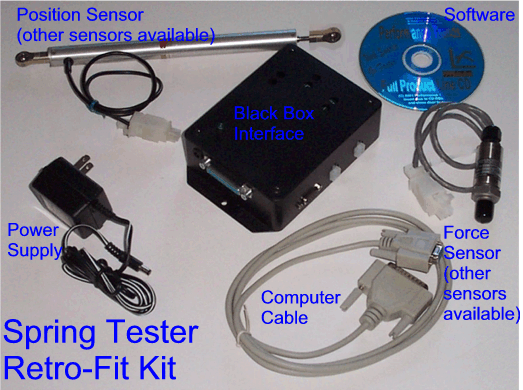 Note: Photo of Performance Trends spring tester coming.
Other features include:
| | |
| --- | --- |
| | Program can screen all results for up to 3 user defined limits, like if Spring Rate falls outside a range of 300 to 350 lbs/inch. |
| | You can search results (like a data base) for certain words in the comments, test date, Customer name, etc. |
| | You can show results for Spring Height (like measured with a ruler) or Spring Compression (measured from Seated Spring Height). |
| | Force sensor ranges up to 10,000 pounds. |
| | Much more. |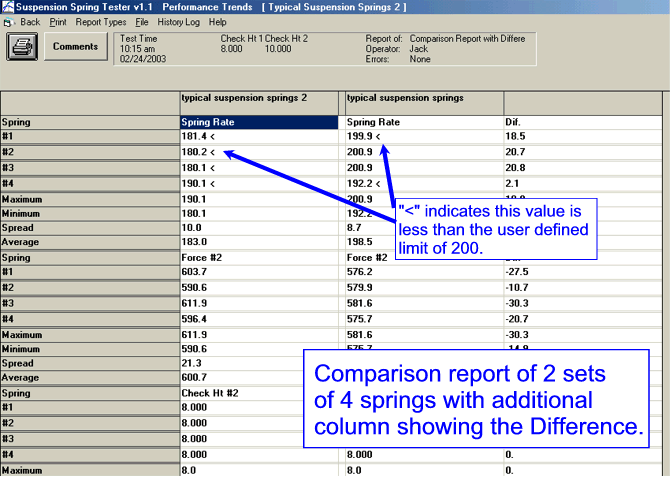 What You Need:
Computer with Windows 95, 98, Me, XP, 2000 or NT.
What You Get:
Program CD with user manual in PDF format on the CD. Example test files preloaded in the Example library for you to start with.

More Information, Download Demo:

to go to our Demo Downloading page to download a FREE Suspension Spring Tester Demo.

for Performance Trends Full Price List and ordering info.
To Order:
Call 248-473-9230. Visa or Mastercard accepted.