Engine Analyzer
Engine Analyzer v3.4 is a Computer Program for Engine Builders and Engineers to Simulate, Predict and Analyze Stock or Race Engine Dynamometer (dyno) Performance.
for Windows 98, Me, XP, 2000, NT, Vista, Windows 7, Windows 8, Windows 10
To see the new features to Engine Analyzer v3.4, (our basic Engine Simulation program) over v3.2

Click herefor the Engine Analyzer Comparison Table comparing all 3 of our Engine Analyzer programs.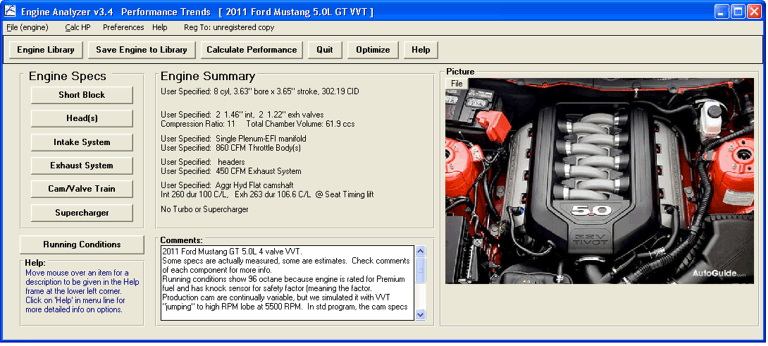 Optimize Screen shown here is trying around 160,000 combinations to come up with Cam Specs to produce the highest Peak HP on this engine, while maintaining at least 9" Idle Vacuum.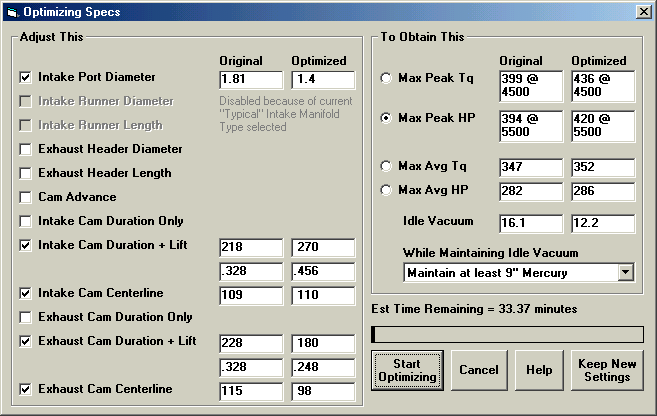 The Engine Analyzer lets you simulate an engine build-up or modification on your personal computer. It let's you play "what if" with cams, Heads, intakes, Superchargers, etc. and see the effect on torque, HP, fuel flow, air flow, valve toss or lifter pump-up, idle vacuum, cranking compression, spark knock, etc. "Its like having a dynamometer right in your computer."
The Engine Analyzer will help you predict and understand how your engine makes power with various combinations of parts. For example, you will see trade-offs between low speed torque and top end HP for different cams, turbo sizes, port or header sizes, etc. You can save time and money by installing the right parts the first time.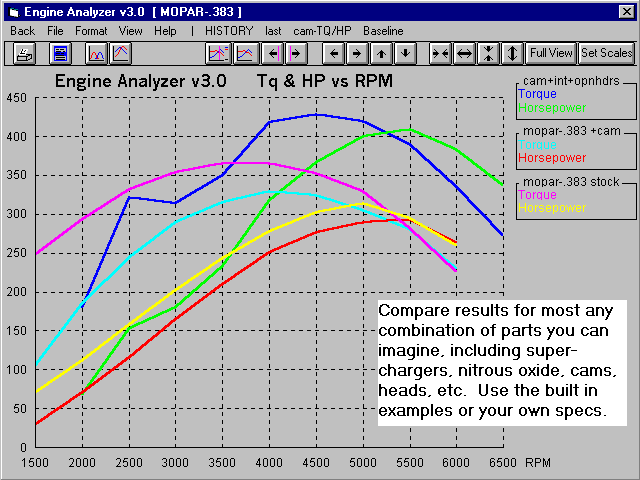 Our popular DOS version has been around since 1988 with 5 major upgrades. During this time we've learned that users keep asking for 3 things: More Ease of Use, More Features and more example parts and engines, all of which we've incorporated into the latest version 3.4.
Features
Mouse driven Windows interface, compatible with Windows 98 through Vista and Windows 7.

Over 90 complete engine examples preloaded for you to pick from.

Thousands of example heads, cams, superchargers, headers, etc. preloaded for you to pick from.

The name of the example component is displayed to remind you what the specs are for (like Dart II heads, Comp Cams , etc.

Beginner User mode hides more complicated options.

"Typical" examples are provided for when there are no Examples to match your component parts.

On screen help by simply clicking on any input spec.

You can save your own example parts and complete engines, to create your own library of parts and engines.

Use cam specs rated at .050" or .040" (1 mm) lift or seat timing (advertised Duration), even .053" used by Harley Davidson.

Advanced Engine File Open and Save commands let you access most any directory or disk drive.

Better graphing features including graphing up to 6 tests, zoom, shift, modify titles or labels, different background colors, line styles, etc.

A log of the last 25 runs is kept to track your modifications. You can select runs from the log to keep longer to recall or graph in the future.

Print most menus.

Loads power curves automatically into the proper Windows versions of Drag Racing (Std or Pro), Circle Track Analyzer, or Fuel Economy Calculator.

New Inputs like Valve Train Type, Lifter Type, new Turbo and Supercharger specs, Rod Len., Collector Len., Carb vs EFI

New outputs like A/F Mixture Quality and Valve Toss (or hydraulic lifter pump-up) and other changes provide improved accuracy.

The Engine Analyzer has always had more detailed inputs than other programs. Now by providing numerous example parts, the average user can more easily run the program, and the advanced user can still access all input specs for detailed analysis.

Optimize feature shown above to automatically best combinations.

Auto-Link feature automatically and quickly sends power curve to a vehicle program like Drag Racing Analyzer, Circle Track Analyzer or Fuel Economy Calculator to determine how an engine mod affects ET or lap times or MPG.

Include a picture graphics file with your engine specs for printouts (see above).
You can import head and cam component specs from programs from other brands of engine software.
Being able to "Optimize" performance by trying several Example Cams.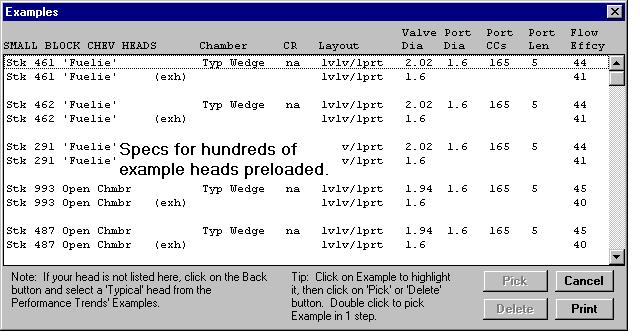 Engine Analyzer Output
| | | | | | |
| --- | --- | --- | --- | --- | --- |
| RPM Data | RPM | Brake Tq | Brake HP | Exh Pres | Int Vacuum |
| Vol Eff % | Actual CFM | Fuel Flow | A/F Mix Qal | BSFC | BSAC |
| Friction HP | Mach # | Piston Spd | Piston Gs | Overlap %VE | Int AvgVel |
| In InertiaPrs | In ResTunPrs | Ex AvgVel | ExTun Prs | Lifter Pump Up | Spark Adv |
Special Calculations
Overlap Area, sq in*deg
Total Avg Flow Coef
Total Exh/Int %
Lobe Area, inch*deg
Lobe Separation, deg
Valve Flow Area, deg*sq in
Lobe Centerlines, deg
Displacement, cc
Displacement, cu in
Dynamic Comp. Ratio
Compression Ratio
Theo. Crank Comprssn,PSI
Clearance Volume, ccs
Est Idle Vac, ''Hg
Starting Point Suggestions
Intake Runner Length, in
Intake Runner Area, sq in/in
Exhaust Runner Length, in
Exh Runner Area, sq in/in
Int Duration @.050
Intake Tappet Lift
Exhaust Duration @.050
Exhaust Tappet Lift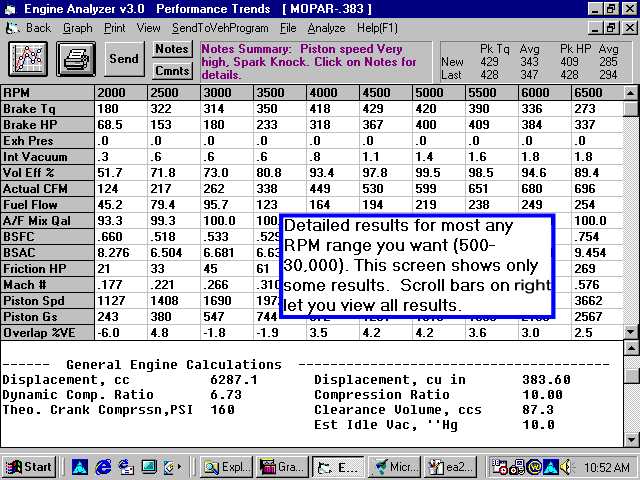 What You Need:
Computer with Windows XP, Vista, Windows 7, Windows 8, Windows 10
What You Get:
Program CD and 280 page user manual on CD as PDF File. Printed manual also available. About 80 example engines and thousands of components preloaded for you to start with.
More Information, Download Demo:

to go to our Demo Downloading page to download a FREE Engine Analyzer Demo.
More Information, Watch Demo Movies:

to go to our Demo Movie page to watch Engine Analyzer Demo Movies .
---
To Order:
Our DOWNLOAD ONLY option. If you only want the unlocking code and DO NOT want a CD shipped, click on Add to Cart below. You will not be charged shipping.

$129.95
---
If you want a CD shipped to you, click on Add to Cart below. There will be shipping charges added to your order. You can still download the demo and get your unlock code sooner with this option.

$129.95 plus shipping
---
To order a CD with a PRINTED manual, click on Add to Cart. Manuals are included on the CD's but in PFD format. You can still download the demo and get your unlock code sooner with this option.

$164.95 plus shipping
---


Call 248-473-9230. Visa or Mastercard accepted.

for more price and ordering info.
sitemap