Rotating Inertia Calculator v1.1 for Windows 98, XP, Vista, 7, 8, 10
Computer Program to Calculate the Effective Weight of Rotating Components Due to Their Rotating Inertia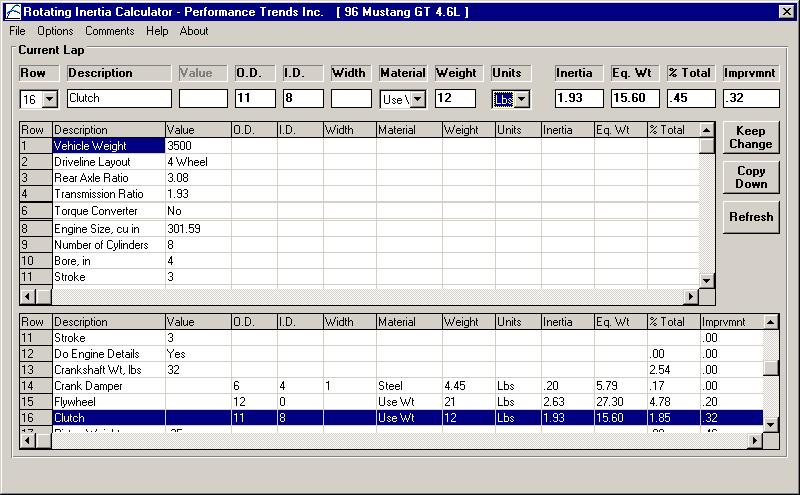 Overview:
We all know that reducing vehicle weight improves performance in most any type of racing. However, removing weight from rotating components has a bigger effect than removing weight from a non-rotating part. Other factors have a significant impact on the overall "payback", including tire size, gear ratios, where the component is located, diameter of the component, etc. The Rotating Inertia Calculator lets you estimate all these effects.
The program is made up of 2 spread sheets, the top one being the baseline (or starting condition). The lower one is the new, proposed condition, which includes a new column of the amount of improvement for any changes. Improvements are shown in how much the total effective weight has been changed by your proposals. Several features and options let you quickly estimate weights and calculate diameters and inertias.
For example, a 3500 pound car may have an effective weight of 3885 pounds due to rotating inertia effects. Your proposal lighter, smaller diameter rotating components results in a reduced effective weight of only 3785. The car still weights 3500 lbs on the scales, but its performance would improve the equivalent of removing 100 lbs from a 3885 pound car.
Click on the following underlined link for some discussion on our Blog about the Rotating Inertia Calculator: When a Pound weights more than a Pound
What You Need:
Computer with Windows XP, Vista, Windows 7, Windows 8, Windows 10.
More Information, Download Demo:

Click here to go to our Demo Downloading page to download a FREE demo of this program.
To Order:
Our DOWNLOAD ONLY option. If you only want the unlocking code and
DO NOT want a CD shipped
, click on Add to Cart below. You will not be charged shipping.

$39.95
---
If you want a
CD shipped to you
, click on Add to Cart below. There will be shipping charges added to your order.

$39.95 plus shipping
---


You can download this program as a demo Free to try it. If you want to order it, call 248-473-9230 with your Visa or MC card. Performance Trends can provide you an "unlocking code" number to activate all features (bring it out of demo mode). When newer versions are released, you can download the latest demo and activate all features with this same "unlocking code".
The "on screen" help explains all features, inputs and outputs. This program does not come with a user's manual.
Click here for more price and ordering info.