Rimac™ Spring Tester Retro Fit Kit
Computer Program and Electronics to Convert Your Rimac™ Spring Tester to a Automatic Tester with Much Improved Speed and Accuracy.
The rugged, reliable Rimac™ spring tester has been around for decades. Our Mini Black Box interface coupled with 2 sensors can be installed on your Rimac™ to create an Electronic tester with significantly improved accuracy. We provide the brackets and instructions so that you can be up and running in about an hour. The toughest part is drilling and tapping a hole for a 6-32 screw.
Note: Large "black box" logger shown below is now replaced by our "Mini Black Box"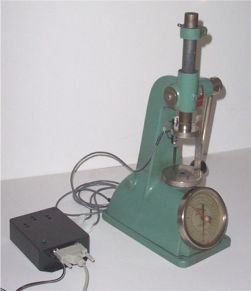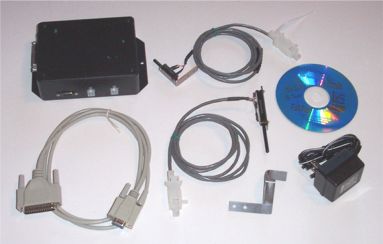 IMPORTANT: A Rimac tester with our retro-fit kit will have greatly improved accuracy over a Rimac with mechanical gauges. It may even be better than other electronic spring testers because of our advanced software. However, it will not be as accurate as our complete Valve Spring Tester.

for a description of the Valve Spring Tester Software.

for the Rimac Retrofit Kit Installation instructions.

to return to the Home Page.
What You Get:
Black Box interface, power supply, communication cable to your computer's COM serial port (USB adapters available), 2 sensors with mounting brackets, program CD with user manual in PDF format on the CD. Example test files preloaded in the Example library for you to start with.

More Information, Download Demo:

to go to our Demo Downloading page to download a FREE Valve Spring Tester Demo.

for prices.

for User's Manual.
To Order:
Call 248-473-9230. Visa and Mastercard accepted.

to return to the Home Page.