Shock Dyno
Complete Dyno System, or Computer Program and Electronics as Retrofit Kit
for Windows 98, Me, XP, 2000, NT, Vista, Windows 7, Windows 8
Our Complete Shock Dyno features include:
| | |
| --- | --- |
| | 1.5HP, 110 VAC motor (ideal for most trailers and generators). 220 VAC option available. |
| | Up to 3" stroke and 20"/second shock velocity. |
| | 2000 lb load cell. |
| | Measures forces over 1500 lbs and more. |
| | Optional shock temperature sensor, and warm up procedure before testing. |
| | Optional Plus version of Shock Dyno software with several advanced features. |
| | USB computer interface. |
| | Safety Shutdown if Max Force is exceeded. |
| | Software compatible with Win XP, Vista, Win 7, Win 8. See features listed on this page. |
Watch for it's release.
We also offer the sensors, electronics and software as a "retro-fit" kit for your existing shock dyno, described at bottom of this page.
Overlay Graph of 5 Shock Tests (+ and - velocity), with Cursor to Pin Point Values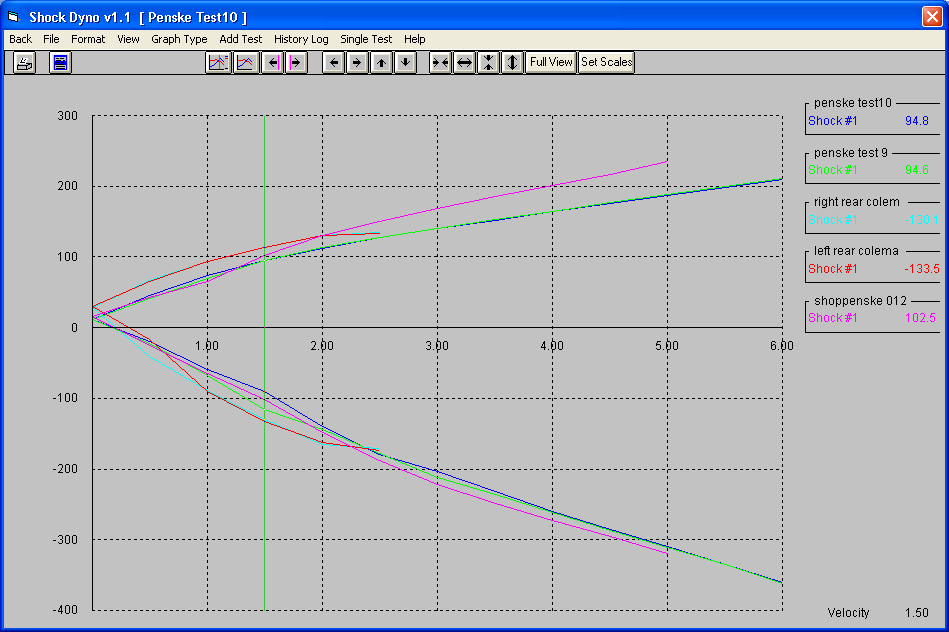 Overview:
The Shock Dyno Retrofit Kit provides a load cell and length sensor, plus electronics to record both channels. Once data is recorded, you can create reports or graphs of the results. You can also overlay graphs from several different shocks for comparison.
Graph with just + Velocity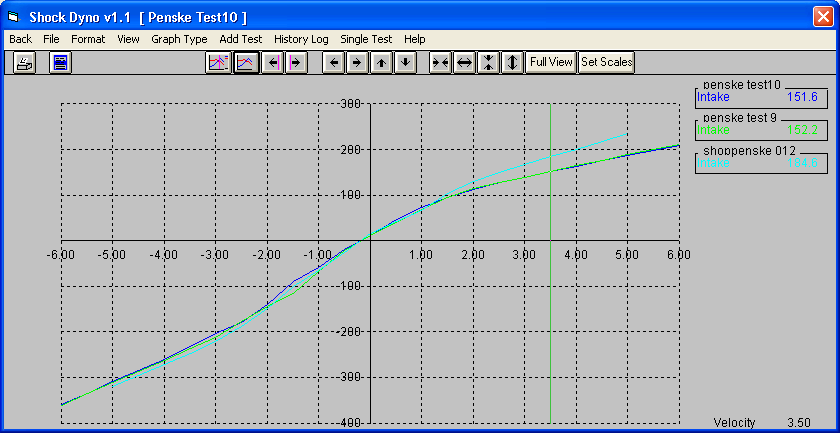 Options:
The program has several options, including:
| | |
| --- | --- |
| | You can graph results either absolute velocity (typical of most shock dyno programs) or versus velocity with direction. This 2nd choice lets you pin point differences on the graph more easily with the cursor. |
| | Modern USB electronics for easy installation on newer computers. |
| | Overlay plots for comparison. |
| | Temperature sensor (optional with Plus software). |
| | Start testing immediately or when a user selectable temperature is reached (temperature requires Plus software). |
| | Summary of results as shown below, for max Compression and Rebound force, Stroke, RPM, Test Cycles, Average/Max/Min temperature, etc. |
| | Programmed or user selected test time. |
| | Over-Force shutdown safety. If the system detects a force greater than user selectable limit, the motor is turned off. This can happen if you install the shock incorrectly. |
The program is compatible with Windows XP, Vista, Windows 7 or Windows 8, which means it is easy to use and you will be able to print the results on most any printer, usually in color if your printer supports it.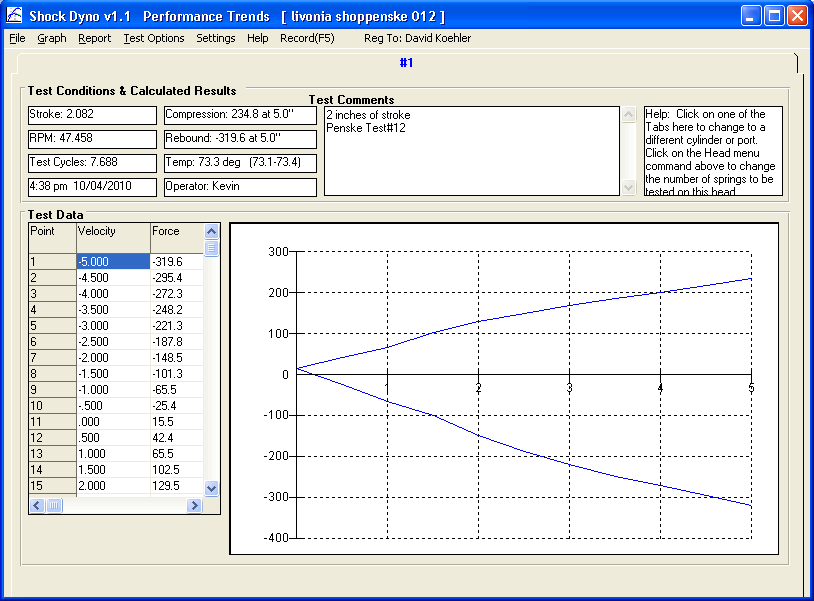 Dimensions:
| | |
| --- | --- |
| | 24 x 16 inches x 12 inches high. |
| | 165 lbs |
| | Standard "masts" are 48 inches tall overall, allowing for approximately 24 inches separation of shock "eyes". |
| | Extended "masts" are 72 inches tall overall, allowing for approximately 48 inches separation of shock "eyes". Other lengths available on special order. |
The software provides for an optional Plus version, which adds several features:
Allows for temperature input, and for triggering recording to start at a particular, user selectable temperature. This provides for better test repeatability.
Additional graph types including:

| | |
| --- | --- |
| | Force vs Position (sometimes called "football graph") See picture below. |
| | Velocity vs Time (good for troubleshooting system) |
| | Force vs Time (good for troubleshooting system) |
| | Position vs Time (good for troubleshooting system) |
| | Position vs Time - Raw (good for troubleshooting system) |

"Real Time Graphing" prior to recording, so you can spot that the results will be what you expect. See picture below.
Company Logo appears on main screen also, in addition to printouts.
Real Time Graphing - Green dots are current readings, black lines are from previous test

"Football" graph of Force vs Position for 2 different shocks

What You Need:
Computer with Windows XP, Vista, Windows 7, Windows 8.
What You Get w Retro-Fit Kit:
| | |
| --- | --- |
| | Shock Dyno v1.1 Software |
| | Quick start documentation. |
| | DataMite Mini USB data logger/electronic recorder. |
| | 1000 lb "S" beam load cell, with optional ranges from 100 to 5000 lbs for nominal charge. |
| | 3" length/position sensor, with other styles, sizes and lengths available for nominal charge. |
| | USB Cable (which also powers system, no power supply needed). |
| | Temp Sensor Optional |
| | Shut Down Relay and Cabling Optional |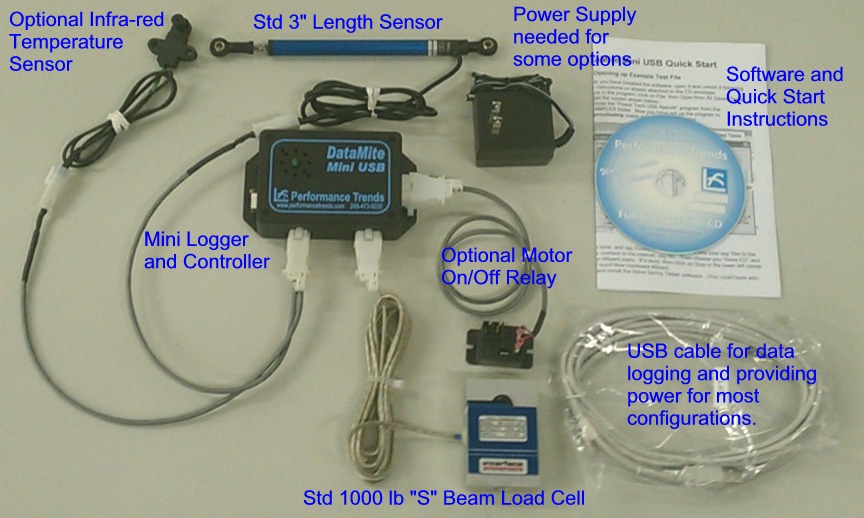 The shock dyno kit expects your dyno to use a slider crank (like piston in an engine) or Scotch yoke design to cycle the shock, but does not need a variable speed motor. We very accurately measure the speed of the shock as it goes through its cycle up and down. When it is at the top of its cycle, it has stopped and then changed direction to go back down. As it goes back down, it picks up speed to maximum speed at mid stroke, then slows down when it gets to the bottom of the cycle. Then this whole process is repeated in reverse.
So, as the motor turns at a constant RPM, we can measure the velocity and force at all points of the cycle, and produce a complete shock dyno graph with force at all velocities. This makes it very easy for the electrical motor, just set it to something like 150-300 RPM with a 1" to 3" stroke, get it up to speed and press F1 on the keyboard. The software records several cycles and then presents the data.
More Information, Download Demo:

to download a FREE Shock Dyno Demo.

to download the preliminary Shock Dyno's User Manual.
_______________________________________________________________________________________________________________

Shopping Cart not finalized yet. Call or Email to purchase.

for pricing.
To email us for a quote for the system to meet your needs

to send us an email.
To Order:
Call 248-473-9230. Visa and Mastercard accepted. Performance Trends can provide you an "unlocking code" number to activate all features (bring it out of demo mode). When newer versions are released, you can download the latest demo and activate all features with this same "unlocking code".
The "on screen" help explains all features, inputs and outputs.