Thermocouple Recorder v1.1 for Windows XP, Vista, 7, 8
Computer Program and Electronics to Record 4 Type K Thermocouples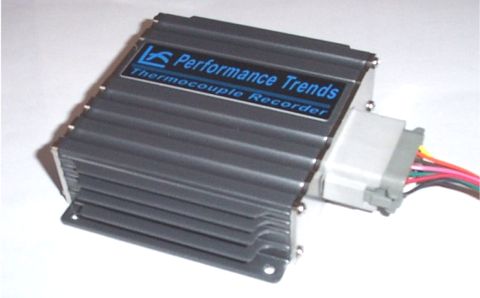 The DT2-TC4 is a thermocouple signal conditioning module, which amplifies the signal from type K thermocouples into 0-5 volt signals that data loggers (like our Black Box II or DataMite II) can record. Using our Thermocouple Recorder software, it also can work "stand alone" connected to the serial or USB port of a computer. The Thermocouple Recorder program will record temperatures at 10 times a second. Other features in the software let you use two DT2-TC4 together to be able to record 8 temperatures. This is ideal for recording 8 exhaust gas temperatures during dyno testing of V-8s.
DT2-TC4 Specs
| | |
| --- | --- |
| | Works with all type K thermocouples (typically yellow connector) using the "mini" flat blade connectors |
| | "Fault LEDs" indicate if the thermocouple is missing or faulty |
| | On board cold junction compensation (for outstanding accuracy) * |
| | Temperature range 32 to 1832 degrees F (0 - 1000 deg C) |
| | Four (4) 0-5 volt outputs (connectors may be installed by Performance Trends depending on your application) |
| | RS232 output w connector (for use with our Thermocouple Recorder software) |
| | 9-18 volts supply voltage, up to .25 amps draw |
| | Max harness and connector temperature 250 deg F (120 deg C) |
* Lowest temperature that can be measured is limited to 36 deg F (20 deg C) below the temperature of the amplifier itself.
Thermocouple Recorder Software
The DT2-TC4 comes with FREE software shown below.

for a demo. This software lets your computer record the temperatures, and save it for detailed analysis. Features include:
| | |
| --- | --- |
| | Easy Windows 98, Me, XP, 2000, NT compatible |
| | File options let you start a new test, save data to a name of your choosing, open a past saved test, or export the data as an ASCII file for use in other programs, like Excel. |
| | You can record comments with your saved files. |
| | The scales of the graph and trace recorder can be changed to most any scale you need. |
| | Software can record in Deg F or Deg C. |
| | You can click on a point in the table or on the trace recorder and that particular data point will be highlighted in the trace recorder, table and bar graph. |
| | You can select which Com port numbers are to be used if you are using more than one DT2-TC4 recorder. Otherwise the program automatically finds the appropriate Com port. USB adapters are available for computers without USB ports. |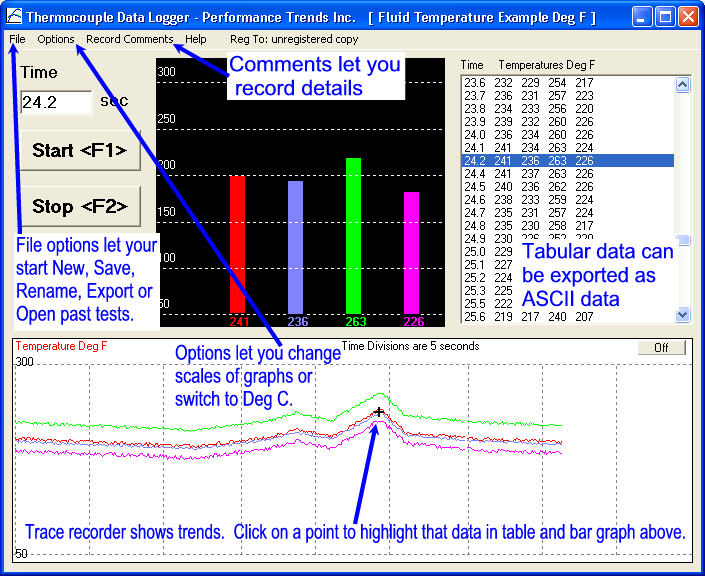 to go to our Demo Downloading page to download a FREE Thermocouple Recorder Software Demo.

to return to the top of this page.

for prices.

What You Need

for Software Option:

Computer with Windows 95, 98, Me, XP, 2000 or NT, Vista, Windows 7, Windows 8.

for Vista tips.
To Order:
Call 248-473-9230. Visa or Mastercard accepted.