Automatic Valve Opener (actuator) to Automate your Flow Bench Testing
Performance Trends' valve opener will automatically set the valve lift and record data during your flow bench testing. It automatically finds the tip of the valve and zero's itself out. It then steps through all valve lifts listed in your test in Performance Trends' Port Flow Analyzer software. At each lift it waits a user specified stabilization time, then records the data and advances to the next lift point.

When the test is complete, the opener closes the valve, and checks to see that no slippage has occurred, and turns off the bench if you have a SuperFlow ™ motor controller. Also if you have motor controller, like a SuperFlow ™ SF1020 bench, you can start the test and the Port Flow Analyzer software and valve controller can run the entire test. When done, the valve will be closed and the bench turned off. This is one tool that really will save you time and produce more consistent flow test results.

Main features include:
Compact, rugged design: All aluminum main body is 3.50 x 2.00 x 2.00 inches (90 x 51 x 51 mm)
Optional mounting bracket (shown above) adjusts to most any valve angle
Optional adapters for Brzezinski slider system available
2 inches (51 mm) of stroke provides for easy setup. See back page for Installation Tips.
The software lets you make over 50 different lifts in most any order of opening or closing the valve, in increments as small a .010 inch (.25 mm).
USB connection for most any computer (hookup requires 110 or 220 VAC power and USB connector)
Precision stepper motor has resolution of .0001 (a tenth of a thousandth inch) or .0025 mm.
Force from 10 to 15 lbs or more depending on mAmp current setting you make in software.
Over temperature checking and warning in Port Flow software.

Recommended accessory, valve opener adapter, Part # PFA-VOS (click image to enlarge)

Valve opener adapter, Part # PFA-VOS is "4 way" adjustable (click images to enlarge)
Custom Applications:
Our machine shop can do custom machining for brackets or adapters, or complete modifications for most all our mechanical components. Here's some pic of how we adapted the Auto Valve Opener to a 4 Valve "flow block" (machined block with a prototype port). Ask us for a quote for custom machining or adapters to most any of our products.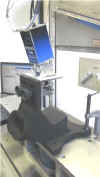 Overview (click image to enlarge)

Detail of valve angle adjustment (click image to enlarge)

Detail of 4 valve feature, very similar to Part # PFA-VO4V (click image to enlarge)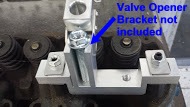 Mopar Adapter for BB and SB Mopar Wedge heads (and other heads with shaft mounted rocker arms) PFA-VMA
More Info:

for installation tips.

for information on our Manual valve opener.
To Order:

for prices.
Call 248-473-9230. Visa or Mastercard accepted.
Electronics like Valve Opener have a limited 1 year warranty.