Manual Valve Opener for Flow Bench Testing
Performance Trends' manual valve opener (part # PFA-VAU) lets you set the valve lift for your flow bench testing. Features include:
Rugged, clear anodized, billet aluminum construction. (Other colors available.)
Universal mount included, allows for valve angle adjustment from approximately -10 to + 20 degrees (plenty for most any Head you will encounter) and up to 1" travel.
"Self Retracting" design. The dial indicator retracts when you move it from one valve to another. Very convenient.
Quik Retainer kit available (part # PFA-QR). Kit includes 4 Quik Retainers (2 each of 2 different sizes) and 2 flow testing springs. Std kit includes two 5/16" and two 11/32" Quik Retainers (8 mm and 3/8 also available). These retainers they also fit the radius groove stems like GM LS valve). See below.
4 Valve option available. See below.
Metric mm option available.

Universal mounting bracket is "4 way" adjustable. (Click image to enlarge it.)

Quik Retainer Kit shown part number PFA-QR. (Click image to enlarge it.)
4 Valve Adapter part number PFA-VAU4 (Click image to enlarge it.)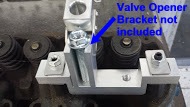 Mopar Adapter for BB and SB Mopar Wedge heads (and other heads with shaft mounted rocker arms) PFA-VMA

for information on our Automatic valve opener.
To Order:

for prices.
Call 248-473-9230. Visa and Mastercard accepted.
Valve Opener has a limited 1 year warranty.