DataMite Mini, DataMite III and DataMite 4 USB Hardware
Our DataMite data loggers have been used on dynamometers, in drag racing, circle track racing and road racing since 1995. These latest loggers take advantage of all the advancements in electronics to provide very powerful data logging features at a very affordable price in a very compact package.

for a list of DataMite III Packages, Accessories, and Prices with pictures.

for DataMite III Pictures of various packages with sensors.

for the Datalogger Comparison Table of our 4 different dataloggers.
Communicates with computer via USB to record 2 RPM channels and 2 0-5 volt analog channels. Has option for adding "built in" weather sensors and recirculating fan. This is an ideal package for a small dyno, inertia or absorber (water brake, eddy current, hydraulic), engine only or chassis dyno. Note: System has very limited expandability for adding sensors.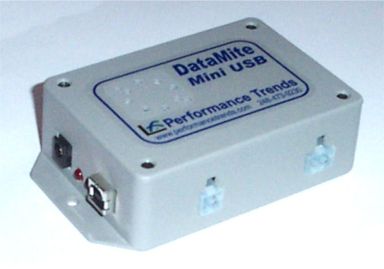 Our 3rd generation of DataMite data logger, has several advanced features for dyno or vehicle data logging. With its surface mount technology, we've been able to pack lots of power into a very small package. It's only 4.2 x 5.6 x 1.7 inches (mounting flanges and hardware make the "footprint" larger) and weights less than 1 lb. It can be used for a dyno system, or in drag racing, road racing or circle track racing. It's main features include:
DataMite III USB with 3 RPM channels and 12 analog channels.

3 axis accelerometer

USB communications cable for data recording or setting up and troubleshooting

1 Gig (1000 meg) or optional 2 Gig SD memory card, provides hours of recording time and incredibly fast uploading to your computer for analysis.

Lighted Start/Stop logging switch

GPS enabled for optional DT3-GPS allowing for GPS track mapping and lap timing for Road Racing/Circle Track systems.

50 or 100 Hz sampling rate
The GPS feature is truly powerful, providing very accurate track maps, letting you compare the line taken on different laps.
Road Race/Circle Track with GPS Drag Race version Without GPS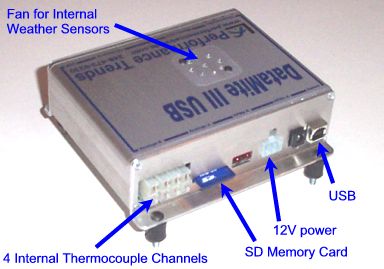 Sensor Input side of logger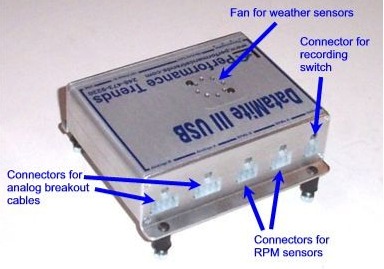 for a 1 page PDF file explaining some DataMite III Basic Installation and operation.

for several pages of DataMite III Installation Tips for Dyno, Road Race/Circle Track, and Drag Race systems.
Our newest DataMite data logger is basically our DataMite III described above with more channels. It's additional channels include:
4 RPM (frequency) channels (1 more than DataMite III)
10 possible thermocouple channels (6 more than DataMite III)
12 dedicated user definable, analog channels
2 possible weather channels (which, if used, do not reduce the number of analog channels, as was the case with DataMite III)
1 box temperature channel
1 power voltage channel
3 axis accelerometer
3 GPS channels (latitude, longitude and speed)
4 digital inputs channels (not available with DataMite III)
2 digital outputs, like rev limiter or oil pressure cutoff, shift light, etc. (is not available with DataMite III)
DataMite 4 showing 10 thermocouple connectors, GPS and Digital
input/output connectors, and new location for Memory Card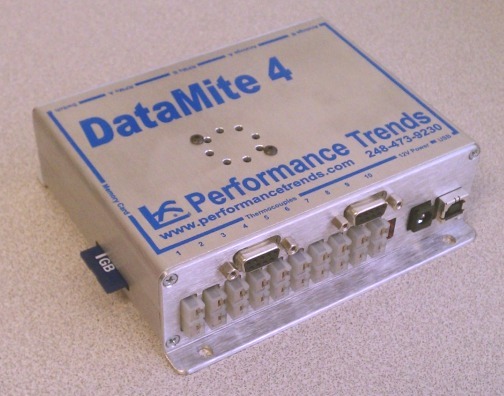 ------- Products below are now obsolete ----------------------------------------
DataMite, Black Box II and DataMite II Hardware

Black Box II (replaces the std 4 channel DataMite for dynos)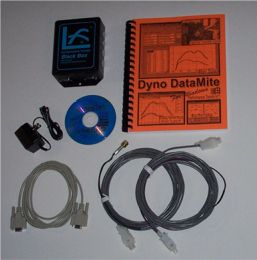 Standard Black Box II Inertia Dyno Package (pn BB2-IDP) includes:
Prewired Harness with "vibration resistant" dyno wheel speed sensor

Prewired Harness with engine RPM (via optional inductive pickup)

Black Box II recorder "box", which has 2 RPM inputs and 5 analog inputs standard. Weather station sensors and 4 additional analog channels can be added at an additional cost.

Magnets for wheel RPM sensors (not shown above)

Power Supply for 110 VAC

Downloading cable

Software and user's manual

for Prices of Black Box II Components and to view pictures of components.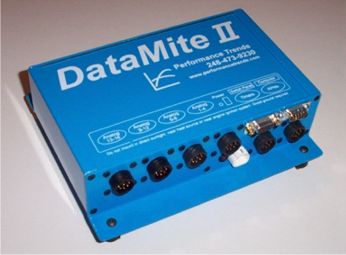 DataMite II System includes:
3 or 4 Switch inputs (full throttle, brake light, etc)

1 or 2 Timers (lap time, reaction time, etc)

16 Analog inputs (thermocouples for temperature, pressures, shock travel, etc.)

5 RPM inputs (engine, front wheel, rear wheel, driveshaft, supercharger, etc)

2 Accelerometer channels (reaction time, friction circle, track mapping, etc)

12 Bit A/D converters.

2 Meg non volatile RAM.

10-200 samples per second (Hz) sampling rate.

Windows 95/98/ME/2000/NT software.

Wt: 2 lb, 2 oz (1 Kg)

Dimensions: 5 x 8 x 2 inches (125 x 200 x 5 mm) "Footprint" of mounting flange is 6.8 x 8 inches (170 x 200 mm)

Prices starting at around $1200.
Note that some channels must be activated at an additional charge.

for Prices of DataMite II Components and to view pictures of components.
Here's some more pictures to help identify your older data logger.
DataMite, Original 3 and 4 Channel Box, Used Black Box II for Dyno, Used