EZ Flow System
Accurate, Fast and Affordable Flow Bench You Can Configure To Test Most Any Type Cylinder Heads or Engine Components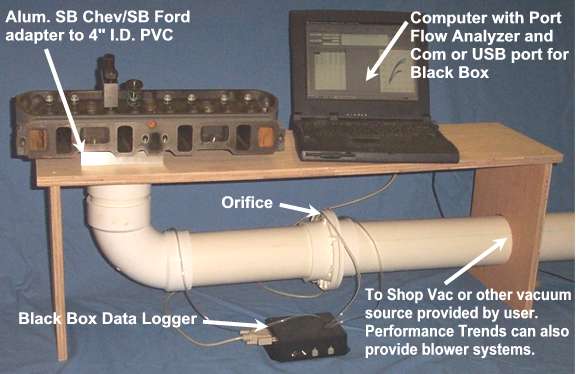 Overview:
What is a Flow Bench?
A flow bench is used to measure the flow restriction of various engine components, like air cleaners, carburetors, throttle bodies, manifolds, mufflers, and most importantly cylinder head ports. Lower restriction parts provide better HP and performance.
The flow bench provides air flow through a component. Typically the pressure drop across the component is held constant (28 inches of water, or about 1 psi, is a common standard pressure for cylinder heads) and the air flow is measured. Air flow can be measured different ways, via a hot wire anemometer, vane air meter, pitot tube, laminar air flow element, or by measuring the pressure drop across an orifice (hole in a flat plate).
Weather changes can affect how these various methods measure the air flow. For this reason, we prefer the orifice method, because it responds the same to a weather change as the engine component being tested. Or in other words, we're measuring the pressure drop across a "hole" (the engine component) and comparing it to the pressure drop across another "hole" (the orifice).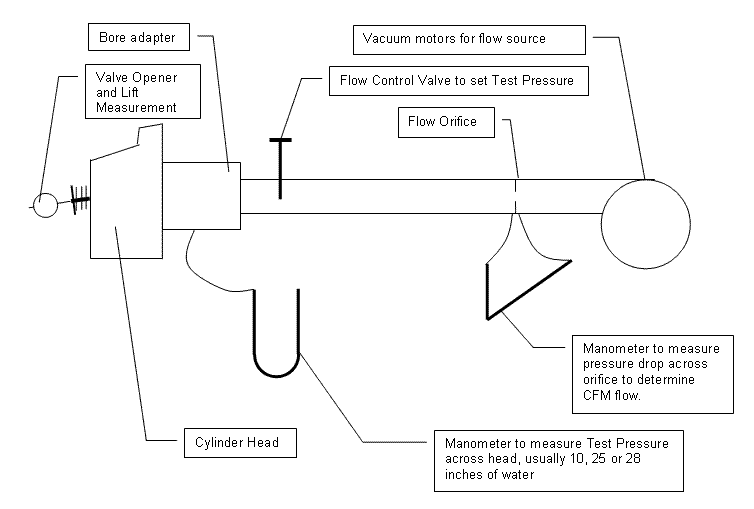 For example, say you start with a port that flows 240 CFM at 28" water at .500" valve lift. You modify the port and test it again and now it flows 264 CFM at 28" at .500" lift. That's a 24 CFM (10%) improvement, which for cylinder heads typically equates to a 10% improvement in HP potential. In a different scenario, you could have modified the port and actually lost air flow. A flow bench is critical if you are going to modify engine components to improve air flow and HP potential.
EZ Flow System:
The standard EZ Flow System (for 4" PVC tubing and fittings) sells for $999 and consists of the following parts:
For more information on Port Flow Analyzer and to download a demo version of the software.
Black Box DataMite Flow Bench Interface.
Orifice
Aluminum Head Adapter with Bolt Pattern for Small Block Chevy and Small Block Ford which adapts to threaded PVC Schedule 40 coupling (typically 4.020 inside diameter). Adapters for other heads available.
Parts list and plans to build your own EZ Flow System (which typically cost under $100 excluding the cost of your vacuum source).
By mathematically correcting for changes in test pressure (pressure across the head or test piece), the EZ Flow System lets you simply adjust to each valve lift and press the <F1> key in the software. No adjustment of test pressure is necessary. When you finish flowing in the Intake direction, simply switch the flow direction of your vacuum source. The program automatically senses this change and now calculates Exhaust Flow CFM.
Standard EZ Flow System for 4" PVC and Fittings


If you are flowing larger cylinder heads (heads which flow more than 175 CFM at 28" water, like most automotive heads), you probably should move up to the 6" EZ Flow system for $1149. Everything is the same except it has a larger bore adapter and orifice. The bore adapter is also more flexible, for being able to accept different bore sleeves and head bolt adapters to work with different head designs. Also note, the PVC fittings for a 6" system will be about 4 times the cost of the more common 4" fittings.
6" EZ Flow System's Bore Adapter (replaces 4" Bore Adapter in picture above)

You can also order custom head adapter plates and bores for most any heads you will be flowing. Here's some head adapter plates and bore sleeves for various Harley Davidson heads.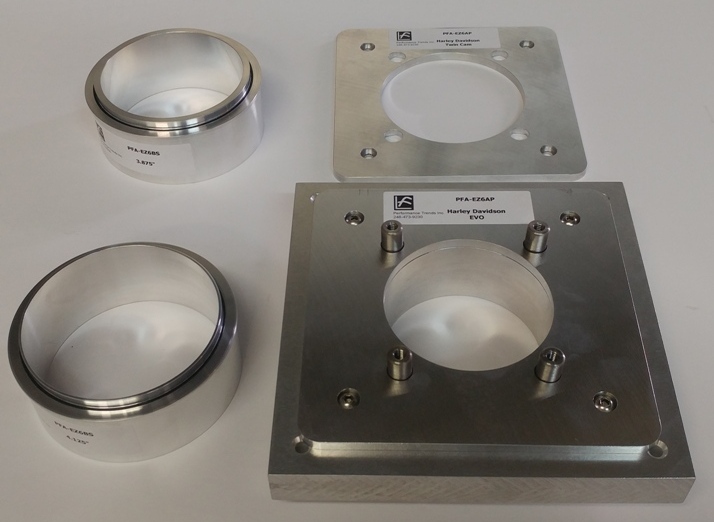 Should you decide to build a larger EZ Flow System or purchase a production bench (Super Flow (tm), Performance Flo (tm), etc.), your Port Flow Analyzer software and Black Box will work with your new system. The system grows or adapts to your future needs.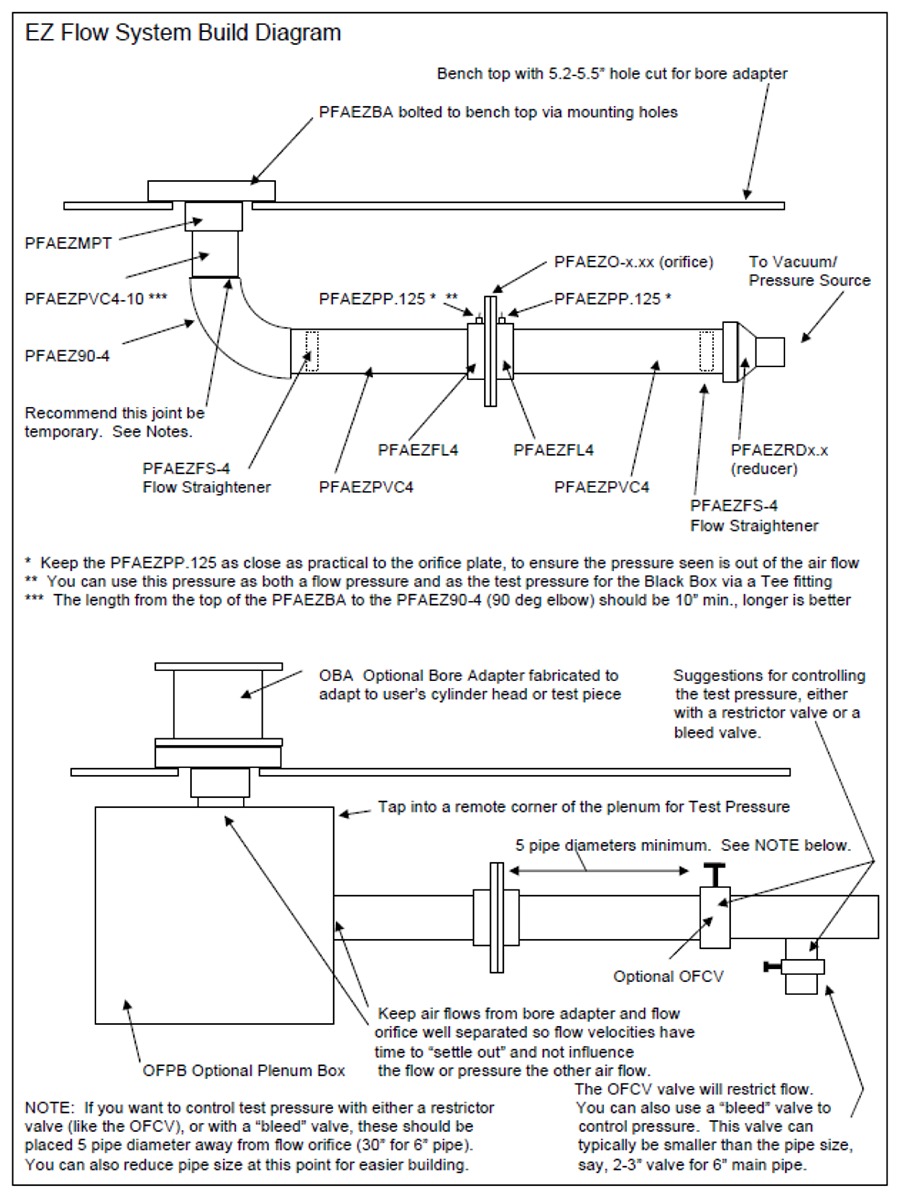 (click picture to enlarge)
We offer inexpensive, low restriction grids to even out and straighten out the air flow as it approaches the flow orifice. These must be placed well back from the flow orifice, 18 inches minimum. However, they make it possible to have good results with shorter PVC tubing lengths before and after the flow orifice. You will fit this to your particular PVC tubing and epoxy in place.
Results
Shown below are results from #1 cylinder on a Small Block Chevy GM 14011034 Head Flowed 4 times with the EZ Flow System to show the outstanding repeatability. Most all results repeated within 1.5 CFM. For comparison, results from the same head on a SuperFlow 110 (tm) are graphed to show how well the results agree with an accepted "industry standard" flow bench. Once the head was installed on the EZ Flow Bench, all 7 readings could be taken in about 2 minutes. You simply adjust the valve lift, then press <F1> on the computer keyboard to take the readings. When readings are done (about 10 seconds for 20 readings), you readjust valve lift and press <F1> again. It's that EZ.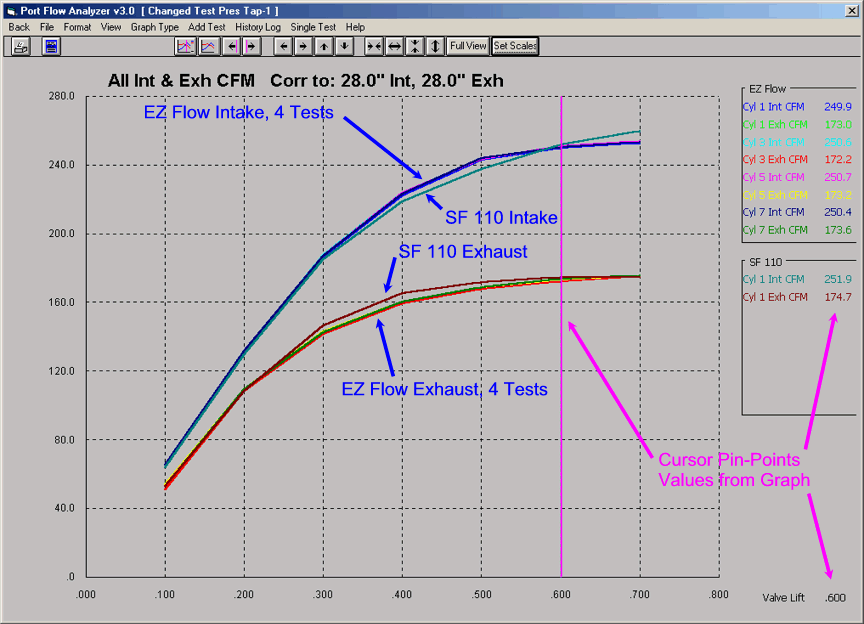 To Order:

for Price Details The Standard EZ Flow System kit sells for $999.

for the plans to building the EZ flow system.
Call 248-473-9230. Visa or Mastercard accepted.

for more price and ordering info.