Re: Performance Trends Newsletter (updates)

To: Visitors to Performance Trends Website www.performancetrends.com

Subject: Product News/Updates, August 2011

New, Bigger DataMite 4 Available
More Wins for DataMite Users
New Book with Lot of Performance Trends References
Last July's Newsletter
-------------------------------------------
1) New, Bigger DataMite 4 Available We're releasing our new, larger DataMite 4 data logger, which has these features:
| | |
| --- | --- |
| | 4 RPM (frequency) channels (1 more than DataMite III) |
| | 10 possible thermocouple channels (6 more than DataMite III) |
| | 12 dedicated user definable, analog channels |
| | 2 possible weather channels (which, if used, do not reduce the number of analog channels, as was the case with DataMite III) |
| | 1 box temperature channel |
| | 1 power voltage channel |
| | 3 axis accelerometer |
| | 3 GPS channels (latitude, longitude and speed) |
| | 4 digital inputs channels (not available with DataMite III) |
| | 2 digital outputs (for future firmware updates *, like rev limiter or oil pressure cutoff, shift light, etc) (was not available with DataMite III) |
| | 2 analog outputs (for future firmware updates *, like controlling the dyno, throttle, etc) (was not available with DataMite III) |
* At this time, we can not take advantage of these output channels. This will require development time and we're not sure when this will happen. When it does happen, you would have to send back your DataMite 4 to have it reprogrammed to use these features.
DataMite 4 showing 10 thermocouple connectors, GPS and Digital
input/output connectors, and new location for Memory Card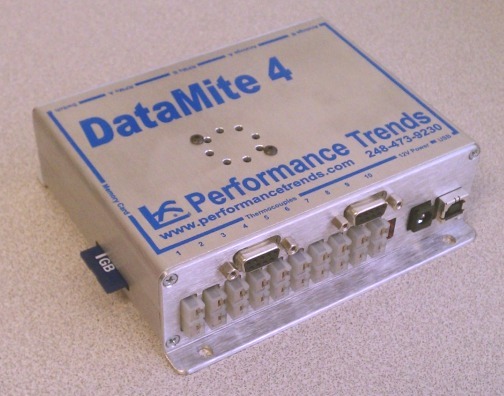 If you've been holding off buying a DataMite III because you needed more channels, especially something like 8 EGTs, the DataMite 4 is for you. We can inexpensively offer you 8 EGTs with a couple of thermocouple channels left over in a very compact, rugged package. And you have lots of additional analog and RPM channels left over.
Let us know your application (dyno, drag racing, circle track, or road racing), what you want to record, and we'll get you a quote. Call 248-473-9230 or email us at tech@performancetrends.com
-------------------------------------------
2) More Wins for DataMite III Users Blaine Ramey won in the first ever Cobra Jet Showdown here at Milan Dragway, MI in the faster 4.0L Class (that's supercharger size, not engine displacement). There were over 30 of Ford Factory Race Cobra Jets from all over the country, and it was old fashioned "heads up" (quickest ET wins, no handicap) racing.
Blaine cut some great lights when he had to, and played it safe when he had a clear advantage based on qualifying times. Blaine uses a lot of our products, including the Drag Race DataMite data logger, Drag Race Pro (simulation and dial in prediction with weather station), 4 Link Calculator, and Practice Tree.

click image to enlarge it
Tim Gillespie won NHRA Super Gas at the 25th Annual NHRA SportsNATIONAL Open over the Memorial Day weekend in Bowling Green, KY.

click image to enlarge it
Casey Dull (19 year old daughter of Greg Dull) of Richland Center, WI won the 6200 lb Super Stock Truck class in Loyal, WI's Corn Festival this last weekend. Greg and Casey mainly use the logger to keep track of engine tune to make sure the engine doesn't go too lean.

click image to enlarge it
All 3 use the DataMite III for Drag Racing.
-------------------------------------------
3) New Book with Lot of Performance Trends References John Baechtel (www.johnbaechtel.com) has just published a book titled "Engine Math" which has all those equations engine builders use. Some are simple, like the flow area of circular or rectangular ports and runners. Others are more complex, like compression ratio or fuel injector sizing. John presents the math and equations, and then some software available to take the complexity and errors out of doing the math.

click image to enlarge it
Fortunately for Performance Trends, many times these are OUR various engine building programs. These programs include :
John's book is available at amazon.com and cartechbooks.com and Barnes & Nobel.
-------------------------------------------
4) Last July's Newsletter Here are the topics covered in our previous newsletter. If you would like another copy of July 2011's newsletter for detail on these topics, visit our website at: http://www.performancetrends.com/news.htm#newsletters
We've Moved to Bigger Shop
Stand Alone Weather Station for Weather Wiz
Last June's Newsletter
Click on this link for our home page to view all our products: www.performancetrends.com