Re: Performance Trends Newsletter (updates)

To: Visitors to Performance Trends Website

to visit www.performancetrends.com.

Subject: Product News/Updates, August 2012
Trade Shows Coming Up in Indy and Orlando
Recent Media Coverage
Small Fuel Flow Sensor for Kart Motors
Last July's Newsletter
-------------------------------------------
1) Trade Shows Coming Up in Indy and Orlando It's not too early to start thinking about attending some of the Motorsports trade shows coming up at the end of the year. Like last year, this year we're doing 2 trade shows, the PRI show in Orlando and the IMIS show in Indianapolis.
International Motorsports Industry Show (IMIS) Trade Show Dec 6-8 The IMIS show in Indianapolis, Indiana has a great location, being near the center of the country and within driving distance for many attendees. This year we're in Booth 952. Check out their website at www.imis-indy.com or call 317-429-1004 to register for attending.
Performance Racing Industry (PRI) Trade Show, Nov 29-Dec 1 This is known as the worlds largest "hardcore" motorsports trade show, the PRI show in Orlando, Florida. We'll be in booth 5178, part of SuperFlow's "Test World". Stop by and see what new things we have for 2013. You must make reservations to attend, so call PRI at 949-499-5413 in California to make them, or visit their website at www.performanceracing.com.
-------------------------------------------
2) Recent Media Coverage Our products have appeared in several magazines over the past month or so, including:
| | |
| --- | --- |
| | July 13 NHRA's National Dragster, "New Products", page 37 featured our new Cam Analyzer v4.0 |
| | July's Engine Builder magazine, "Tools: The measure of Success", page 42 featured our Engine Log Book and Valve Spring Tester |
| | July's Engine Builder magazine, "Produce Spotlight", page 46 featured our new Cam Analyzer v4.0 |
| | July's Performance Racing Industry magazine, "Race Shop", page 141 featured our Fuel Injector Calculator |
-------------------------------------------
3) Small Fuel Flow Sensor for Kart Motors We've gotten several requests for doing fuel flow and BSFC measurements on small kart motors. Before this, we never found a flow meter rated for fuel in the very low range required for kart motors. The stainless steel, DT3-FFK is rated for approximately 2.5 to 18 HP on gasoline, and can be ordered with 1/8" or 1/4" compression fittings. Larger sizes are available if you're running more than 18 HP.
DT3-FFK Karting fuel flow meter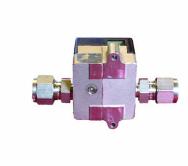 -------------------------------------------
4) Woodward Dream Cruise (biggest motorsports event in the world) We're very lucky to live in the Motor City, where in August of every year since 1995, Detroit's "Main Drag" turns into a "car guy's heaven". Woodward Ave is where the muscle car wars of the 60s started, where GM, Ford and Chrysler engineers tested prototypes of Thunderbolts, Vettes, SS409s, and Hemis by doing street racing. During the Dream Cruise, you'll see muscle cars, roadsters, classics, trucks, off-road, low riders, and most anything with 24" rims. It's all there.

for more pics.
-------------------------------------------
5) Last July's Newsletter Here are the topics covered in our previous newsletter. If you would like another copy of July 2012's newsletter for detail on these topics, visit our website at: Performance Trends Newsletters
Troubleshooting and Tuning w Drag Race DataMite
Improved 4 Link Plus Animation
Facebook Followers Get Discounts
Last June's Newsletter