Re: Performance Trends Newsletter (updates)

To: Visitors to Performance Trends Website

to visit www.performancetrends.com.

Subject: Product News/Updates, Aug 2013
Dyno DataMite Enterprise Edition Records OBD2 Data
Flow Bench Controllers
Movie of Automatic Valve Spring Tester in Action
New Developments for Ramey Motorsports Mustang
Cam Analyzer 'Cam Grinder' Helps for Regrinding Cam
Labor Day Holiday Schedule
Last July's Newsletter
-------------------------------------------

1) Dyno DataMite Enterprise Edition Records OBD2 Data We've just released a major enhancement for the Dyno DataMite, the ability to record OBD2 data while recording DataMite data. At this time, the first advanced feature is the ability to read OBD2 data from the vehicle controller. OBD2 was a requirement for all light duty vehicle manufacturers starting in 1996. Therefore, most modern vehicles have an OBD2 connector and can provide this data.

OBD2 data is very handy on chassis dynos, where you typically have a modern engine controller, and can not quickly install and remove additional sensors for quick vehicle testing. One important use is to record engine RPM for the dyno test via OBD2 instead of a tach signal, inductive pickup, optical sensor, etc. These other methods do work, but may require some tweeking to work in all situations.

To do this requires:
DT4-OBD2 OBD2 Link
DTMEE41U Dyno DataMite Enterprise Edition Upgrade
The Enterprise Edition of the Dyno DataMite software will have more enhancements in the future. The ability to read OBD2 data is just the first.
Choosing OBD2 Channels


click image to enlarge it
Graph of 3 OBD2 Channels with DataMite Engine RPM


click image to enlarge it

for more complete info on reading OBD2 data.

for more info on our Dyno DataMite software and hardware.

-------------------------------------------

2) Flow Bench Controllers We've been developing controllers for flow benches, to hold the test pressure constant as you open the valve. We're releasing the system which controls 110 VAC flow benches, like an SF110 style bench. It controls 110 VAC at up to 25 amps.

To operate a control system requires 2 parts:
PFA-BBC Black Box Flow Controller Output (to be added to a new Black Box II) or PFA-BBCR Black Box Flow Controller Output Retrofit (to be added to an existing Black Box II) This is the part which senses pressure and determines if the flow bench motors need more or less power. This is built into the Black Box II logger which is also used to measure the pressures and optional temperatures.
Control Module, for example like the PFA-BBCM1 Flow Bench Control Module 110 V. This part receives the signal from the PFA-BBC through a "control line" cable from the Black Box II and actually changes the AC power going to the flow bench. You plug the control module into your wall outlet where you used to plug in your flow bench. Then you plug your flow bench into the outlet on the control module.
PFA-BBCM1 (for SF110 and other smaller, 110 VAC benches)


click image to enlarge it
We're also developing a larger 220 VAC control module. The larger SF300 and SF600 benches require some internal modifications, and do not allow for the simple "plug and play" of the control module. However, it you have a custom or DIY flow bench, this method would likely work great. We're looking for someone to test the prototype 220 VAC controller we've got pictured below. If you are interested in helping us develop control for your 220 VAC flow bench, please contact us.

to send an email.
Prototype PFA-BBCM2H Flow Bench Control Module 220 V High Amp


click image to enlarge it

for info on our flow bench control.

for info on our flow bench software and accessories.

-------------------------------------------

3) Movie of Automatic Valve Spring Tester in Action We put a movie of our Automatic Valve Spring Tester in action on the web. In it we describe some of the features of the hardware and software. You'll also see the tester "bullnose" (compress into bind) the spring 4 times and then perform the actual test. Take a look.

to view the movie.

-------------------------------------------

4) New Developments for Ramey Motorsports Mustang Blaine Ramey of Ramey Motorsports decided to jump to a different class with his 2010 Cobra Jet Mustang. Gone is the 330 CID supercharged modular V8. Instead, he's installed a new 'all motor' 660 CID big block Ford.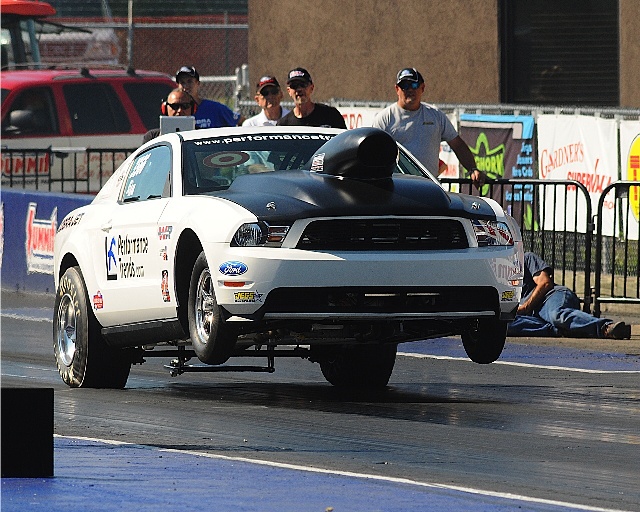 for more info on the move to a big block.

-------------------------------------------

5) Cam Analyzer 'Cam Grinder' Helps for Regrinding Cam A customer recently had a question:

If I need to regrind a camshaft to a bigger profile and different lobe separation, how much smaller do I need to make the base circle?

The new 'Cam Grinder' version of Cam Analyzer DOES let you examine lobes and absolute lobe lift with the offset of base circle included.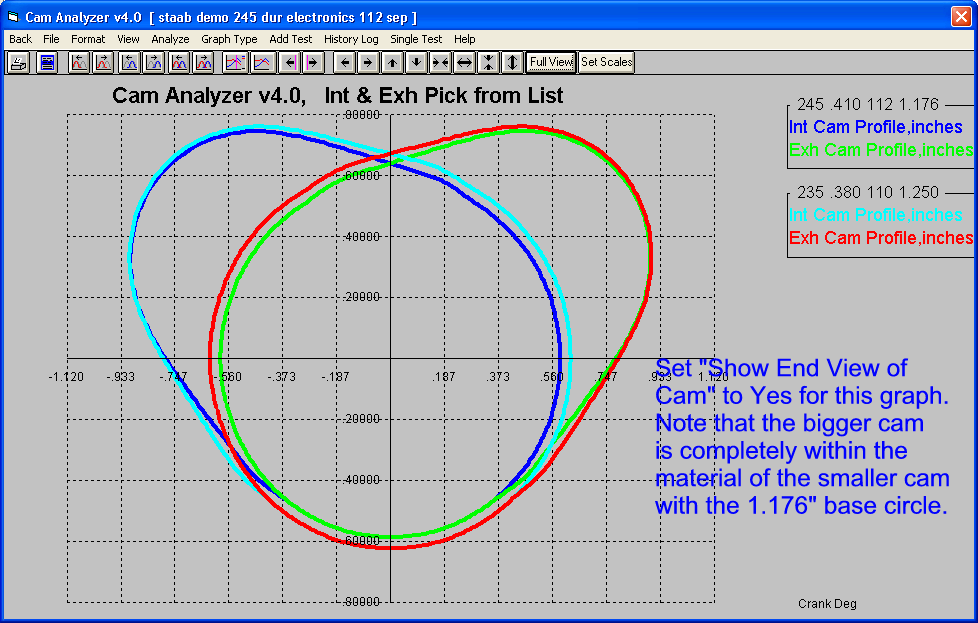 for the FAQ (frequently asked question) on how you would answer this question.

-------------------------------------------

6) Labor Day Holiday Schedule We will be closed on Friday August 20 and Monday, Labor Day, September 1 for the Labor Day holiday. If you send us an email or make website purchases, we should be able to respond by email

-------------------------------------------

7) Last July's Newsletter Here are the topics covered in our previous newsletter. If you would like another copy of July 2013's newsletter for detail on these topics, visit our website at: Performance Trends Newsletters
Inertia Dyno Flywheel and Roller Sizing Calculators
Our High Force Spring Tester Possibly Saves $125K Pro Stock Motor
Facebook: Vote for our T Shirt Candidates
New Serial Option for SF1020s w USB FlowComs
Recent Press Coverage
Thunderbolt Fiberglass Bodies
Last June's Newsletter