Re: Performance Trends Newsletter (updates)

To: Visitors to Performance Trends Website
Subject: Product News/Updates, August 2014 (Yep, we know, a little late.)
Dyno DataMite v4.1 Released
Engine Analyzer v3.4 Sales are HOT
RaceSaver (tm) Series is Growing
Blowby Sensor Table for Picking CFM Range
Financing Available for Large Purchases
FAQs: A Great Source for Tech Help
Last July's Newsletter

Click on link below to visit the home page and sign up for our face book page.

to visit our home page www.performancetrends.com.
-------------------------------------------
1) Dyno DataMite v4.1 Released We announced this in the July newsletter. However, this is big enough announcement that we wanted to run it again, to make sure more people know about it.
We've wrapped up the User's Manual for the Dyno DataMite, which means we're also done adding major features to this Version 4.1. The most current version of the Dyno DataMite software is v4.1 A.049. Click on Help (at the top of the main screen), and then select About Dyno DataMite to see the complete version number of your program.

for a copy of the v4.1 Supplement which lists all the major changes and updates for the Standard, Professional, and Enterprise Edition versions.
Some recent improvements include:
| | |
| --- | --- |
| | Enhanced printouts, especially for graphs, and new printing options. See images below. |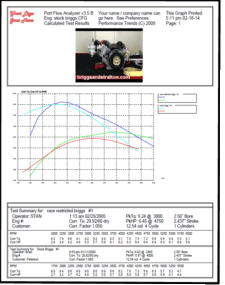 (click images to enlarge them)
| | |
| --- | --- |
| | Enterprise Edition now lets you add a picture file of the particular engine you are testing. This can be a picture of most anything you want, but most dyno testers would make this a picture of the engine or vehicle. See images above. |
| | New calibration options. For example, now you can choose the type of Performance Trends A/F sensor you have, and also choose the type of fuel you want A/F reported for, including various alcohol blends and Lambda. |
| | New Com Port communications. The new method appears to be more reliable, and you can use Com Ports numbers up to 99. |
| | Several prototype controller options, but this has no affect on the program unless you have one of our prototype controllers. |

for a link to downloading the latest v4.1 A.049. If you already own v4.1, this is a free update. If you choose to install this latest version.... During the installation, when asked, select to do a Refresh installation instead of a Complete (typical) installation.

for a link to the Readme.doc file, listing all changes to the program for the various versions.
IMPORTANT: If you do not have v4.1, this download could turn your older v3.7 into a demo version which could expire in 10 days. If this happens, you will have to reinstall your v3.7 to get it working and you could lose some configuration settings (but not any test data).
| | |
| --- | --- |
| | Updating from v3.7 Basic to V4.1 Basic is $60. |
| | Updating from v3.7 Pro to V4.1 Pro is $100. |
| | Adding the Enterprise Edition features to the Pro version 4.1 is $350. |
| | For other update options, contact Performance Trends via email link below. |
You have to contact Performance Trends to do updates as these are not available via the website's shopping cart.

to send us an email.
-------------------------------------------
2) Engine Analyzer v3.4 Sales are HOT Over the last couple of months or so, we've been selling LOTS of our Engine Analyzer v3.4 programs. There must be some "buzz" on the internet chat rooms.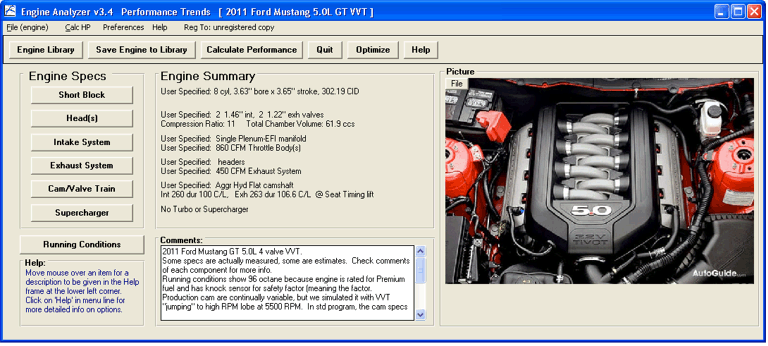 Some of its newest features include:
| | |
| --- | --- |
| | Include a picture graphics file with your engine specs for printouts (see above). |
| | Specs for hundreds of new component parts are preloaded. |
| | You can import heads and cam files from other sources. |
| | It's more compatible with newer operating systems (Vista and Windows 7) and newer versions of PDF printing programs. |
| | And much more. |
The v3.4 Plus now has a total of 20 enhancements over the standard version. New Plus features for v3.4 include:
| | |
| --- | --- |
| | Variable Valve Timing ( V V T ) |
| | E85 as a fuel type. |
| | Many new graphing and printing options, including being able to include some graphic file (like a company logo) on your printouts. |
| | You can more precisely specify the cam profiles with new inputs of "Dwell over Nose" and "Ramp Rating". |
| | You can import Head Flow files from Performance Trends' Port Flow Analyzer flow bench program. |
| | And much more. |

for the details on Engine Analyzer v3.4.

for the details on Engine Analyzer Plus v3.4.

to download a FREE Engine Analyzer v3.4 Demo.
-------------------------------------------
3) RaceSaver (tm) Series is Growing French Grimes (a good friend of Performance Trends) has created a new, affordable Sprint Car series called RaceSaver(tm). French has long been the "go to guy" for magnetos and injected alcohol motor tuning. His experience in racing was telling him the average racer was being pushed out by the big money guys, which was the motivation for RaceSaver(tm). They just held the RaceSaver (tm) IMCA Super Nationals at Eagle Raceway at Eagle, NE. French says they are growing fast, and now have well over 1000 cars participating.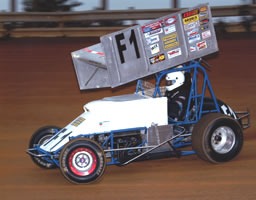 to visit the RaceSaver(tm) website for more info.

for more info on the RaceSaver (tm) IMCA Super Nationals at Eagle Raceway at Eagle, NE.
-------------------------------------------
4) Blowby Sensor Table for Picking CFM Range Customers often ask what size Blowby Sensor they need for a particular engine. We've just put a table on the Blowby Sensor page to help you pick one. Obviously we can not anticipate all situations, but this table gives some good advice. The good news is we can change ranges for about $50 if your testing needs change.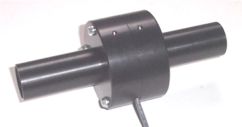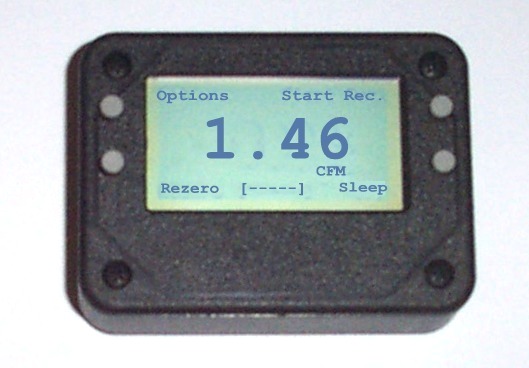 (click image to enlarge it)

to visit our Blowby Sensor page showing all options.

for an FAQ on picking a Blowby Sensor range and the table discussed here.
-------------------------------------------
5) Financing Available for Large Purchases A recent customer purchased one of our prototype Shock Dynos and did it using Marlin Finance. If you've been holding back on a purchase because you don't have the full amount, you may want to consider financing.

to visit our "price list" page. At the top of this page, there's a link right below the Credit Card info to Marlin Finance's "calculator" to estimate your monthly payments. The payments and interest rate may be more affordable than you thought.
-------------------------------------------
6) FAQs: A Great Source for Tech Help We're constantly receiving questions from customers. When we some that we believe many others could also be asking, we put them up on our FAQ (frequently asked questions) page. New answers are published every month. If you've never been to the FAQ page, you may be surprised at all the good information, some of it too specific or too new for the User's Manual for your product.
This last month, we've added 2 FAQs on the Suspension Analyzer concerning "What is meant by 'Binding Error' " and "How Motion Ratios are Calculated", and one on "Blowby Sensor Range Recommendations".

for our FAQ page.
-------------------------------------------
7) Last July's Newsletter Here are the topics covered in our previous newsletter. If you would like another copy of July 2014's newsletter for detail on these topics, visit our website at: Performance Trends Newsletters
| | |
| --- | --- |
| | Dyno DataMite v4.1 Released |
| | EZ Flow Bench Check |
| | Plus Version of Circle Track Log Book |
| | Customers Like Our Stuff |
| | JKM Flow Bench Bug Fixed |
| | Protect Against Lightening Strikes |
| | Media Mentions |
| | Last June's Newsletter |