Re: Performance Trends Newsletter (updates)

To: Visitors to Performance Trends Website

Subject: Product News/Updates, Dec 2010
IMIS and PRI Trade Show Recap
We've got Great Christmas Gift Ideas
Tri-Mark Performance for Tractor Pulling and Much More
Last November's Newsletter
-------------------------------------------
1) IMIS and PRI Trade Show Recap This year we displayed at 2 trade shows, the PRI show in Orlando (which we've always done) and the International Motorsport Industry Show (IMIS) show in Indianapolis (the first year for us). I'm sure those who attended did not get a chance to see or talk to every exhibitor. Thanks to all who stopped by, and sorry we missed talking to you or if you couldn't make it.
Our booth at (IMIS Indianapolis)


(click image to enlarge)
Our booth at Performance Racing Industry Show (PRI Orlando)




(click images to enlarge)
For new products, our new Shock Dyno gathered the most interest. What we displayed was still somewhat prototype, but we expect to release it in March of 2011. Here's a list of its main features:
| | |
| --- | --- |
| | 1.5HP, 110 VAC motor (ideal for most trailers and generators). |
| | Up to 2" stroke and 14"/second shock velocity. |
| | Measures forces over 1000 lbs. |
| | Optional shock temperature sensor, and warm up procedure before testing. |
| | USB computer interface. |
| | Safety Shutdown if Max Force is exceeded. |
| | Software compatible with Win XP, Vista, Win 7. |
| | Base Price starting at $2999. |

(click image to enlarge)
Check out the "PRI 2010, Latest News" brochure we handed out at the show to get up to date on these and other new products by clicking on this link: http://www.performancetrends.com/PDFs/PRI10 Latest News.pdf
Shock Dyno (see pic above). Click here for more info.
New Blowby recorder (see pic below). This is the first application of our new DataMite Micro logger with LCD display. Now the Blowby Sensor can be stand alone and display and record Blowby CFM in a large display.
New updated version of Suspension Analyzer v2.4
And more.
Upcoming newsletters will discuss these products in more detail.
Blowby Recorder Application for DataMite Micro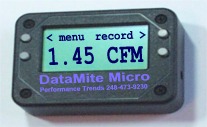 -------------------------------------------
2)

We've got Great Christmas Gift Ideas Many of our products make great Christmas gifts.

For computer programs, most all can be purchased On Line or by calling in your order. Either way, we will give you an activation code to unlock the demo version of the program you can download from our website. This means you can order at the last minute, and still have a gift for that racer on your Christmas list. Popular gift ideas include:
Click on each one above to see what the program does. At the bottom of each page, there is a button to click on to download the demo, or purchase with our Shopping Cart. If you've already got one of our basic versions, maybe you want to add the Plus Version features for a nominal charge.
If you are not sure, you can purchase a Gift Certificate

for any amount $20 or higher. We will refund the difference should you decide to give too much, up to 50% of the original amount. Say you give a $100 gift certificate, and your racer decides on a $79.95 program. We'll refund the $20.05 difference. These can also be emailed at the last minute. Shopping could not be easier, AND you're getting them what they want. Gift Certificates are not available on line, you have to call 248-473-9230 and ask for sales.
For products which require shipping, please order by December 20th to be sure to receive them by Christmas.
If you have any questions, call 248-473-9230. We accept Visa, Mastercard, American Express and Discover.
-------------------------------------------
3) Tri-Mark Performance for Tractor Pulling and Much More We use Tri-Mark Performance of Reedsburg, WI for all our machining and fabrication. Tri-Mark not only can design and fabricate custom parts for most any racing or vehicle application, they are outstanding for Tractor Pull Cylinder Head development. At the IMIS Indy they displayed some of their cast iron heads for circle track. They specialize in "stealth" (under cover) cast iron porting, but can take your heads to full CNC porting with hand finishing. But what got lots of attention was the big, "Super Farm NTPA" John Deere head, fully ported and prepped for turbocharged diesel tractor pulling.
(click image to enlarge)

for their brochure.
Call Mark at 608-768-2900 or email info@trimarkperformance.com to discuss your special fabrication and machining needs, or especially for tractor pull head and engine development.

to visit their website: http://www.trimarkperformance.com
-------------------------------------------
4) Last November's Newsletter Here are the topics covered in our previous newsletter. If you would like another copy of November 2010's newsletter for detail on these topics, visit our website at: http://www.performancetrends.com/news.htm#newsletters
Preliminary Suspension Analyzer v2.4 Available
Trade Shows Coming Up in Indy and Orlando
The Racer's Resource Evaluating our DataMite for Short Track Racing
Another Customer's Trick DIY Motorcycle Inertia Dyno
Tech Help in Finland
Last September's Newsletter