Re: Performance Trends Newsletter (updates)

To: Visitors to Performance Trends Website

to visit www.performancetrends.com.

Subject: Product News/Updates, Dec 2013
PRI Trade Show Recap
New 'Cam Grinder' Edit Feature: Increasing/Decreasing Duration
Youtube Video of our Shock Dyno Software/Electronics on RC Car Shock Dyno
Last November's Newsletter
-------------------------------------------
1) PRI Trade Show Recap This year, there was only the Performance Racing Industry (PRI) Show in Indianapolis (no IMIS trade show). Thanks to all who stopped by. The info below will update you if you couldn't make the show.
Our booth at PRI show with Jon of Performance Trends, and Antron Brown (2012 NHRA Top Fuel Champ) who stopped by the booth.


(click image to enlarge)
The Shock Dyno got further delayed as we tried to develop the toughest dyno out there. From talking to racers, we know they want to put as much force as possible through it for testing high tie-down shocks. Well, in 2013 we got to the point where the "weak link" is now the shock itself, and not the dyno. Now we feel confident we've got a bullet proof design and are releasing it for sale.

(click image of shock broken by shock dyno testing)
| | |
| --- | --- |
| | 1.5HP, 110 VAC motor, ideal for most trailers and generators. 220 VAC option available. |
| | Up to 3" stroke and 20"/second shock velocity. |
| | Works with forces up to 1500 lbs. (In our testing, we typically go to 1800 lbs or higher.) |
| | Optional shock temperature sensor, and warm up procedure before testing. |
| | Optional Plus version of software. |
| | USB computer interface. |
| | Safety Shutdown if Max Force is exceeded. |
| | Software compatible with Win XP, Vista, Win 7, Win 8. |
| | Base Price starting at $3799. (If you've been following the shock dyno, you'll notice the price has gone up some from what we projected last year. At $3799, it is still the most inexpensive, professional, motorized shock dyno you will find. That price is likely to go up soon in 2014.) |

(click image to enlarge)

for the Shock Dyno user's manual.

for more info on our Shock Dyno.
We are taking orders now for dynos we expect to start shipping in February.

to check out the "2013, Latest News" brochure we handed out at the shows to get up to date on these and other new products.
Prototype Dyno Controllers (eddy current is farther along than water brake)
Shock Dyno (see pic above, click blue Shock Dyno link for more info).
High Force option (2500+ lbs) for our automatic spring testers.
Port Flow Analyzer v3.5B released with new features, including 'Head Porter' package.
New Engine Analyzer Pro 'Enterprise Edition' features coming soon.
Quick Cam Checker for $749. This was designed primarily for checking cam timing (centerlines), but people have asked about duration accuracy so we're delaying release to optimize duration accuracy also.
A/F sensor checker is coming along nicely. We anticipate releasing soon.
And more.
Upcoming newsletters will discuss these products in more detail.
-------------------------------------------
2) New 'Cam Grinder' Edit Feature: Increasing/Decreasing Duration We've added a powerful Edit option to the 'Cam Grinder' version of the software, the ability to edit the duration of a lobe design you have measured. With this feature and the existing Edit features of the standard version, you can change:
| | |
| --- | --- |
| | Duration (agressiveness) |
| | Lift |
| | Timing |
of a lobe to create new lobe designs.
Cam Grinder Edit Duration Option (figures show increasing durations 15% for intake and exhaust)



(Click on images to enlarge them)

for more info on the Cam Analyzer software, including features of the Standard, Plus and 'Cam Grinder' versions of the software.

for more info on the Cam Test Stand hardware, which discusses some addtional features of the Standard, Plus and 'Cam Grinder' versions of the software.
-------------------------------------------
3) Youtube Video of our Shock Dyno Software/Electronics on RC Car Shock Dyno CSI has developed a very small shock dyno for RC car shocks. They needed an affordable set of electronics and software and they turned to Performance Trends.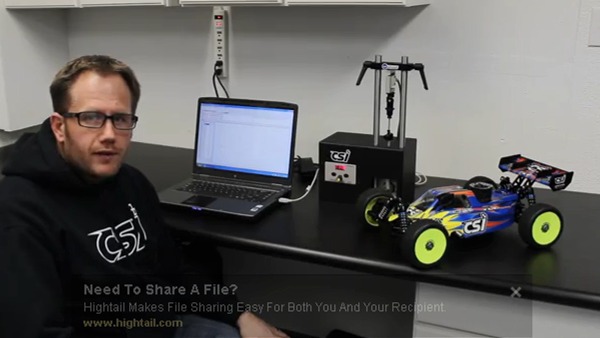 for for link to youtube video.
-------------------------------------------
4) Last November's Newsletter Here are the topics covered in our previous newsletter. If you would like another copy of November 2013's newsletter for detail on these topics, visit our website at: Performance Trends Newsletters
| | |
| --- | --- |
| | We've got Great Christmas Gift Ideas |
| | PRI Trade Show, Indianapolis, Coming in December |
| | Check Out our FAQs (frequently asked questions) |
| | Cam Testing Rotary Encoder Index for LS Cams |
| | New Option for USB FlowComs (tm) on New Computers |
| | Holiday Schedule |
| | Last October's Newsletter |