Re: Performance Trends Newsletter (updates)

To: Visitors to Performance Trends Website
Subject: Product News/Updates, December 2016
PRI Show Recap
Need to Purchase by End of the Year for Tax Purposes?
We've got Great Christmas Gift Ideas
Holiday Schedule
Last November's Newsletter

to visit our www.performancetrends.com home page

to visit our

facebook page and "like" us.
-------------------------------------------
1) PRI Trade Show Recap Thanks to all who stopped by our booth at the PRI Indy trade show, Dec 8-10. The info below will update you if you couldn't make the show.
Here's our booth at PRI show 2016.

to check out the "2016, Latest News" brochure we handed out at the shows to get up to date on these and other new products.

for info on our new Electronic Velocity Probe we released at the show.
Upcoming newsletters will discuss these products in more detail.
-------------------------------------------
2) Need to Purchase by End of the Year for Tax Purposes? For the upcoming end of 2016 tax year, you may be able to deduct a large portion of your purchase from your gross income on your taxes.

for a "Section 179" tax deduction calculator .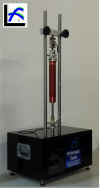 click images to enlarge pictures of some suggestions
What does this mean for you?
If you finance a piece of qualifying equipment or software, you may be able to deduct the Full Amount of the Equipment (perhaps up to $25,000) without paying the full amount this year.
In fact, the amount you save in taxes could be greater than what you pay in the first year of a lease. Your equipment is making you money from day one!
Check with your accountant or tax attorney for how this could affect your business. Also, check with Marlin Financing about leasing options if you don't have all the cash right now. You need to act by Dec 29. Even though we may not be able to ship until 2017, the charge can be made in 2016 for your 2016 taxes.
-------------------------------------------
3)

We've got Great Christmas Gift Ideas First, a big Thank You to our many customers! Your support and loyalty makes it possible for us to keep developing new tools and updates.
Many of our products make great Christmas gifts.

For computer programs, most all can be purchased On Line or by calling in your order. Either way, we will give you an activation code to unlock the demo version of the program you can download from our website. This means you can order at the last minute, and still have a gift for that racer on your Christmas list. Popular gift ideas include:
Click on each one above to see what the program does. At the bottom of each page, there is a button to click on to download the demo, or purchase with our Shopping Cart. If you've already got one of our basic versions, maybe you want to add the Plus Version or Pro Version features for a nominal charge.
If you are not sure, you can purchase a Gift Certificate

for any amount $20 or higher. We will refund the difference should you decide to give too much, up to 50% of the original amount. Say you give a $100 gift certificate, and your racer decides on a $79.95 program. We'll refund the $20.05 difference. These can also be emailed at the last minute. Shopping could not be easier, AND you're getting them what they want. Gift Certificates are not available on line, you have to call 248-473-9230 and ask for sales.
For products which require shipping, please order by December 20th to be sure to receive them by Christmas. These shipments may require UPS 2 day air to arrive before the weekend.
If you have any questions, call 248-473-9230. We accept Visa, Mastercard, American Express and Discover.
-------------------------------------------
4) Holiday Schedule We will be closed on the following days for the Holiday Season:
Dec 22 - limited support
Dec 23 - closed for Christmas Eve holiday
Dec 26 - closed for Christmas holiday
Dec 27-29 - limited support
Dec 30 - closed for New Year's Eve holiday
Jan 2 - closed for New Year's Day holiday
Limited support means we will try to handle emails and phone calls, but you may have to leave a message if you call in. We may also be able to ship critical items. As always, an email may get quicker service than leaving a phone message.
-------------------------------------------
5) Last November's Newsletter Here are the topics covered in our previous newsletter. If you would like another copy of November 2016's newsletter (or any previous newsletter) for detail on these topics, visit our website at: Performance Trends Newsletters
EZ Flow Options
We've got Great Christmas Gift Ideas
Quick Cam Checker in National Dragster
PRI Trade Show, Indianapolis, Coming in December
Last October's Newsletter
Performance Trends reserves the right to discontinue, update, or modify its product line and pricing at any time.