Re: Performance Trends Newsletter (updates)

To: Visitors to Performance Trends Website

to visit www.performancetrends.com.

Subject: Product News/Updates, Feb 2014
New Dyno DataMite v4.1 Updates
New Answers to Common Frequently Asked Questions (FAQs)
Last December's Newsletter
-------------------------------------------
1) New Dyno DataMite v4.1 Updates The most current version of the Dyno DataMite software is v4.1 A.037. Click on Help (at the top of the main screen), and then select About Dyno DataMite to see the complete version number of your program.
Some recent improvements include:
| | |
| --- | --- |
| | Enhanced printouts, especially for graphs, and new printing options. See images below. |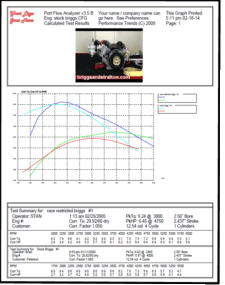 (click images to enlarge them)
| | |
| --- | --- |
| | Enterprise Edition now lets you add a picture file of the particular engine you are testing. This can be a picture of most anything you want, but most dyno testers would make this a picture of the engine or vehicle. See images above. |
| | New calibration options. For example, now you can choose the type of Performance Trends A/F sensor you have, and also choose the type of fuel you want A/F reported for, including various alcohol blends and Lambda. |
| | New Com Port communications. The new method appears to be more reliable, and you can use Com Ports numbers up to 99. |
| | Several prototype controller options, but this has no affect on the program unless you have one of our prototype controllers. |

for a link to downloading the latest v4.1 A.037. If you already own v4.1, this a free update. If you choose to install this latest version.... During the installation, when asked, select to do a Refresh installation instead of a Complete (typical) installation.

for a link to the Readme.doc file, listing all changes to the program for the various versions.
IMPORTANT: If you do not have v4.1, this download could turn your older v3.7 into a demo version which could expire in 10 days. If this happens, you will have to reinstall your v3.7 to get it working and you could lose some configuration settings (but not any test data).
| | |
| --- | --- |
| | Updating from v3.7 Basic to V4.1 Basic is $60. |
| | Updating from v3.7 Pro to V4.1 Pro is $100. |
| | Adding the Enterprise Edition features to the Pro version 4.1 is $350. |
| | For other update options, contact Performance Trends via email link below. |
You have to contact Performance Trends to do updates as these are not available via the website's shopping cart.

to send us an email.
-------------------------------------------
2) New Answers to Common Frequently Asked Questions (FAQs) We continually publish answers to frequently asked questions on our FAQ page. Even if you don't have a particular question, the FAQ pages has lots of helpful hints about your Performance Trends software or electronics. We've added or updated several answers to FAQs over the past few months, including:

for "Can I use your Windows programs on my Apple Mac (Macintosh) ?" (under the General Questions section)

for "How do I know what A/F to shoot for when I change fuels?" (under the Dyno DataMite section)
(click image to enlarge for A/F scales for best power)

for "My DataMite will hang up (stop updating the screen) during a dyno test. What can I check?" (under the Dyno DataMite section)

for "How do I hang weights on my dyno for calibrating the load cell for torque?" (under the Dyno DataMite section)

(click image to enlarge for hanging weights on dyno to calibrate)

for the entire FAQ page.
-------------------------------------------
3) Last December's Newsletter Here are the topics covered in our previous newsletter. If you would like another copy of December 2013's newsletter for detail on these topics, visit our website at: Performance Trends Newsletters
PRI Trade Show Recap
New 'Cam Grinder' Edit Feature: Increasing/Decreasing Duration
Youtube Video of our Shock Dyno Software/Electronics on RC Car Shock Dyno
Last November's Newsletter