Re: Performance Trends Newsletter (updates)

To: Visitors to Performance Trends Website
Subject: Product News/Updates, February 2018
New Pushrod Adapter for Quick Cam Checker
Fuel Safety - What can happen doing something we've all done dozens of time
Practice Tree - Sound Fix for Win 10
Last January's Newsletter

to visit our www.performancetrends.com home page

to visit our

facebook page and "like" us.
-------------------------------------------
1) New Pushrod Adapter for Quick Cam Checker Last month we announced our Part number QCC-CM6 Adapter to mount the Quick Cam Checker's valve lift sensors on the 602, 603, 604 GM Chevy crate motors. This month we've got a new adapter kit which is more universal for pushrod motors. It uses the standard mounting hardware which comes with the QCC, which (unfortunately) has more flex than the QCC-CM6, but provides a less expensive alternative. However, if you design your own more rugged mounting hardware for your particular engines, you will have a great system for measuring tappet right off the pushrod.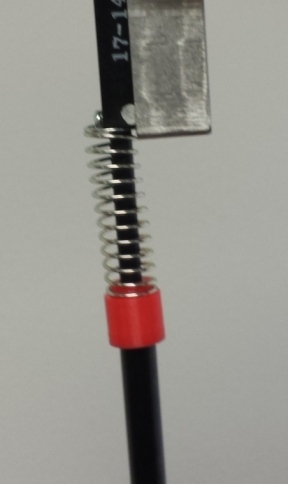 The advantages of measuring the cam on the pushrod include:
Pushrod with this adapter provides a more positive mount on the valve train. Trying to get a good mount on a retainer can be tricky.
You eliminate the rocker ratio effect, which is often not known exactly.
You eliminate the valve spring trying to collapse a hydraulic lifter.
Part number QCC-PK The "Pushrod Kit" comes with 2 precision adapters and 2 helper springs, and is affordably priced at $59. The adapters snuggly fit on the tip of the sensor, securely hold the spring in place and provide a radiused pocked for the pushrod. The helper springs provide more force to keep the lifter in contact with the cam lobe as you crank the motor with the starter.
Part number QCC-CM6 Here's what we said last month about the QCC-CM6 adapter to mount the Quick Cam Checker's valve lift sensors on the 602, 603, 604 GM Chevy crate motors. Remove the rocker arms and it quickly mounts directly on the pushrods for better accuracy, and eliminates the errors of hydraulic lifter leak down. This is a very handy tool for track tech inspectors for the 602, 603, 604 GM Chevy crate motors.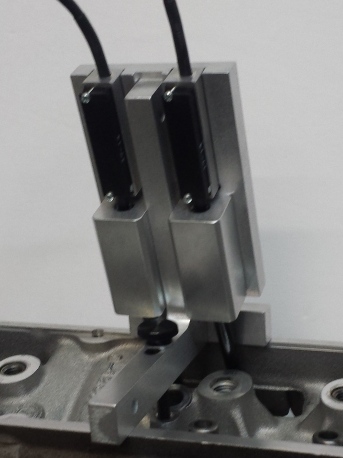 The Quick Cam Checker has been around for a couple of years, and is used to find out the specs of a cam already installed in the motor. The main advantage of the Quick Cam Checker is it is quick. There is no need to pull the distributor, install a degree wheel, or find TDC. That is all done automatically, quickly, and very accurately using advanced technology.

(click image to enlarge)

for more info on the Quick Cam Checker. This page shows other options, software, and has links to pricing and movies.

to check out the "2017, Latest News" brochure we handed out at the show. It describes product updates released in 2017, like the Suspension Analyzer v2.4B and Drag Racing Analyzer v3.4 B below, and other new products.
-------------------------------------------
2) Fuel Safety - What can happen doing something we've all done dozens of time At PRI this year I ran into a customer I hadn't seen in a couple of years. I looked down at his badge to get a name and looked up to start a conversation. Then I said "Ryan, what happened?" I could see Ryan had gotten burned and we started a 30 minute conversation about the fire. It started when Ryan was filling a fuel cell in his dyno room. I can guarantee you that most anyone reading this could not have seen the danger coming. But like Ryan said, it was a "perfect storm of bad luck".
Anybody who handles fuel should read Ryan Brown's story and learn of the precautions you need to take around fuel.

to read Ryan's story.
Note: As with any Safety Advise, you should always consult with a local expert like the fire department to understand the best fuel handling procedures for your shop.
-------------------------------------------
3) Practice Tree - Sound Fix for Win 10 The Plus version of our Drag Racing Practice Tree allows you to add a shift light to the timer. You enter some info about number of shifts, shift RPMs, etc and the program not only simulates how you time launching the car, but also shift times based on a simulated shift light. One of the options is to add RPM sound so you can better anticipate the shift light. Well, some Win 10 computers had a problem producing the sounds, but now we've got that fixed with v2.0 A.022.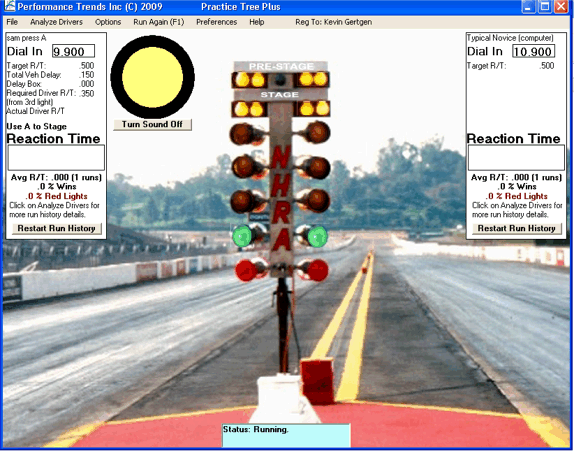 You have several inputs to fine tune how you want this feature to work as shown in the screen below. These include sound through most any sound card, and the ability to specify a "trick" RPM, an RPM which occurs before your desired RPM to help you more perfectly shift at your desired Shift RPM. The "Load Default Settings" is a feature to load in most of the settings in this screen from as few as 5 easy inputs.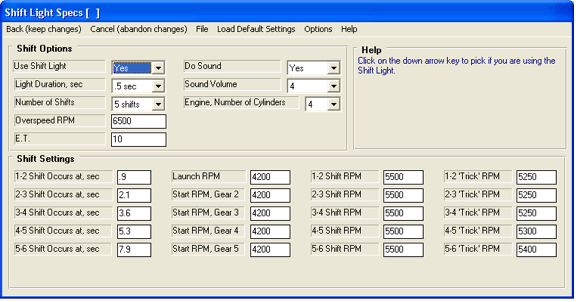 When you finish your run, you will get results as shown below, including an estimate of how much your ET suffers because you did not shift perfectly at the RPM you specified.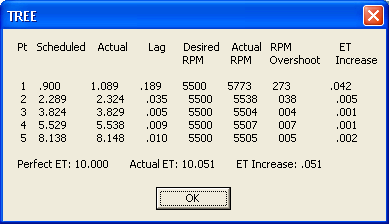 If you already own the Practice Tree Plus, this is a free update. To update, install the latest version from the link below right over the top of your existing version. This is not critical, but when asked, select to do a Refresh installation instead of a Complete (typical) installation. Once installed, run the program. Click on Help (at the top of the main screen), and then select About... The new version number (written in blue) should now be 2.0 A.022.

for more info on our Practice Tree software.

to download the latest Practice Tree software. Cost for the Plus version if you do not own it now is $79.95.
If you do not own the Plus version of Practice Tree, it is a $45 upgrade from the standard version. Cost for the standard version if you do not own it now is $39.95.

to email us about upgrading or call 248-473-9230.
-------------------------------------------
4) Last January's Newsletter Here are the topics covered in our previous newsletter. If you would like another copy of January 2018's newsletter (or any previous newsletter) for detail on these topics, visit our website at: Performance Trends Newsletters
Crate Motor Bracket for Quick Cam Checker
Blog: Besides CFM Flow, what can you measure on a Flow Bench?
FAQs - Cam Analyzer Radius of Curvature, Automatic Valve Opener
Last December's Newsletter
Performance Trends reserves the right to discontinue, update, or modify its product line and pricing at any time.