Re: Performance Trends Newsletter (updates)

To: Visitors to Performance Trends Website

Subject: Product News/Updates, Jan 2010

Motorized Cam Test Stand Option
Engine Analyzer Pro v3.9 Updates
Inductive Pickup Clip for DataMite
Do a Coastdown Test on your Dyno for Troubleshooting Later
Great Nostalgia, Car Brochures from the Past
Last November's Newsletter
-------------------------------------------
1) At the PRI show in December, we displayed the Motorized "On Centers" Mounting Option for the Cam Test Stand. Because the cam is rotated at a slow, consistent rate, this option can provide for improved data quality, especially if you are interested in acceleration and jerk data.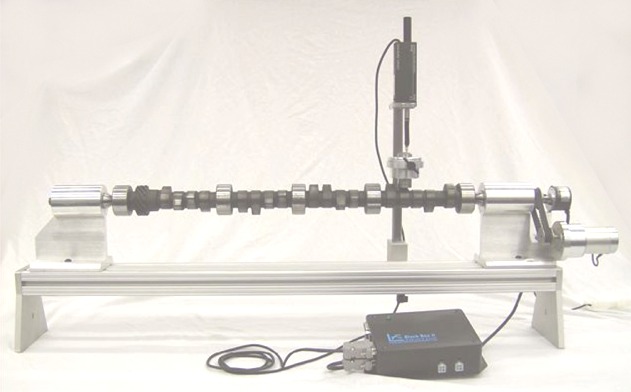 If you purchase this feature as part of a new Cam Test Stand, it is part # CTS-MC for $1250. This option can also be added to your existing Cam Test Stand with the part # CTS-MCRK for $1450, where the "RK" stands for Retro-Fit Kit.
-------------------------------------------
2) Engine Analyzer Pro v3.9 Updates Like always happens, once a program gets in the hands of dozens of users, they find things we've missed. The latest Engine Analyzer Pro v3.9 A.020. To see your exact version number, click on Help (at the top of the main screen), and then select About Engine Analyzer Pro. The complete version number will be written in blue, something like v3.9 A.012. Major changes include:
| | |
| --- | --- |
| | Fixed some bugs for the VVT (variable valve timing) feature. |
| | Fixed some bugs for Metric features. |
| | Fixed some bugs for reporting certain outputs correctly and clearly. |
| | Added some new features for Calculating the Turbine Nozzle Diameter for turbochargers. See picture below. |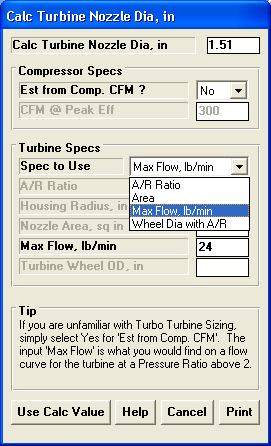 If you want to see all we've change for these minor revisions, click on the blue link below to see the latest Readme.doc file:
http://performancetrends.com/text-files/EA Pro v3.9 Readme.doc
If you already own v3.9 and want to update to this latest version, click on the blue link below. When asked, select to do a Refresh installation rather than a Complete (typical) installation.
http://performancetrends.com/programs/Engine Analyzer Pro v3.9 Installer.exe
If you don't have the v3.9, click on the blue link above to download the FREE demo for a 10 day trial period. The demo installs to a different location than your old Engine Analyzer Pro, so don't worry about this download screwing up what you already have.
Click on the blue link below for a list and explanation of all the new features:
Engine Analyzer Pro User's Manual Supplement v3.9 (new v3.9 features only)
You are able to download these for free if you buy the v3.9 update. This update is FREE to anyone who purchased the Engine Analyzer Pro v3.5 in November 2009, but $75 to anyone owning v3.5 prior to this. If you own v3.3, it is $110. If you own v1.1, 1.2 or v2.1, it is $250. If this is a new purchase, the full retail price remains $469. Check the table below for a summary.
| | |
| --- | --- |
| You own... | Update/upgrade price to latest EA Pro v3.9 |
| Engine Analyzer Pro v3.9 | FREE |
| Engine Analyzer Pro v3.5, bought in Nov 2009 | FREE |
| Engine Analyzer Pro v3.5, bought prior to Nov 2009 | $75 |
| Engine Analyzer Pro v3.3 | $110 |
| Engine Analyzer Pro v1.1, 1.2 or 2.1 | $250 |
| Standard Engine Analyzer, any version ($75 discount) | $394 |
| Engine Analyzer Plus, any version ($140 discount) | $329 |
| No Engine Analyzer, a new purchase | $469 |
-------------------------------------------
3) Inductive Pickup Clip for DataMite We've found an inexpensive clip which works well with our inductive pickup lead, the "purple wire" on most of our DataMite wiring harnesses. If you have one of our later Inductive Pickup boxes with the sensitivity adjustment screw, this will work well for you. (If you have an older Inductive Pickup box without sensitivity adjustment, the clip will not work as well. That is because you have to adjust sensitivity by varying the number of wraps you do to the "purple wire".)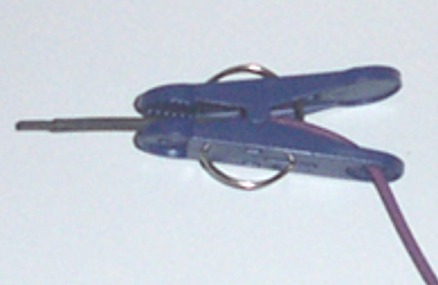 We can mail one out to you (part # DTM-IPUCW) for $5 + $3 mailing charge in the USA.
-------------------------------------------
4) Do a Coastdown Test on your Dyno for Troubleshooting Later We've had customers call who have installed our DataMite system on their inertia dyno, wondering why their power has dropped a few percent. After some discussion, it sounds like their dyno is running colder in the winter months, colder bearings, more drag, power numbers will be lower unless you properly correct for it. If they had done a coastdown test when everything was working well, it would be quite easy to do a coastdown test now when power is down and see if bearing friction has increased.
So for others to learn from this experience, we encourage you to do a coastdown test on your inertia dyno when everything is working well. Then you can track any changes as bearings age, weather and room temperature change, etc. Coastdown testing is covered in Appendix 6 in your manual, or look for Coastdown in the index. The latest v3.7 lets you run a coastdown test and extract the proper data automatically. Picture below is an example for coastdown HP losses in the Dyno Specs screen for the Pro version.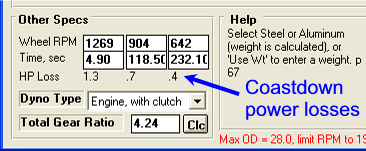 Click on the following blue link to info on our Dyno DataMite data acquisition systems.
-------------------------------------------
5) Great Nostalgia, Car Brochures from the Past Someone emailed us a link to this website for car brochures over the years, from about 1910 to present. If you remember Studebaker, DeSoto, Starliner, etc, you'll really enjoy this website. We've also put this link on the Funny Farm page:
http://www.lov2xlr8.no/broch1.html Not funny, but great fun, Car Brochures from the past.

-------------------------------------------
6) Last November's Newsletter Here are the topics covered in our previous newsletter. If you would like another copy of November 2009's newsletter for detail on these topics, visit our website at: http://www.performancetrends.com/news.htm#newsletters
Performance Racing Industry (PRI) Trade Show, Dec 10-12
Christmas Shopping
Engine Analyzer Pro v3.9 Released
Port Flow Analyzer v3.5 and EZ Flow Demo Movie Files
Performance Business Magazine Article: Engine Performance
Land & Sea Dyno (tm) Torque Arm Option for Dyno DataMite
Dave Morgan Drag Racing Seminars
Last October's Newsletter