Re: Performance Trends Newsletter (updates)

To: Visitors to Performance Trends Website

to visit www.performancetrends.com.

Subject: Product News/Updates, July 2012
Troubleshooting and Tuning w Drag Race DataMite
Improved 4 Link Plus Animation
Facebook Followers Get Discounts
Last June's Newsletter
-------------------------------------------
1) Troubleshooting and Tuning w Drag Race DataMite Cobra Jet racer Blaine Ramey (Ramey Motorsports) is also a Ford Engineer. Being an engineer, he probably thinks more about using technology to optimize his car than the average racer. Blaine went out and did a quick "test and tune" at an 1/8 mile track to check a few things:
| | |
| --- | --- |
| | Was A/F tracking at 12.5 through the entire run? |
| | Was the transmission pressure holding about 220 psi through the entire run? |
| | Was the supercharger pulley slipping? |
| | Was the 4 link working as it should? |
Since he's been using a Drag Race DataMite III USB, this was as easy as installing the proper sensors and playing back the results. Here's some pics of how some sensors were installed:

(click on image to show A/F sensor in collector)

(click on image to show supercharger pulley RPM sensor)
Here's some graphs of how the results looked:

(click on image for graph of converter slip, transmission line pressure, and A/F readings)

(click on image for graph of supercharger RPM vs Engine RPM)

(click on image for graph of shock travel vs 4 Link Calculator setting)
Results showed the following:
| | |
| --- | --- |
| | A/F is suppose to be 12.5 from engine controller. However, graphs show it starting at 12.5:1, but may be leaning out to almost 13:1 at higher RPM. Blaine will richen up the A/F some to be safe using the engine controller. |
| | Transmission Line pressure was 220, exactly as it should be. |
| | No supercharger slippage was seen. |
| | Shock travel confirms that at 130% anti-squat, the rear shocks were extending under acceleration. |
This shows just some of the uses of a data logger like the Drag Race DataMite for tuning and diagnosing problems.

to visit the Drag Race DataMite's main page.
-------------------------------------------
2) Improved 4 Link Plus Animation We've added another feature to the 4 Link Calculator Plus for doing better animation of shock travel. If you click on Options, then Animation, and now you have a choice between Standard Animation (which we've always done) and Animation More Realistic (changes with Anti-Squat). This is a free update to owners of the 4 Link Calculator Plus. If you own the standard 4 Link program, it is a $60 upgrade charge (part number 4L20+CU).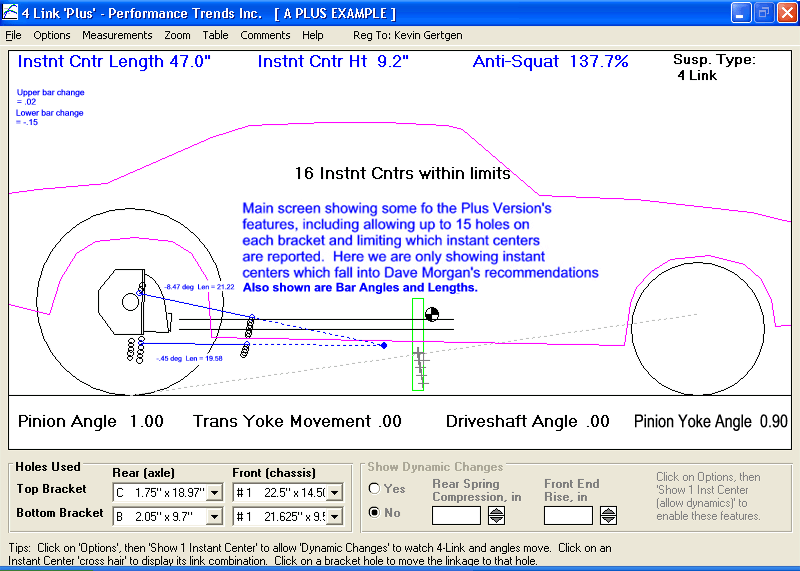 to see a list of the Plus version's added features.

to visit the 4 Link Calculator's main page, including a list of the Plus version's added features.
-------------------------------------------
3) Facebook Followers Get Discounts We will be occasionally announcing some short term discounts on some popular products on our facebook page. So, if you visit our home page, be sure to "like us" and sign up to follow us on facebook.

Click on link below to visit the home page and sign up for our face book page.

to visit www.performancetrends.com.
-------------------------------------------
4) Last June's Newsletter Here are the topics covered in our previous newsletter. If you would like another copy of June 2012's newsletter for detail on these topics, visit our website at: Performance Trends Newsletters
Cam Analyzer v4.0 Released
New "Low Restriction, Cooler Temperature" A/F Sensor Boss
Last April's Newsletter