Re: Performance Trends Newsletter (updates)

To: Visitors to Performance Trends Website
Subject: Product News/Updates, July 2017
New Bob Weight Calculations in Engine Build Log Book
New 0.3 CFM Blowby Sensor for Kart Motors
New 3600 CFM Air Flow Meter for Dyno DataMite
Last June's Newsletter

to visit our www.performancetrends.com home page or call 248-473-9230

to visit our

facebook page and "like" us.
-------------------------------------------
1) New Bob Weight Calculations in Engine Build Log Book We've made some significant improvements to the way the Engine Build Log Book deals with the Bob Weight calculation.
Whenever you click on an input in the Rotating Assembly screen which affects Bob Weight, all Bob Weight inputs are highlighted in green.
A preferences lets you specify if the "Bob Wt, gms" is calculated from other inputs, or lets you enter "Bob Wt, gms" directly and if there is any difference between what you entered and what is calculated is displayed in the green message. If you click on the green message, the info displayed now goes into more detail on how to fix any differences.
In the Basic version, the Bob Weight calculation now changes depending on the Engine Layout you choose, where most V layouts assume 2 Rods/Crank Throw, but most Inline motors assume 1 Rod/Crank Throw. In the Plus Version, you can specify this for any Engine Layout, and you can also specify the "Reciprocating Factor" on how to "weight" the reciprocating masses versus the rotating masses.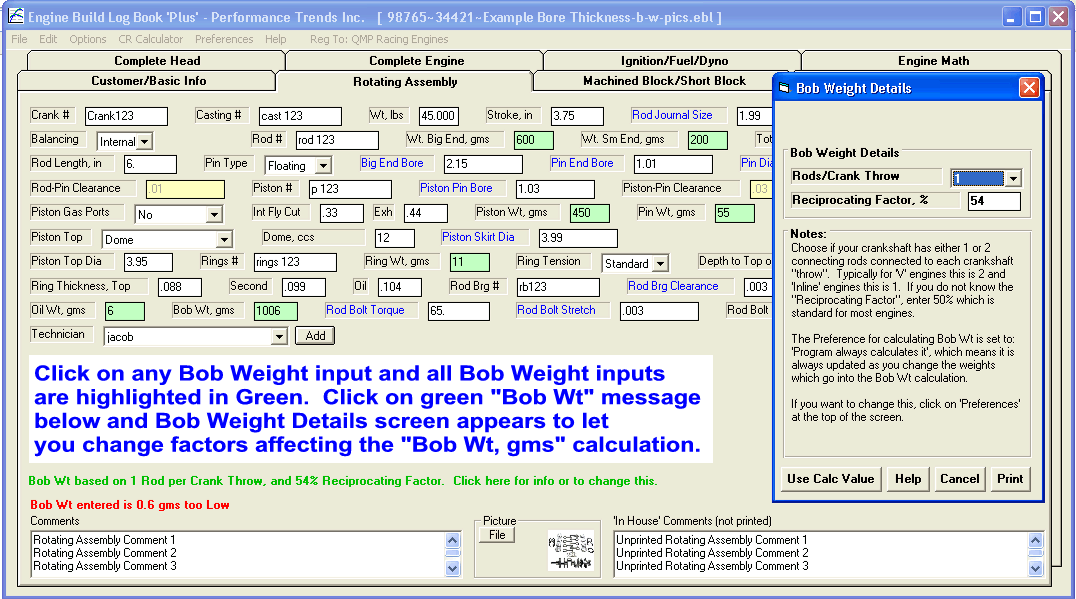 This is a free update to any one who owns the Engine Build Log Book. If you own the standard $249 Log Book, it is a $100 upgrade charge to get the Plus Version, which has some of these Bob Weight features and many other advanced features, like:
Adding picture files to your data files for saving and printing.
Allow editing of data with drop down lists of options.
Allow saving and opening of customer info, which can repeat often for different records.
Numbers for your data entries can be included in the graphs of Bore Thickness and Bore Dimensions
If you already own this program and want these latest updates, install the latest version directly over the top of your existing version from the link below

for the download link to update your existing Engine Build Log Book program. When asked, select to do a Refresh installation instead of a Complete (typical) installation.

for more info on the Engine Build Log Book program or to purchase the program.

for info on upgrading your standard Log Book to the Plus Version.
-------------------------------------------
2) New 0.3 CFM Blowby Sensor for Kart Motors Since kart motors make much less HP than larger motors, they also make much less blowby. Therefore, we've added a new 0.3 CFM range to our range of blowby meters available.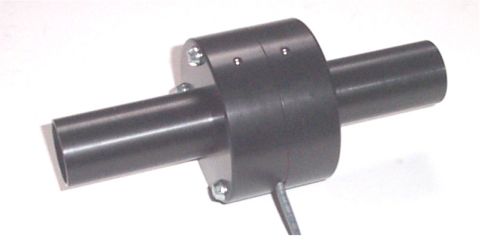 Blowby is probably the best indicator of how well the rings are sealing, much better than leakdown or compression. If you already own a blowby sensor and want to have the range changes, send it in and we can do if for $50. Standard ranges we have now include 0.3, 1, 3, 6, 12 and 18 CFM. We've also made special custom ranges of 30 CFM and higher for big blower motors.

for more info on the Blowby Sensor. We also offer a data logger for recording and displaying blowby readings and RPM if you want if you do not have a logger for the sensor.
-------------------------------------------
3) New 3500 CFM Air Flow Meter for Dyno DataMite Some of the highest HP our Dyno DataMites will deal with are the tractor pull guys. And with all this HP comes very high air flow rates. To measure 3000+ CFM of air flow and to keep the flow restriction of the flow meter low, and to keep the size of the meter low, we developed a special, high range CFM Flow Meter.

click image to enlarge
It's main features include:
Very small for the very large CFM range, at 6" diameter PVC
350 to 3500 CFM air flow range
Very low flow restriction
Very affordable at $465, part number DT4-AFP6

for info on adding this sensor to your Dyno DataMite dyno logger.
-------------------------------------------
4) Last June's Newsletter Here are the topics covered in our previous newsletter. If you would like another copy of June 2017's newsletter (or any previous newsletter) for detail on these topics, visit our website at: Performance Trends Newsletters
New Weather Wiz Updates - Reads DataMite III and DataMite 4
New FAQs
4th of July Holiday Schedule
Credit Card Security
Last May's Newsletter
Performance Trends reserves the right to discontinue, update, or modify its product line and pricing at any time.