Re: Performance Trends Newsletter (updates)

To: Visitors to Performance Trends Website
Subject: Product News/Updates, June 2016
New Drag Race 4 Link Plus Feature
New Movie Showing Setting DataMite 4 Digital Outputs
New Frequently Asked Questions Answered (FAQs)
Ron Sutton's Suspension Tuning Workshops
Ford Wins LeMans!
Last May's Newsletter

to visit our www.performancetrends.com home page

to visit our

facebook page and "like" us.
-------------------------------------------
1) New Drag Race 4 Link Calculator Plus Feature We've added a powerful new feature to the Plus version of our popular 4 Link Calculator. Now the "Adjust Bars" option lets you adjust the length of the bars and watch what happens to anti-squat, instant center location, pinion angle change, and much more. If you like the new setting, you can keep it and all the hole locations on the axle brackets are now adjusted (and wheelbase changed) to fit the new bar lengths.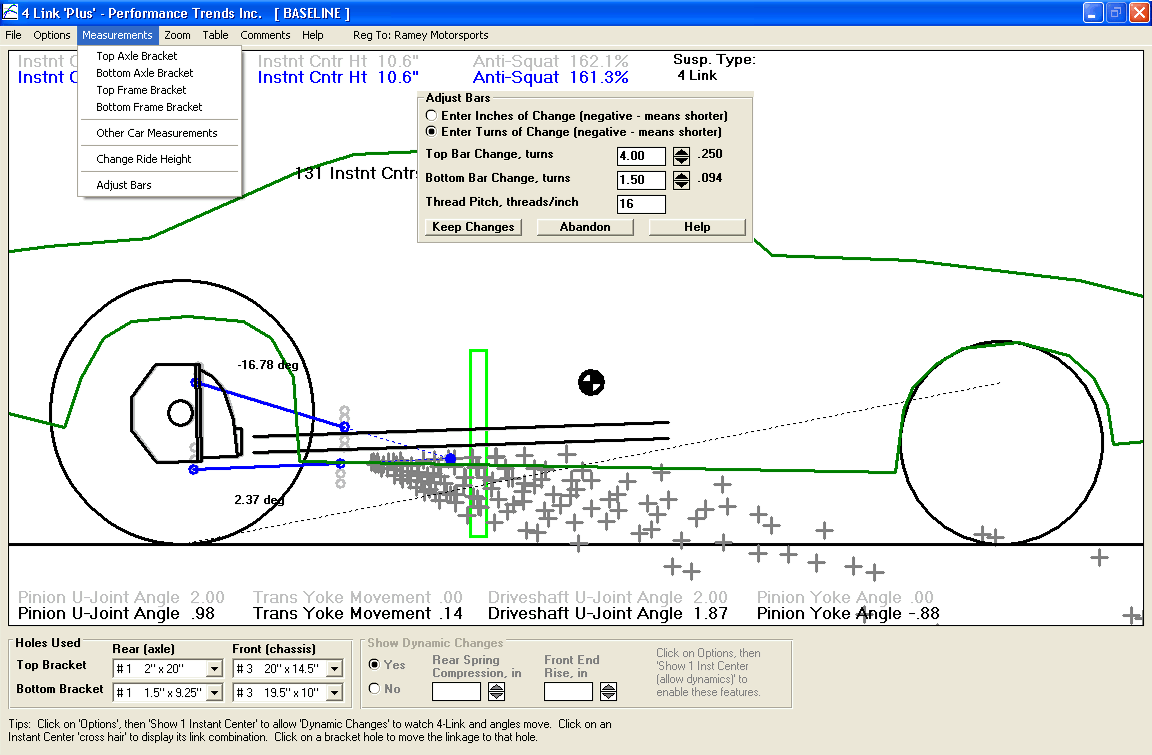 If you already own the Plus version, this is a free update. If you own the standard 4 Link Calculator, it is a $90 upgrade cost, but you get all the other Plus Version features, including
Allows for up to 15 holes on each bracket
Allows for generating several holes between 2 other holes on either a straight line or on an arc that you specify.
Allows for limits to be specified, to eliminate combinations you are not interested in, like instant centers below ground.
Allows for an 'Animate' mode where the program simulates some vehicle dynamics (squat and rise). This is to illustrate how the instant center location, % anti-squat, pinion angle, yoke slip CAN change as you go down the track. This animation may NOT be the same as what your car produces. It also does NOT change if you change the 4 link settings. Our Suspension Analyzer lets you import actual shock travel data to simulate what your car is doing.
Option lets you display the Static Bar Angles (at ride height).
Torque Arm rear suspension type (like 3rd and 4th generation Camaros). See picture below.
You can add absolute Pinion Yoke angle to be displayed, which basically tracks the twist put on the axle during dynamics. The standard Pinion Angle shown below is the angle between the pinion yoke and the driveshaft and is useful for tracking changes in the U joint angle.
Choose (click on) a combination from the Table and you can choose to load those conditions back to the main screen.
If you do not own a 4 Link Calculator program, the Plus version is $149.95 and can be purchased at the link below:

for our 4 Link Calculator page

to send us an email about upgrading your standard version to the Plus version
-------------------------------------------
2) New Movie Showing Setting DataMite 4 Digital Outputs One of the DataMite 4's additional features is its ability to turn On or Off lights or relays when certain sensors's readings go above or below certain settings for a certain amount of time. These can be set up to act like:
A shift light, with a light going on if over a particular Engine RPM.
An overspeed, with a relay cutting ignition power if over a particular Engine RPM
A temperature control, with a relay controlling power to a fan, pump or heat exchanger when a temperature goes above or below a particular setting.
Or most anything else you may need.
We've now made a movie showing how to set up the DataMite 4's two Digital Output channels.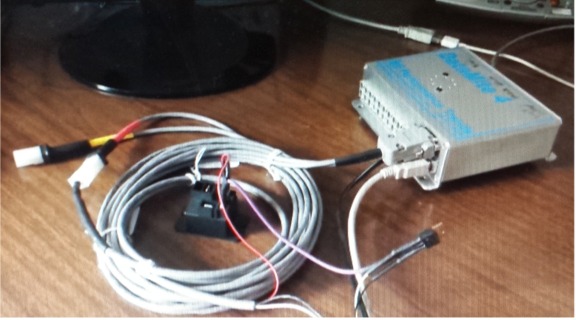 for more info on our Dyno DataMite Analyzer software and hardware

for our Setting Digital Outputs movie
-------------------------------------------
3) New Frequently Asked Questions Answered (FAQs) Every week we get questions from users about our products, explaining features, tips on understanding the outputs, etc. For answers to questions which are asked frequently, we have our Frequently Asked Questions or FAQ page. Recently we had the question: "I'm a cam grinder, and I want to see all lobes spread out like when viewed from the end of the cam. Is that possible?"
The answer goes into quite a bit of detail, including measuring the dowel pin location to index the rotary encoder to obtain the cam timing as shown below.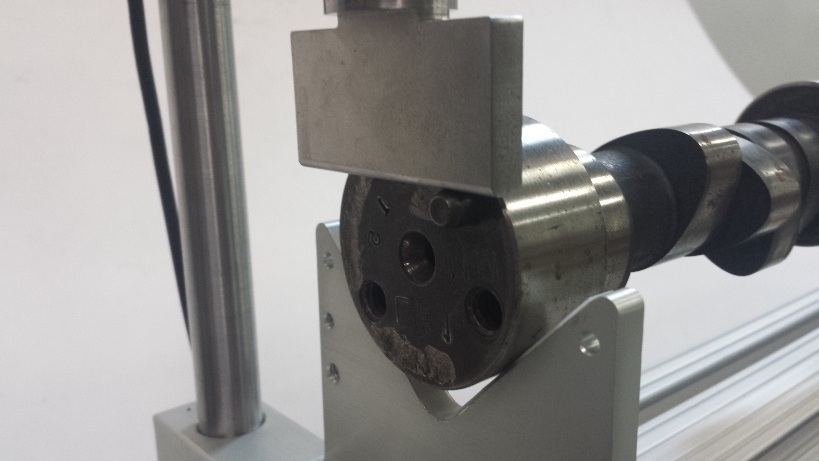 for the answer to this particular question

for our FAQ page for answers to questions on most all products. Even if you don't think you have a particular question, seeing answers may show you features in your software you did not know were there.
-------------------------------------------
4) Ron Sutton's Suspension Tuning Workshops One of Performance Trend's customers, Ron Sutton, is putting on 4 workshops on Suspension Tuning. He also did this last year, with very good attendance and great reviews. This year's topics will be different, so if you attended last year, there will be lots of new information. Topics for 2016 will include Measuring out your Car, How to Optimize your Suspension Settings, Race Winning Shock and Sway Bar Combos, and much more. Ron will have a Chevelle chassis at the workshop for demonstrations.
A huge advantage for Performance Trends' customers is Ron will be using our Suspension Analyzer software for some demonstrations. If you own Suspension Analyzer, you will gets lots of tips on using your software.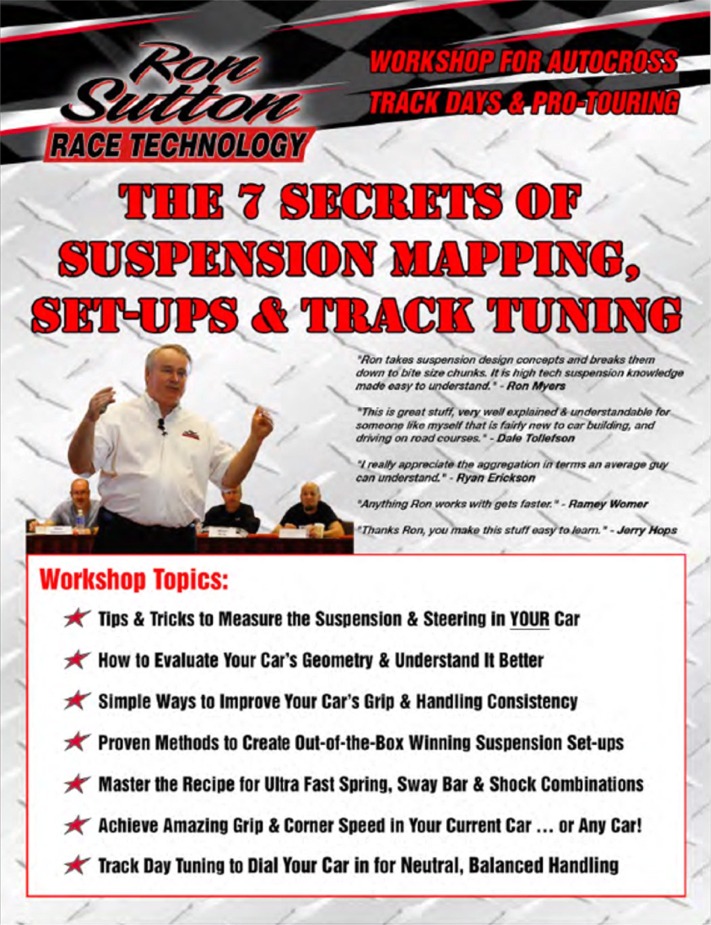 for the full brochure PDF
Performance Trends has purchases 16 tickets for our guests to attend one of Ron's 4 workshops at 4 different locations (4 tickets for each location), a $399 value. Tickets will be awarded at no charge to people who have "liked us" on facebook and own most any Performance Trends product. To enter this drawing, send us a facebook message saying "I want to be in the Ron Sutton drawing and I own xxx Performance Trends product" from our facebook page at the link below:


to visit our facebook page and "like" us.
On June 17 we had our first drawing, and awarded 4 tickets to Ron's workshops. They were Brian Throckmorton, Robert Tarrien, James Rice, and Matt Leicester. There will be another drawing for tickets before the upcoming Charlotte workshop on July 14, so like us on facebook and message us right away if you want to attend Charlotte. If you are interested in a later workshop, you can send us a facebook message at a now or at a later date. The drawing for the remaining 2 workshops will be in mid August.
As the tickets are awarded, the first people will have a choice of which workshop to attend. The first 4 ticket recipients will have a choice of any workshop, and there will likely be no choice for the last tickets awarded.
Ron Sutton's Workshop Schedule:
Thursday, July 7 in Columbus, Ohio before the Goodguys PPG Nationals

Friday, July 29 in Charlotte, NC before the USCA/Optima Ultimate Street Challenge

Thursday Sept 29 in Fort Worth, Texas before the Goodguys Lone Star Nationals

Wednesday November 2 in Las Vegas, Nevada before the SEMA/OPTIMA Ultimate Street Car Invitational
Note: Performance Trends is not responsible for changes to Ron's schedule or workshops. You must arrange your own transportation and lodging. Also, in accepting a ticket, you are allowing Performance Trends to use your name on our website and/or newsletter as someone who has won one a ticket to the workshops.
-------------------------------------------
5) Ford Wins LeMans! It was the 50th anniversary of the huge Ford win at the 1966 LeMans, where Ford finished 1, 2, and 3. This was a gutsy play by Ford to try to repeat history in 2016, but they pulled it off with a first place finish. I'm sure Henry Ford II ("Hank the Deuce", who put is "mojo" into the 1966 effort) is smiling from heaven.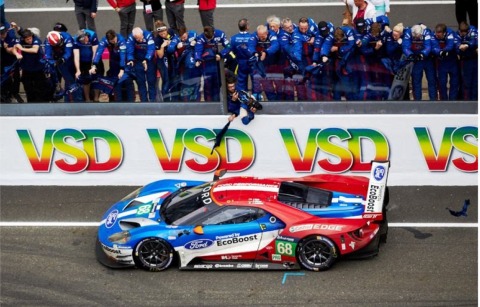 (Click image for link to more details)
-------------------------------------------
6) Last May's Newsletter Here are the topics covered in our previous newsletter. If you would like another copy of May 2016's newsletter (or any previous newsletter) for detail on these topics, visit our website at: Performance Trends Newsletters
New Shock Dyno Movie
New Compression Ratio Pro Features
Ron Sutton's Suspension Tuning Workshops
New Newsletter Provider
Last February's Newsletter
Performance Trends reserves the right to discontinue, update, or modify its product line and pricing at any time.