Re: Performance Trends Newsletter (updates)

To: Visitors to Performance Trends Website
Subject: Product News/Updates, June 2017
New Weather Wiz Updates - Reads DataMite III and DataMite 4
New FAQs
4th of July Holiday Schedule
Credit Card Security
Last May's Newsletter

to visit our www.performancetrends.com home page or call 248-473-9230

to visit our

facebook page and "like" us.
-------------------------------------------
1) New Weather Wiz Updates - Reads DataMite III and DataMite 4 We've made some significant improvements to the Weather Wiz program. We recently added the ability of it to read the DataMite Mini logger. Now we've expanded that to read the DataMite III and DataMite 4 loggers. This can be a very handy feature, because if you tuned your engine on your dyno, you can take the same data logger to the track and have it recommend jet or "pill" changes for the weather at the track. "Pills" are restrictors used by mechanical fuel injection systems to adjust fuel flows and richness level.
We've also added the ability for the data logger to read weather for either the left "Baseline" side on the Weather Wiz screen, or the right side which predicts A/F changes and jet or pill changes for the data logger weather readings. These A/F predictions are continually updated as weather changes. This is very useful for up to the minute estimates of the proper jet or pill size to exactly duplicate the A/F you set on the dyno.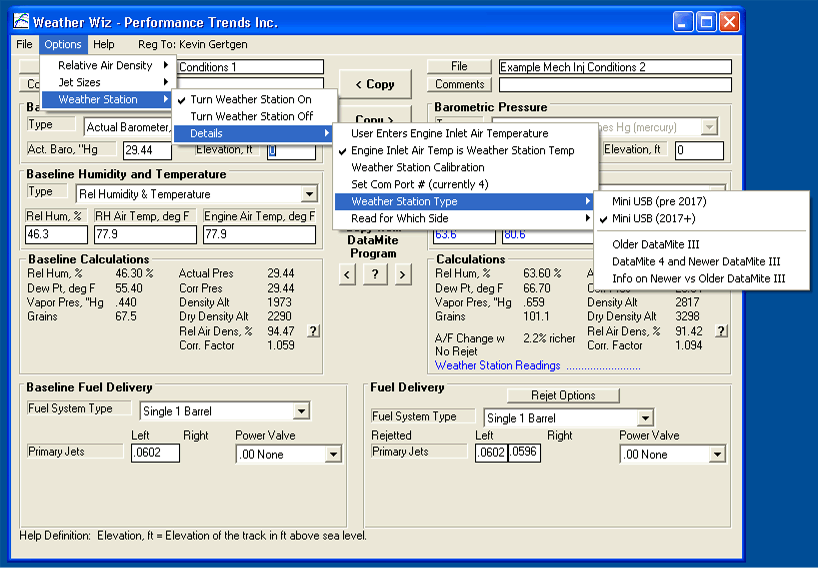 for more info on the Weather Wiz program .
-------------------------------------------
2) New FAQs Like just about every month, we publish more answers to FAQs (frequently asked questions). Our FAQ page is a wealth of information, even for products you may not own. Not only do we talk about the products, we talk about the theory, physics and chemistry behind our products, and engine building and vehicle dynamics in general. New for this month include:

I have a Torsion Bar rear suspension. I have a Polaris Razor rear suspension. How can I simulate these suspensions with my Suspension Analyzer?

Why should I measure weather conditions when engine testing? Does this produce what they call Corrected Torque and Corrected HP?

for the full Frequently Asked Questions FAQ page
-------------------------------------------
3) 4th of July Holiday Schedule We will be closed on July 4th for the holiday. We will be open on June 30 and July 3, but somewhat short staffed because of vacations.
-------------------------------------------
4) Credit Card Security Several times customers will be surprised we do not have their credit card info on file if they purchased something on line, or purchased over the phone even just a few hours prior. We do not keep any credit card records on file at our shop or on our computers. This is to provide excellent security for credit card info.
Also, just a "heads up" for using your credit card for purchases on line, over the phone, or via email. Never give out or send your complete 15 or 16 digit credit card number unless you completely trust everyone who can see those numbers. Expiration dates are pretty easy to guess through trial and error. Having the correct 3 or 4 digit security code only helps the merchant save on some fees. It does not stop anyone from using your card. If anyone has the number and expiration date, they have everything they need to use your card. The security code really provides very little extra security.
-------------------------------------------
5) Last May's Newsletter Here are the topics covered in our previous newsletter. If you would like another copy of May 2017's newsletter (or any previous newsletter) for detail on these topics, visit our website at: Performance Trends Newsletters
New Lift Sensor Mount for Quick Cam Checker
New Tach Signal Input for Blowby Recorder
New Movies
New FAQs
Last April's Newsletter
Performance Trends reserves the right to discontinue, update, or modify its product line and pricing at any time.