Re: Performance Trends Newsletter (updates)

To: Visitors to Performance Trends Website
Subject: Product News/Updates, March 2017
New Tools for Quick Cam Checker - Great for Tech Inspectors
Software Tools for the Racing Season
Get Ready for Racing With a Data Logger
FAQ/Blog Posts - Flow Bench Test Pressure - Torque Converter Stall - More
Last February's Newsletter

to visit our www.performancetrends.com home page or call 248-473-9230

to visit our

facebook page and "like" us.
-------------------------------------------
1) New Tools for Quick Cam Checker - Great for Tech Inspectors Tech inspectors have been using our Quick Cam Checker to find cams which are out of spec. The advantage of the Quick Cam Checker is it is quick. There is no need to pull the distributor, install a degree wheel, or find TDC. That is all done automatically, quickly and very accurately.

(click image to enlarge)
Tech inspectors wanted a way to more quickly compare their standard, legal cam profile with the racer's actual cam. So we've added new graph and report features, and the ability to designate a particular cam profile as a baseline for comparison. Some of the new Graph options let you:
Change the graph scale to "magnify" the graph so differences can be spotted more easily.
Change the thickness of the lines.
Choose whether to include a baseline graph or not, and picking a test to designate as the baseline.
Choose whether to include a report of the duration and events for 1 or both graphs at .050" lift increments, and include a table showing the differences between these 2 tables (as shown in picture below).
Quick Cam Checker Overlay Graph with Baseline, and Showing additional Graphing Options (baseline profiles drawn in black)


(click image to enlarge)

Quick Cam Checker Overlay Graph Report


(click image to enlarge)

These new features make it very quick and easy to show a racer how their cam is different than the legal cam.

for info on the Quick Cam Checker.

to send us an email for more information or a quote on the Quick Cam Checker.
-------------------------------------------
2) Software Tools for the Racing Season
The green flag has dropped for 2017. Let's race! We've got products which can help make this season a winning one. Last newsletter we talked about our Shock Dyno for this season. This month we're talking about software. (Click on the colored lettering to link to our website pages.)
Circle Track Analyzer lets you find adjustments to make your car, say, reduce a push (understeer) 5% with a panhard bar adjustment, or tighten up the car 3% with a front or rear roll bar adjustment. Or try the program's "starting point suggestions" for the popular Big Bar Soft Spring setup or a more conventional setup.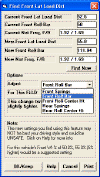 (click image to enlarge)
Circle Track Log Book lets you keep track of all your records, like spring and shock changes, corner weights, roll center location, panhard bar adjustments, front to rear balance ratings, etc. Or, let it make suggestions based on detailed tire temperature analysis. Now your records can be organized in a form you can actually use. And we've got a new Plus version with even more features, so check it out also.


(click image to enlarge)
4 Link Calculator for Drag Racing lets you rank all the possible 4 Link adjustments for how hard or soft they will hit the tires, or how your current setting compares to Dave Morgan's suggested setting. Now you can make an informed decision when you make a 4 Link adjustment. We've also got a Plus version of the 4 Link which has a new "Adjust" feature which lets you adjust the length of the bars and see what happens to pinion angle, instant center, anti-squat and more. This is a great new addition.


(click image to enlarge)
Practice Tree for Drag Racing keeps your reaction times honed to a keen edge. In addition, it lets you see how staging and front tire stagger and diameter will affect your overall reaction time to prevent red lights.


(click image to enlarge)

Drag Racing Analyzer has great dial in and throttle stop prediction screens to account for weather changes. The big advantage of the Drag Racing Analyzer over the competition is it can handle wind changes much more accurately.


(click image to enlarge)
-------------------------------------------
3) Get Ready for Racing With a Data Logger Maybe this is the year you want to start to analyze your vehicle's performance on the track. Or maybe learn what you or your driver could be doing better. Whether you are drag racing, circle track racing, or road racing, we've got the logger package for you. Or, if you already have one of our DataMite loggers, maybe you want to trade it in for the latest technology. This includes new features like:
GPS track mapping
Drag racing acceleration timer
More channels
A/F sensors
Lightening fast downloading via SD memory card
User definable outputs for switching relays/lighting lights/etc, and much more.
Drag Racing "Sportsman Plus" Package (other packages also available)


(click image to enlarge)

for info on the Drag Race DataMite system and software.
Typical Road Race/Circle Track "Suspension Tuner" Package (other packages also available)


(click image to enlarge)

for info on the Road Race/Circle Track DataMite system and software.

to email us about what you are looking for and we'll send a detailed quote tailored for your particular needs, or call 248-473-9230.
-------------------------------------------
4) FAQ/Blog Posts - Flow Bench Test Pressure - Torque Converter Stall - More We've added answers to several new Frequently Asked Questions various customers have asked over the past few months. We've also added some blog posts to our Motorsports Blog. Even if you don't have a particular question, the FAQ page and Motorsport Blog are a wealth of knowledge about all our products. Many times it will show details on the most recent features of a product that are not contained in the User's Manual. We really recommend you take a look.

If I build an EZ Flow flow bench just using a shop vacuum as the flow source, how will that affect my data?

Blog Post: Why do we flow heads at 28" water?

click image to enlarge it

What is meant by "aspect ratio" in the Spring Wiz program?

click image to enlarge

Why can't I just type in my converter's stall RPM (in Drag Racing Analyzer and Drag Race Analyzer Pro) and have the program always use it for "stall RPM"?

click image to enlarge it

Blog Post: How Could My Converter's Stall RPM Change?

for the full Frequently Asked Questions FAQ page
-------------------------------------------
5) Last February's Newsletter Here are the topics covered in our previous newsletter. If you would like another copy of February 2017's newsletter (or any previous newsletter) for detail on these topics, visit our website at: Performance Trends Newsletters
Shock Dyno - Get Ready for Racing
Spark Advance Measurement - National Dragster
DataMite - Troubleshoot RPM Movie
FAQ - Turbo Maps - Finding Lash Point - More
Last January's Newsletter
Performance Trends reserves the right to discontinue, update, or modify its product line and pricing at any time.