Re: Performance Trends Newsletter (updates)

To: Visitors to Performance Trends Website

Subject: Product News/Updates, May 2009
Tools for Your Racing Season
Updates of Some Programs for Vista
Get YOUR Engine File into our Upcoming Engine Analyzer Updates
Roll Center Calculator/Circle Track Analyzer v3.6 Minor Updates
Dave Morgan Drag Race Seminars Coming Up
New Book on Ford Flathead V-8
Last March's Newsletter
-------------------------------------------
1) Tools for the Racing Season The green flag has dropped for 2009. Let's race! We've got products which can help make this season a winning one. (Click on the colored lettering to link to our website pages.)
Circle Track Analyzer lets you find adjustments to make your car, say, reduce a push (understeer) 5% with a panhard bar adjustment, or tighten up the car 3% with a front or rear roll bar adjustment. Or try the program's "starting point suggestions" for the popular Big Bar Soft Spring setup or a more conventional setup.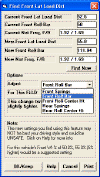 (click image to enlarge)
Circle Track Log Book lets you keep track of all your records, like spring and shock changes, corner weights, roll center location, panhard bar adjustments, front to rear balance ratings, etc. Or, let it make suggestions based on detailed tire temperature analysis. Now your records can be organized in a form you can actually use.


(click image to enlarge)
4 Link Calculator for Drag Racing lets you rank all the possible 4 Link adjustments for how hard or soft they will hit the tires, or how your current setting compares to Dave Morgan's suggested setting. Now you can make an informed decision when you make a 4 Link adjustment.


(click image to enlarge)
Practice Tree for Drag Racing keeps your reaction times honed to a keen edge. In addition, it lets you see how staging and front tire stagger and diameter will affect your overall reaction time to prevent red lights.


(click image to enlarge)

Drag Racing Analyzer has great dial in and throttle stop prediction screens to account for weather changes. The big advantage of the Drag Racing Analyzer over the competition is it can handle wind changes much more accurately.


(click image to enlarge)
-------------------------------------------

2) Updates of Some Programs for Vista Vista had been a struggle for all of us, both the users and programmers. We've been learning how Vista does things different from XP (and it can be REALLY different). We've started to put in special features to accommodate for these differences in some programs. These programs include Compression Ratio Calculator, Circle Track Analyzer v3.6, Roll Center Calculator v3.6, Cam Analyzer v3.8, Engine Build Log Book, and our DataMite Data Logger Software (for Dyno, Drag Racing and Road Race/Circle Track Racing).
If you're running these programs on a Vista computer AND are having Vista problems, you may want to download the latest demos from our website by clicking on the links above (colored text), or this link to our download page: http://performancetrends.com/download.htm Then find your program from the table and click on it to be brought to the "spinning disk" download icon
Install over the top of your existing program. During the installation, you may be asked if you want to do a "Complete (typical)" installation or a "Refresh" installation. This is not critical, but the "Refresh" installation is strongly recommended. However, if you are NOT having problems, do NOT update. If it ain't broke, don't fix it.
-------------------------------------------
3) Get YOUR Engine File into our Upcoming Engine Analyzer Updates We're planning on some updates to our popular Engine Analyzer programs (std, Plus and Pro) in the next months. If you're a user of these programs and want to get YOUR engine file included in the update as one of the Example engine files, email it to us. Make sure that the file is accurate to the best of your ability. Also include any of the following:
| | |
| --- | --- |
| | Any actual dyno data for comparison |
| | Any pictures, send the JPG or some other file format. |
| | A description of the engine in your own words. This could already be in the file's comments. |
| | How you would like your name or company name to appear in the comments as the source (or if you do NOT want to be listed as the source). |
Send as many files as you want. We will try to get them included in the updates. Click on the following link to send us an email: tech@performancetrends.com
You can also upload them to our Photo Gallery page at this link: http://performancetrends.com/Gallery/ If you do so, please email us also saying you did and that we could use your engine file for our Engine Analyzer updates.
-------------------------------------------
4) Roll Center Calculator/Circle Track Analyzer v3.6 Minor Updates As usually happens when we release a new program or update, the first user's find things we didn't in testing. The v3.6 Roll Center Calculator and Circle Track Analyzer is no different. If you've purchased the v3.6, check your exact version number. Click on Help (at the top of the main screen), and then select About... The complete version number (written in blue) will be something like v3.6 A.004.
We are now up to v3.6 A.009. If you are having difficulties with your version and it is older than v3.6 A.009, try updating to the latest by clicking on the following link in colored text: http://www.performancetrends.com/programs/Circle_Track_Analyzer_V36_Installer.exe
Again, during the installation, you may be asked if you want to do a "Complete (typical)" installation or a "Refresh" installation. This is not critical, but the "Refresh" installation is strongly recommended. However, if you are NOT having problems, do NOT update. If it ain't broke, don't fix it.
-------------------------------------------
5) Dave Morgan's Seminars for Drag Racing 4 Link Tuning Dave Morgan has been doing books and seminars on tuning 4 Link Drag Racing suspensions for many years. He's got a series of seminars coming up with updated info. Contact Dave if you want to attend at StaayTuned@aol.com Dave actually uses our 4 Link Calculator for some of his presentations.

(click image to enlarge)
Dave Morgan is giving seminars at night. He's committed to traveling even more during the racing season to help racers tune their drag racing suspensions. Dave has divided his seminar course into three classes, which he will present on three separate week nights in selected markets. The three classes are: Chassis Structure; Springs and Shocks and Suspensions. Each class will last about four hours (start times vary) and costs $40/class. If you register for all three, the cost is $100.
Complete course outlines are available on Dave's website www.davemorganseminars.com. Guys can register on his site or call him at 567/242-9779

June
9 Wannata, IN Suspension Seminar
10 Antioch, IL Suspension Seminar
30 Lebanon, PA Chassis Structure

July
1 Vineland, NJ Chassis Structure Seminar
2 Newport News, VA Chassis Structure Seminar
7 Lebanon, PA Spring and Shock Seminar
8 Vineland, NJ Spring and Shock Seminar
9 Newport News Spring and Shock Seminar
14 Lebanon, PA Suspension Seminar
15 Vineland, NJ Suspension Seminar
16 Newport News, VA Suspension Seminar
21 Dallas, TX Chassis Structure Seminar
22 Houston, TX Chassis Structure Seminar
23 San Antonio, TX Chassis Structure Seminar
28 Dallas, TX Spring and Shock Seminar
29 Houston, TX Spring and Shock Seminar
30 San Antonio, TX Spring and Shock Seminar
August
4 Dallas, TX Suspension Seminar
5 Houston, TX Suspension Seminar
6 San Antonio, TX Suspension Seminar

-------------------------------------------
6) New Book on Ford Flathead V-8 Another good friend of Performance Trends is Joe Abbin of Roadrunner Engineering. He's just released a great looking Flathead Ford V-8 Performance Handbook. It has loads of modern day info on building the "icon engine" of the early hot rodding days, the Ford Flathead V-8. From docile naturally aspirated street motors to a 335 HP supercharged bullet, Joe describes how to build both and everything in between. He even includes screens and info from our Engine Analyzer Pro, a tool even Henry wished he had back in the 1920s.
For more info, contact Joe at 505-268-6768 or roadrunnerengr@msn.com or visit the website at www.roadrunnerengineering.com
-------------------------------------------
7) Last March's Newsletter Here are the topics covered in our previous newsletter. If you would like another copy of March 2009's newsletter for detail on these topics, visit our website at: http://www.performancetrends.com/news.htm#newsletters
New Roll Center Calculator (std and new Plus version) and Circle Track Analyzer Released
New Compression Ratio Calculator (std and new Plus version) Released
Pictures of Dyno DataMite Packages Added to Website
Last January's Newsletter