Re: Performance Trends Newsletter (updates)

To: Visitors to Performance Trends Website

Subject: Product News/Updates, May 2010

Preliminary Engine Analyzer v3.4 Beta Version Released
New Fuel Economy Calculator Feature
Port Flow Analyzer Compatible with New SuperFlow Benches
Recent Media Coverage
Last March's Newsletter
-------------------------------------------
1) Preliminary Engine Analyzer v3.4 Beta Version Released We're getting ready to release a huge update to our popular Engine Analyzer programs, both the standard and Plus versions. Before we do, we'd like to get some feedback from those interested in helping us evaluate some of the new features.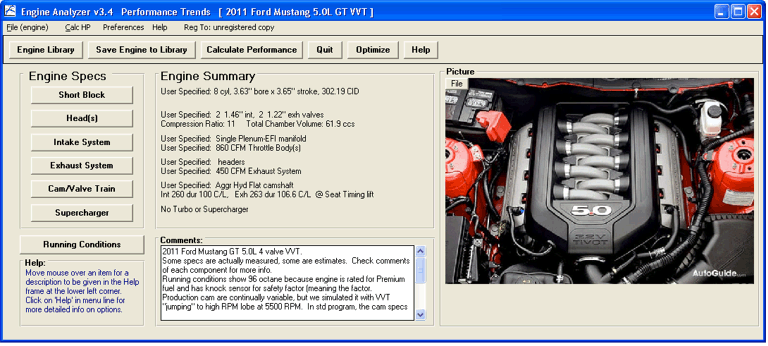 New features include:
| | |
| --- | --- |
| | Include a picture graphics file with your engine specs for printouts (see above). |
| | Specs for hundreds of new component parts are preloaded. |
| | You can import heads and cam files from other sources, like those available from Stan Weiss * |
| | It's more compatible with newer operating systems (Vista and Windows 7) and newer versions of PDF printing programs. |
| | And much more. |
* Stan has made all this flow data available in this file format on CD. Until June 15 2010, he's offering a special 50% discount off the standard $34.95. You get all his flow data files for only $17.47 by purchasing on line at the link below:
http://users.erols.com/srweiss/onlinept.htm
The upcoming v3.4 Plus now has a total of 20 enhancements over the standard version. New Plus features for v3.4 include:
| | |
| --- | --- |
| | Variable Valve Timing ( V V T ) |
| | E85 as a fuel type. |
| | Many new graphing and printing options, including being able to include some graphic file (like a company logo) on your printouts. |
| | You can more precisely specify the cam profiles with new inputs of "Dwell over Nose" and "Ramp Rating". |
| | You can import Head Flow files from Performance Trends' Port Flow Analyzer flow bench program. |
| | And much more. |

for the details on Engine Analyzer New Features coming in the new v3.4.

to download a Preliminary FREE Engine Analyzer v3.4 Demo.
If you decide to purchase this Preliminary version, you will be able to download the final, released version when all features are finalized.
The v3.4 update is FREE to anyone who purchased the Engine Analyzer v3.2 (std or Plus) in May 2010, but $40 and $60 respectively to anyone owning v3.2 prior to this. If you own v3.0 or anything older, or want to upgrade your std version for the Plus, check the table below for a summary of prices.
You can also upgrade all the way to our Engine Analyzer Pro v3.9 for $469. If you own the standard Engine Analyzer (any version) you get a $75 discount. If you own the Engine Analyzer Plus (any version) you get a $140 discount.
| | | |
| --- | --- | --- |
| You own... | Update/upgrade price to latest Standard Engine Analyzer v3.4 | Update/upgrade price to latest Engine Analyzer v3.4 Plus |
| Engine Analyzer v3.4 | FREE | $99 (pn EA34+Ugd) |
| Engine Analyzer v3.2, bought in May 2010 | FREE | $99 (pn EA34+Ugd) |
| Engine Analyzer v3.2, bought prior to May 2010 | $40 (pn EA34CU) | $125 (pn EA34+U30) |
| Engine Analyzer v3.0 or earlier | $60 (pn EA34CU2) | $125 (pn EA34+U30) |
| Engine Analyzer Plus v3.4 | na | FREE |
| Engine Analyzer Plus v3.2, bought in May 2010 | na | FREE |
| Engine Analyzer Plus v3.2, bought prior to May 2010 | na | $65 (pn EA34+CU) |
| Engine Analyzer Plus v3.0 | na | $95 (pn EA34+CU2) |
| No Engine Analyzer, a new purchase | $109.95 (pn EA34C) | $199 (pn EA34+C) |
-------------------------------------------
2) New Fuel Economy Calculator Feature We've had engineers request more inputs for the Fuel Economy Calculator. One that we've just added is the ability to enter the rolling resistance coefficient directly. You can right click on the "Tires" label to be presented with the option to enter this coefficient directly. See below.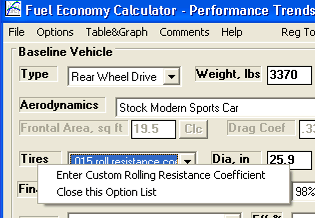 You can review all this program's features at: http://performancetrends.com/fuel_economy_calculator.htm
If you already own this program, you can download these enhancements for FREE by reinstalling the program from this link: http://performancetrends.com/download.htm#FuelEconomyCalculatorDemo
Important: You got an Unlocking number when you purchased your program, based on the Registered Name you used. You can unlock this latest version yourself by using exactly the same Registered Name when you install this new version. Then the same unlock number will unlock the update. You can view your Reg Name by clicking on Reg To: at the top of the main screen on your current version, before you download and install the new version.
-------------------------------------------
3) Port Flow Analyzer Compatible with New SuperFlow Benches SuperFlow (tm) has released 3 new flow benches, the SF260, SF450 and SF750. The popular Port Flow Analyzer is compatible with all 3 of these new model benches. It is also compatible with the USB style FlowCom (tm), and Vista and Windows 7. Like most of our products, we are constantly improving them even if we don't make a major version change.
Our Port Flow Analyzer (with or without the Black Box II electronics) is also compatible with most any SuperFlow bench, most other brands of flow benches, your own custom "do it yourself" bench, and our popular EZ Flow System. This package will definitely speed up your flow bench testing, while improving accuracy and providing your customers professional computer printouts with your company name and logo.
Black Box II with 3 pressure sensors and 2 temperature sensors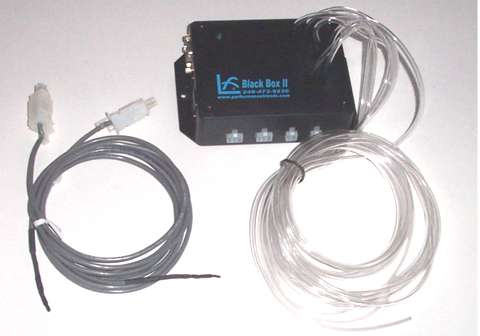 -------------------------------------------
4) Recent Media Coverage Chevy Hi Performance magazine, June 2010, pages 56-63 had an article "How it Works, Part 2, Cylinder Head Roundtable" which discussed Cylinder Head Port Design. Darin Morgan gave our Engine Analyzer Pro a "plug" for assisting engine builders understand an engine's air flow demand and a heads actual flow capabilities on page 63.
-------------------------------------------
5) Last March's Newsletter Here are the topics covered in our previous newsletter. If you would like another copy of March 2010's newsletter for detail on these topics, visit our website at: http://www.performancetrends.com/news.htm#newsletters
New Practice Tree 'Plus' Version
New Valve Spring Tester Options
Stan Weiss Head Flow Data - Special 50% Off Offer
Tip for Dyno Operators - Keep a Spare RPM Sensor on Hand
Funny Farm - New Laughs
Last February's Newsletter