Re: Performance Trends Newsletter (updates)

To: Visitors to Performance Trends Website
Subject: Product News/Updates, May 2015
Ron Sutton's Suspension Tuning Workshops (and FREE tickets)
New Feature in 4 Link Plus
3000+ HP on Steve Morris's Dyno using DataMite 4 Logger youtube
One of Ford's Great Hits, Dyno Testing for Le Mans Dominance 1966-1969
Recent Media Coverage
Last April's Newsletter


to visit our facebook page and "like" us.
-------------------------------------------
1) Ron Sutton's Suspension Tuning Workshops One of Performance Trend's customers, Ron Sutton, is putting on 4 workshops on Suspension Tuning, geared primarily to autocrossing. Topics will include Suspension and Steering Geometry, Shock Valving, Balanced Handling, Aerodynamics, and more.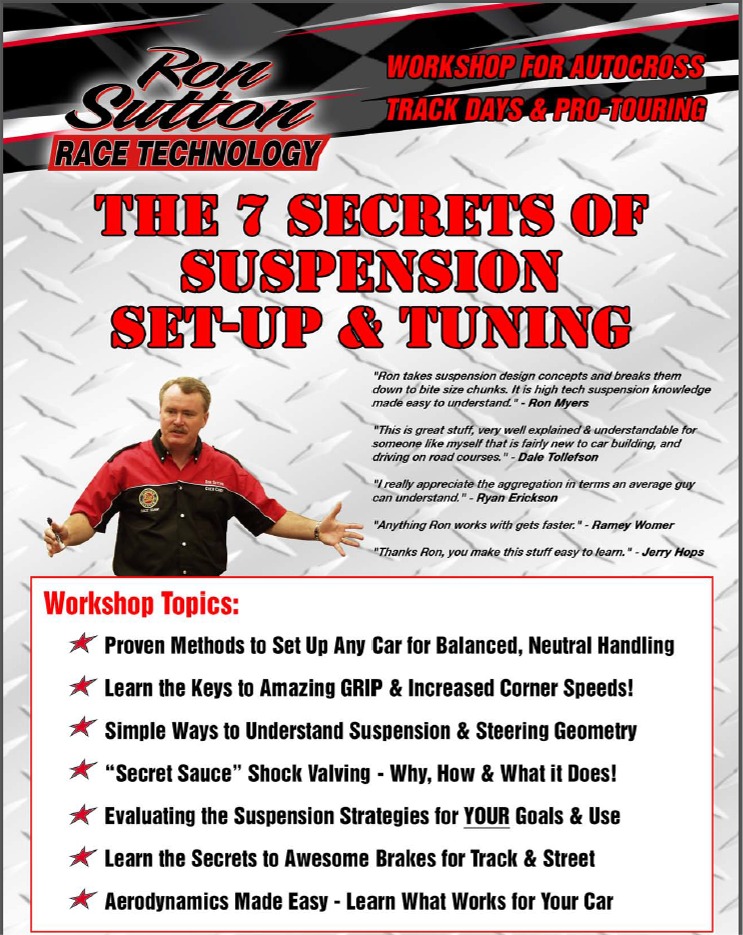 for the full brochure PDF
We've purchases 8 tickets for our gests to attend one of Ron's 4 workshops at 4 different locations (2 tickets for each location), a $349 value. Two tickets will be given to people who have "liked us" on facebook and own most any Performance Trends product. To enter this contest, send us a facebook message saying "I want to be in the Ron Sutton drawing and I own xxx Performance Trends product" from our facebook page at the link below:


to visit our facebook page and "like" us.
The drawing for these "facebook" tickets will be on June 15, so like us on facebook and message us right away.
The other 6 tickets will go to the first 6 people ordering our Shock Dyno or one of our DataMite III or DataMite 4 Road Race/Circle Track DataMite loggers over the next few months. If you've been thinking about getting one of these products, now's the time to get this extra bonus.
As the tickets are awarded, the first people will have a choice of which workshop to attend. The first 2 ticket recipients will have a choice of any workshop, and there will be no choice for the last tickets awarded. This means you want to act fast and purchase something before June 15 to get your choice of any workshop. However, if we sell, say, 6 shock dynos before the June 15 drawing, the facebook drawing ticket winners will have almost no choice in workshop.
Ron Sutton's Workshop Schedule:
Thursday, July 9 in Columbus, Ohio before Goodguys PPG Nationals

Thursday September 10 in Bowling Green, Kentucky before Holley LS Fest

Thursday October 1 in Fort Worth, Texas before Goodguys Lone Star Nationals

Thursday November 5 in Las Vegas, Nevada before OPTIMA Ultimate Street Car Invitational
Note: Performance Trends is not responsible for changes to Ron's schedule or workshops. You must arrange your own transportation and lodging. Also, in accepting a free ticket, you are allowing Performance Trends to use your name on our website and/or newsletter as someone who has won one a ticket the workshops.
-------------------------------------------
2) New Feature in 4 Link Plus We've added a new feature to our Drag Racing 4 Link Plus software, the ability to watch Axle Housing "twist". The program has always calculated Pinion Angle (u joint angle between pinion and driveshaft) and Driveshaft Angle (u joint angle between driveshaft and transmission yoke).

click image to enlarge it
Recently a customer was interested in just how much the axle was twisting, or how much the pinion yoke angle was changing as the vehicle went through squat. This was rather easy since that angle was already being calculated but just not displayed. Now that is a new option you can select called Include Absolute Pinion Yoke Angle.
4 Link Plus is $129.95. Upgrading from the standard 4 Link program to the Plus is $65.

for info on our 4 Link program, either Standard or Plus

to send an email to us for details on Upgrading from Standard to Plus version.
-------------------------------------------
3) 3000+ HP on Steve Morris's Dyno using DataMite 4 Logger youtube One of our Michigan engine builders is using our DataMite 4 on their dyno, building some impressive power levels. Steve Morris Engines of Muskegon, MI can build you 3000+ HP BB Chevy as shown in the youtube video below, or most any other power level you need. Contact them at: Sales@stevemorrisengines.com

click image to enlarge it

for the full youtube video
-------------------------------------------
4) One of Ford's Great Hits, Dyno Testing for Le Mans Dominance 1966-1969 When I started at Ford Dyno Lab back in 1978, I thought I was a motorhead, having owned and "built" many Mustangs and Camaros. But I didn't know squat about Ford's deep racing history until the dyno guys started talking about Thunderbolts, Cammers, Le Mans. I would walk by test room 17D every day at the intersection of 2 major hallways, and not think twice about it. It was probably the largest test cell at Dyno, but was used mostly for storage at the time.
Then I started to hear the stories of "Hank the Deuce" (Henry Ford II) in the 60's coming by to see how the 427 development was going for the GT40 program in 17D. They used paper tape with holes punched in it as the "program" for simulating the 24 hours of Le Mans. The story at the time was they knew they would win Le Mans long before the race was ever run.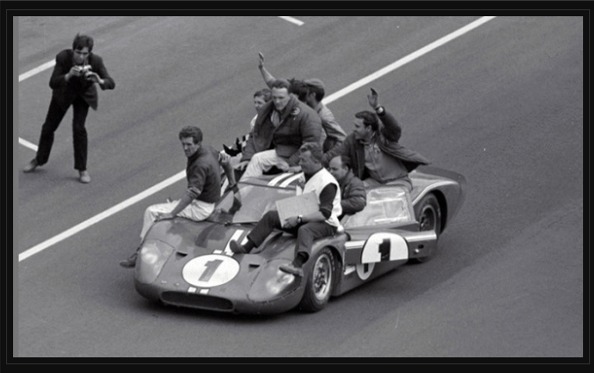 Well, Ed Olin, a Ford engineer friend of mine, found an old 1967 video describing Ford's development program to win Le Mans . I thought some of you might enjoy it.

for the full video
-------------------------------------------
5) Recent Media Coverage We had some media coverage in Performance Racing Industry magazine last March on Dyno Testing.

for the link to their magazine
Roger Mealy of Racers Resource recently did a video on Data Acquisition for a dirt car using our DataMite logger

for the link to their youtube
-------------------------------------------
6) Last April's Newsletter Here are the topics covered in our previous newsletter. If you would like another copy of April 2015's newsletter (or any previous newsletter) for detail on these topics, visit our website at: Performance Trends Newsletters
As Seen on TV's Motorhead Garage
Software Tools for the Racing Season
Get Ready for Racing With a Data Logger
Last March's Newsletter