Re: Performance Trends Newsletter (updates)

To: Visitors to Performance Trends Website
Subject: Product News/Updates, May 2016
New Shock Dyno Movie
New Compression Ratio Pro Features
Ron Sutton's Suspension Tuning Workshops
New Newsletter Provider
Last February's Newsletter

to visit www.performancetrends.com home page


to visit our facebook page and "like" us.
-------------------------------------------
1) New Shock Dyno Movie We've released a new You Tube movie of the Shock Dyno and it's operation. Hopefully it could answer some questions potential customers could have before purchasing. Check it out at the link below:

for our latest Shock Dyno You Tube movie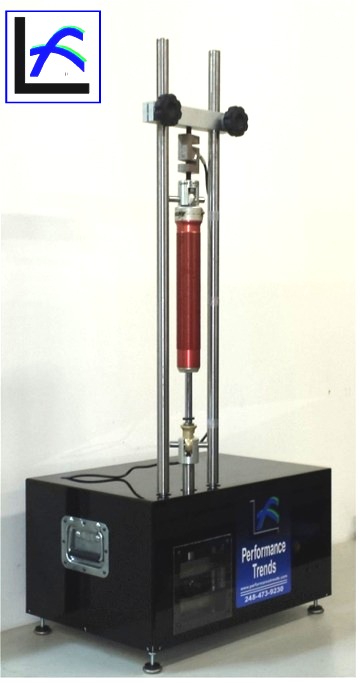 We have several movies on our You Tube channel. Click on the link below to follow us as we make new additions.

for our full You Tube channel
-------------------------------------------
2) New Compression Ratio Pro Features We've added 2 new features to our popular Compression Ratio Calculator Pro.
Being able to calculate Piston Dish CCs based on geometry from a radiused flat bottom dish.
It has an Option setting which allows it to work better with international Regional Settings which use a comma "," for the decimal point instead of the point or period "."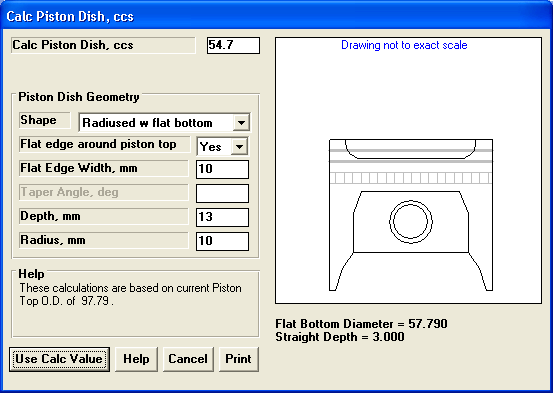 Prior to this, the Compression Ratio Calculator v2.3 Pro's additional features over the Plus version included:
Being able to calculate Piston Dome CCs based on geometry, from either a tapered dome or hemispherical dome.
Being able to calculate Piston Dish CCs based on geometry, from either a tapered dome or hemispherical dome.
Being able to calculate Valve Relief CCs based on geometry (see picture below).
Being able to calculate the change in Combustion Chamber CCs by sinking the valves into the head more, or having them protrude more into the chamber.

click image to enlarge to show Valve Relief Calculator, part of the current Compression Ratio Pro
If you already own the Pro version, this is a free update. If you own the standard Comp Ratio v2.3, it is a $70 upgrade cost; if you own the Plus Comp Ratio v2.3, it is a $40 upgrade cost. Give us a call or send us an email for info on purchasing an upgrade. If you do not own a Comp Ratio program, the Pro is $99.95 and can be purchased at the link below:

for our Compression Ratio Calculator page

to send us an email
-------------------------------------------
3) Ron Sutton's Suspension Tuning Workshops One of Performance Trend's customers, Ron Sutton, is putting on 4 workshops on Suspension Tuning. He also did this last year, with very good attendance and great reviews. This year's topics will be different, so if you attended last year, there will be lots of new information. Topics for 2016 will include Measuring out your Car, How to Optimize your Suspension Settings, Race Winning Shock and Sway Bar Combos, and much more. Ron will have a Chevelle chassis at the workshop for demonstrations.
A huge advantage for Performance Trends' customers is Ron will be using our Suspension Analyzer software for some demonstrations. If you own Suspension Analyzer, you will gets lots of tips on using your software.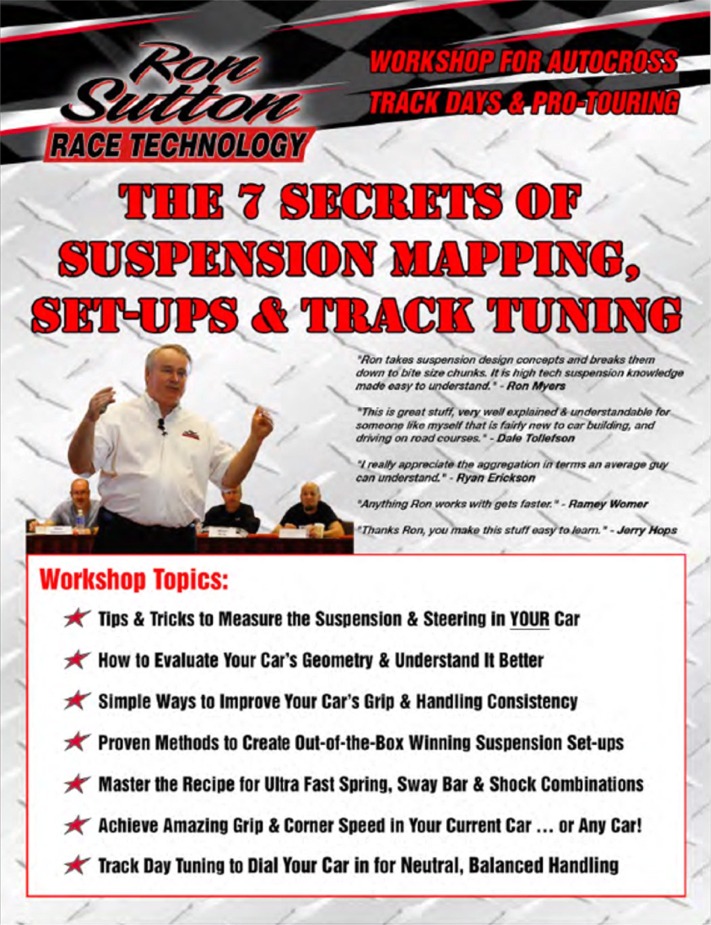 for the full brochure PDF
Performance Trends has purchases 16 tickets for our guests to attend one of Ron's 4 workshops at 4 different locations (4 tickets for each location), a $399 value. Tickets will be awarded at no charge to people who have "liked us" on facebook and own most any Performance Trends product. To enter this drawing, send us a facebook message saying "I want to be in the Ron Sutton drawing and I own xxx Performance Trends product" from our facebook page at the link below:


to visit our facebook page and "like" us.
The drawing for these tickets for the upcoming Columbus OH workshop will be on June 17, so like us on facebook and message us right away if you want to attend Columbus. If you are interested in a later workshop, you can send us a facebook message at a later date. The drawing for the remaining 3 workshops will be in mid July.
As the tickets are awarded, the first people will have a choice of which workshop to attend. The first 4 ticket recipients will have a choice of any workshop, and there will likely be no choice for the last tickets awarded.
Ron Sutton's Workshop Schedule:
Thursday, July 7 in Columbus, Ohio before the Goodguys PPG Nationals

Friday, July 29 in Charlotte, NC before the USCA/Optima Ultimate Street Challenge

Thursday Sept 29 in Fort Worth, Texas before the Goodguys Lone Star Nationals

Wednesday November 2 in Las Vegas, Nevada before the SEMA/OPTIMA Ultimate Street Car Invitational
Note: Performance Trends is not responsible for changes to Ron's schedule or workshops. You must arrange your own transportation and lodging. Also, in accepting a ticket, you are allowing Performance Trends to use your name on our website and/or newsletter as someone who has won one a ticket to the workshops.
-------------------------------------------
4) New Newsletter Provider We've switched to a new newsletter provider. The format is about the same, but the methods of sending, "opting out", and other book-keeping items have changed. If you see something you like or do not like, please let us know. This newsletter and facebook are the fastest way you will find out about new products and updates.
Many times emails from a company (not a personal email account) can end up in your "spam" folder and you will not see it. Be sure to set up your email account to allow in (or whitelist) any performancetrends.com email to stay up-to-date.
-------------------------------------------
5) Last February's Newsletter Here are the topics covered in our previous newsletter. If you would like another copy of February 2016's newsletter (or any previous newsletter) for detail on these topics, visit our website at: Performance Trends Newsletters
EPA Trying to Severely Limit Street Vehicle Modifications
Last January's Newsletter
Performance Trends reserves the right to discontinue, update, or modify its product line and pricing at any time.