Re: Performance Trends Newsletter (updates)

To: Visitors to Performance Trends Website

to visit www.performancetrends.com.

Subject: Product News/Updates, Nov 2012
Engine Analyzer Pro Enterprise Edition Released
We've got Great Christmas Gift Ideas
Face Book Winner
Holiday Schedule through New Years
New Products at Trade Shows
Last October's Newsletter
-------------------------------------------
1) Engine Analyzer Pro Enterprise Edition Released We've released a package of new features for the Engine Analyzer Pro, the Enterprise Edition. Many of these features have already been used by some of our "high tech" customers like Bjorn Dieldok of Norway, a real expert on turbocharging, dyno testing, and engine simulation. Many thanks to our friend, Bjorn.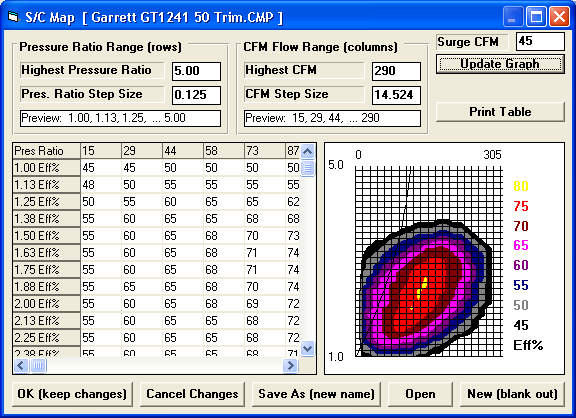 The Some of the Enterprise features include:
| | |
| --- | --- |
| | You can use a full compressor map to define the performance of a turbocharger or centrifugal supercharger compressor. |
| | You can specify a particular turbocharger boost level, intake manifold temperature (after the turbocharger compressor), and exhaust backpressure level. This gives you more freedom to simulate some particular situation which may be difficult to simulate using the turbocharger compressor and turbine model specs in the program. |
| | You can interface to the Compression Ratio Calculator program and transfer data back and forth between them. |
| | You can run a part throttle performance "map". This map can be useful for calibrating electronic engine controllers, or just understanding part throttle performance. |
| | There is a new Preference which lets you choose a different language for certain labels in the program. |
| | Other new Preferences to fine tune or experiment with the calculations. |
Watching Map During Performance Calculations. Each black "dot" represents a condition picked from map.


(click image to enlarge)
Part Throttle Performance simulated at a cross section of RPMs at various MAPS (manifold absolute pressures, similar to intake manifold vacuum)


(click image to enlarge)

to see Enterprise Edition Supplement in PDF format.

for the Engine Analyzer Pro Enterprise Edition for more details.
Note: The Enterprise Edition is completely contained in the Engine Analyzer Pro v3.9 A.054 demo. If you purchased the Enterprise Edition, you receive a different unlock code which unlocks the Enterprise Edition features. For updates and upgrades, you must contact us before purchasing so we can confirm what version you own already: 248-473-9230 or sales@performancetrends.com
You own...
Update for Std Engine Analyzer Pro
Upgrade for Enterprise Edition
Nothing, a new purchase
$469 (pn EAP39C)
$699 (pn EAPE39C)
Engine Analyzer Pro v3.9
na
$230 (pn EAPE39UG)
Engine Analyzer Pro v3.5
$75 (pn EAP39CU)
Update to v3.9, then add
$230 (pn EAPE39UG) ($305 total)
Engine Analyzer Pro v3.3
$110 (pn EAP39CU2)
Update to v3.9, then add
$230 (pn EAPE39UG) ($340 total)
Engine Analyzer Pro v2.1 or 1.1
$250 (pn EAP39CU3)
Update to v3.9, then add
$230 (pn EAPE39UG) ($480 total)
-------------------------------------------
2)

We've got Great Christmas Gift Ideas Many of our products make great Christmas gifts.

For computer programs, most all can be purchased On Line or by calling in your order. Either way, we will give you an activation code to unlock the demo version of the program you can download from our website. This means you can order at the last minute, and still have a gift for that racer on your Christmas list. Popular gift ideas include:
Click on each one above to see what the program does. At the bottom of each page, there is a button to click on to download the demo, or purchase with our Shopping Cart. If you've already got one of our basic versions, maybe you want to add the Plus Version or Pro Version features for a nominal charge.
If you are not sure, you can purchase a Gift Certificate

for any amount $20 or higher. We will refund the difference should you decide to give too much, up to 50% of the original amount. Say you give a $100 gift certificate, and your racer decides on a $79.95 program. We'll refund the $20.05 difference. These can also be emailed at the last minute. Shopping could not be easier, AND you're getting them what they want. Gift Certificates are not available on line, you have to call 248-473-9230 and ask for sales.
For products which require shipping, please order by December 18th to be sure to receive them by Christmas.
If you have any questions, call 248-473-9230. We accept Visa, Mastercard, American Express and Discover.
-------------------------------------------
3) Face Book Winner Garrett Strudler won the free Engine Analyzer v3.4 program on facebook, via random drawing. Congrats to Garrett!
Engine Analyzer v3.4's Main Screen

(click image to enlarge it)
If you've been following us, you have seen some special discount offers on our Drag Racing Analyzer v3.4 and Fuel Economy Calculator v1.1, and now the Engine Analyzer v3.4 give-away.

Click on link below to visit the home page and sign up for our facebook page.

to visit www.performancetrends.com.
-------------------------------------------
4) Holiday and Tradeshow Schedule The holidays and trade shows really slow us down at this time of the year. Here's what we anticipate over the next 2 months:
| | |
| --- | --- |
| Event | Office Schedule |
| Thanksgiving | Closed Nov 22 and 23 |
| PRI Trade Show in Orlando | Reduced staff in office Nov 27 - Nov 30 |
| IMIS Trade Show in Indy | Reduced staff in office Dec 5 - Dec 7 |
| Christmas | Closed Dec 24 - 25 |
| New Years | Closed Dec 31 - Jan 1 |
-------------------------------------------
5) New Products for Trade Shows Like last year, this year we're doing 2 trade shows, the PRI show in Orlando and the IMIS show in Indianapolis. We've got lots of new products and software updates you'll be very interested in, like the Quick Cam Checker pictured below.
Quick Cam Checker


(click image to enlarge)
International Motorsports Industry Show (IMIS) Trade Show Dec 6-8 The IMIS show in Indianapolis, Indiana has a great location, being near the center of the country and within driving distance for many attendees. This year we're in Booth 952. Check out their website at www.imis-indy.com or call 317-429-1004 to register for attending. Click on the following link to show where Performance Trends will be at this year's IMIS show http://imis-indy.com/sales-floor-plan/ Once at the link, pick Performance Trends from the list of exhibitors.
Performance Racing Industry (PRI) Trade Show, Nov 29-Dec 1 This is known as the worlds largest "hardcore" motorsports trade show, the PRI show in Orlando, Florida. We'll be in booth 5178, part of SuperFlow's "Test World". Stop by and see what new things we have for 2013. You must make reservations to attend, so call PRI at 949-499-5413 in California to make them, or visit their website at www.performanceracing.com. Click on the following link to show where Performance Trends will be at this year's PRI show: http://www.mapyourshow.com/shows/index.cfm?Show_ID=pri12&exhid=0002120&booth=5178&hall=B
-------------------------------------------
6) Last October's Newsletter Here are the topics covered in our previous newsletter. If you would like another copy of October 2012's newsletter for detail on these topics, visit our website at: Performance Trends Newsletters
DataMite v4.1 Software Released
Blog Post: Suspension Analyzer fixed Bump Steer Problem
Printing Bugs fixed in Engine Log Book
One of our Face Book followers will WIN!
Trade Shows Coming Up in Indy and Orlando
Last September's Newsletter