Re: Performance Trends Newsletter (updates)

To: Visitors to Performance Trends Website

to visit www.performancetrends.com.

Subject: Product News/Updates, November 2013
We've got Great Christmas Gift Ideas
PRI Trade Show, Indianapolis, Coming in December
Check Out our FAQs (frequently asked questions)
Cam Testing Rotary Encoder Index for LS Cams
New Option for USB FlowComs (tm) on New Computers
Holiday Schedule
Last October's Newsletter
-------------------------------------------
1)

We've got Great Christmas Gift Ideas Many of our products make great Christmas gifts.

For computer programs, most all can be purchased On Line or by calling in your order. Either way, we will give you an activation code to unlock the demo version of the program you can download from our website. This means you can order at the last minute, and still have a gift for that racer on your Christmas list. Popular gift ideas include:
Click on each one above to see what the program does. At the bottom of each page, there is a button to click on to download the demo, or purchase with our Shopping Cart. If you've already got one of our basic versions, maybe you want to add the Plus Version or Pro Version features for a nominal charge.
If you are not sure, you can purchase a Gift Certificate

for any amount $20 or higher. We will refund the difference should you decide to give too much, up to 50% of the original amount. Say you give a $100 gift certificate, and your racer decides on a $79.95 program. We'll refund the $20.05 difference. These can also be emailed at the last minute. Shopping could not be easier, AND you're getting them what they want. Gift Certificates are not available on line, you have to call 248-473-9230 and ask for sales.

For products which require shipping, please order by December 17th to be sure to receive them by Christmas.

If you have any questions, call 248-473-9230. We accept Visa, Mastercard, American Express and Discover.

-------------------------------------------

2) PRI Trade Show, Indianapolis, Coming in December We're also exhibiting at the Best and Biggest racing products trade show in the world, the Performance Racing Industry trade show, now back in Indianapolis. We're in booth 5512, and the dates are Dec 12-14. Be sure to register to attend ahead of time.


to visit the PRI Trade Show home page for more info and to arrange to attend the show.

-------------------------------------------

3) Check Out our FAQs (frequently asked questions) We get dozens of questions each week from users about the features of our products. When we've heard the same question several times, we assume many users have the same question. For these, we write up a thorough explanation and put them on our FAQ page. There are over 100 detailed answers to common questions on this page. Even if you think you know the program you are using, you might find about some other feature which could be helpful. Questions include:

Engine Analyzer: Why is there a dip in the torque and HP curve at 3500 RPM?

Cam Analyzer: Can I figure out how much to reduce the base circle for regrinding an existing cam for larger lobes and lobe separation?

Drag Race Analyzer: How do I import Drag Race DataMite data into my Drag Race Pro 'Team Engineer' simulation program?

Dyno DataMite: What are the advantages and disadvantages of an inertia dyno compared to a water brake?

to visit our FAQ page for these and more questions answered.

-------------------------------------------

4) Cam Testing Rotary Encoder Index for LS Cams We've released a new, larger diameter rotary encoder index for the LS cams, part number CTS-LSRI. The LS cams have a larger hole in the end than our standard .50" index. The new index is .750 inch diameter and works well at centering the rotary encoder in cams with larger holes in the end.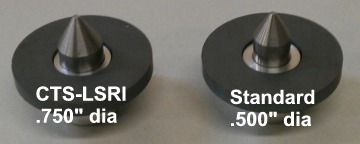 -------------------------------------------

5) New Option for USB FlowComs (tm) on New Computers We've released a new, minor revision to the Port Flow Analyzer v3.5B, our flow bench data logging and analysis program. It is using a new method of communicating to SuperFlow's USB FlowCom via the USB cable. Prior to this, we had to go through a USB-Serial adapter for communication if you had a 64 bit computer (typical of Vista, Windows 7 and Windows 8).

(click image to enlarge)
You need Port Flow v3.5 B.018 or newer to have this feature. Click on Help (at the top of the main screen), and then select About Port Flow Analyzer to display the complete version number or your Port Flow Analyzer, written in blue.
If you already have v3.5 B but earlier then v3.5 B.018, you can install the latest from our website directly over your current version for free. When asked during the installation, select to do a Refresh installation instead of a Complete (typical) installation.
If you own v3.5 A or earlier, you will need to purchase an update, prices starting at $50.

to visit our Port Flow Analyzer page for more details on this program.

-------------------------------------------

6) Holiday Schedule We'll be closed Dec 24 and 25 for Christmas, and Dec 31 and Jan 1 for New Years holidays. If you are ordering for Christmas gifts, be sure to get your orders in by Dec 17 to ensure you get them by Dec 24.

-------------------------------------------

7) Last October's Newsletter Here are the topics covered in our previous newsletter. If you would like another copy of October 2013's newsletter for detail on these topics, visit our website at: Performance Trends Newsletters
Drag Race Pro - New Features
PRI Trade Show, Indianapolis, Coming in December
New Inexpensive Optical RPM Sensor
TDK Motorsports Website
Last September's Newsletter