Re: Performance Trends Newsletter (updates)

To: Visitors to Performance Trends Website
Subject: Product News/Updates, October 2016
Power Tech Spring Tester Retrofit Kits
New Video Showing Spring Tester Calibration
PRI Show Coming
Christmas is Coming
Many New FAQ Answers on our Website
Engine Analyzer Pro v3.9 B, More Head Files
Last September's Newsletter

to visit our www.performancetrends.com home page

to visit our

facebook page and "like" us.
-------------------------------------------
1) Power Tech Spring Tester Retrofit Kits Several customers have contacted up regarding their Power Tech Valve Spring Tester. Our info is they are out of business, so there is no longer any support for their software, electronics, or hardware. If you can wire up and calibrate the length sensor and load cell, you can switch over to our electronics and software for as little as $499, or $599 with the popular Plus version of our software.
Or, if you can send in your Power Tech (and even your laptop), we can do everything (install connectors, calibrate the load cell and length sensor, install and unlock software, etc) for an additional charge. Then you would receive back your valve spring tester and computer, ready to start testing.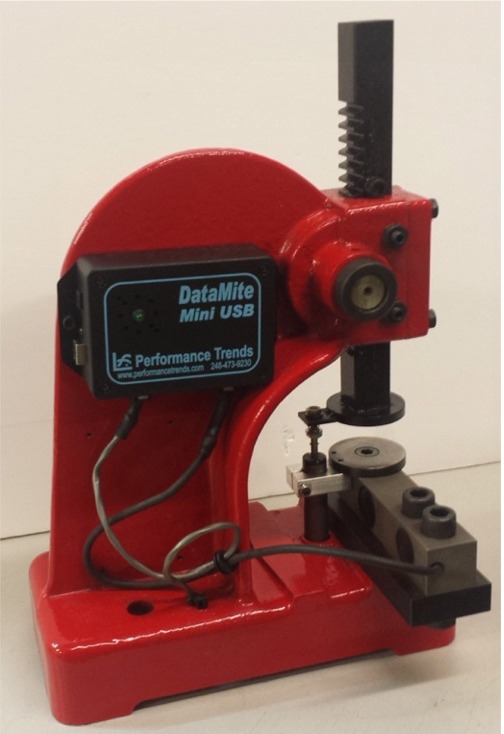 to visit Power Tech Retrofit Kit page for more details.

to send us an email requesting info on our Power Tech Retrofit Kit.
-------------------------------------------
2) New Video Showing Spring Tester Calibration We've made a Video showing how to calibrate the length sensor on a valve spring tester. This was made specifically because of the interest customers had in installing the Power Tech Retrofit Kit themselves and then doing the calibration.

to play our Spring Tester Calibration Video.

for a listing of all our instructional Videos.
-------------------------------------------
3) PRI Trade Show, Indianapolis, Coming in December We're exhibiting at the Best and Biggest racing products trade show in the world, the Performance Racing Industry trade show in Indianapolis, Dec 8-10. We're in the same location as last year, booth # 134, so check their website floor plan, and be sure to register to attend ahead of time.


to find us on the PRI Trade Show floor.

to visit the PRI Trade Show home page for more info and to arrange to attend the show.
-------------------------------------------
4) Christmas is Coming Just a reminder that Christmas will be here in less than 2 months. If you've been thinking of getting one of our products, put it on your Christmas list.

Maybe Santa will be extra good to you this year (as long as you've been nice

).
-------------------------------------------
5) Many New FAQ Answers on our Website We've added answers to several new Frequently Asked Questions various customers have asked over the past few months. Even if you don't have a particular question, the FAQ page is a wealth of knowledge about all our products. Many times it will show details on the most recent features of a product that are not contained in the User's Manual. We really recommend you take a look.

My Flow Bench readings seem erratic or inaccurate, even based on my manometer readings. How can I troubleshoot this?

When I graph the Jerk for a profile, it just seems to be a bunch of jumpy lines. Why?

click image to enlarge for a definition of "jerk"

Can the Quick Cam Checker create a cam file to be read by Engine Analyzer Pro or other Performance Trends software?

click image to enlarge for example of Quick Cam Checker data

After testing my valve springs, can the software tell me the required install height to produce a certain seated force?

Why does the (Engine Analyzer) program show air flow of 600 CFM, but the carb CFM rating is 850 CFM?

My Suspension is not exactly one of the choices available in the Suspension Analyzer. How can I simulate it?

click image to enlarge

to visit our FAQ page with answers to all our Frequently Asked Questions.
-------------------------------------------
6) Engine Analyzer Pro v3.9 B, More Head Files We've added about 40 more example head files to our Engine Analyzer Pro v3.9B. These files are part of a free update to those who own v3.9 B, which was released in August 2016. There has also been a couple of minor bug fixes. The latest version is now v3.9 B.013.

for the latest readme.doc file discussing these updates
To obtain the update, install the latest version from the link below right over the top of your existing version:

for the latest installer
This is not critical, but when asked, select to do a Refresh installation instead of a Complete (typical) installation. Once finished, click on Help (at the top of the main screen), and then select About... The new version number (written in blue) should now be 3.9 B.013.
For those of you who missed last month's newsletter, we talked about how
we'
ve been working a long time on one of our most popular programs, the Engine Analyzer Pro. It is now up to v3.9 B for both the standard Pro and more advanced Enterprise Edition.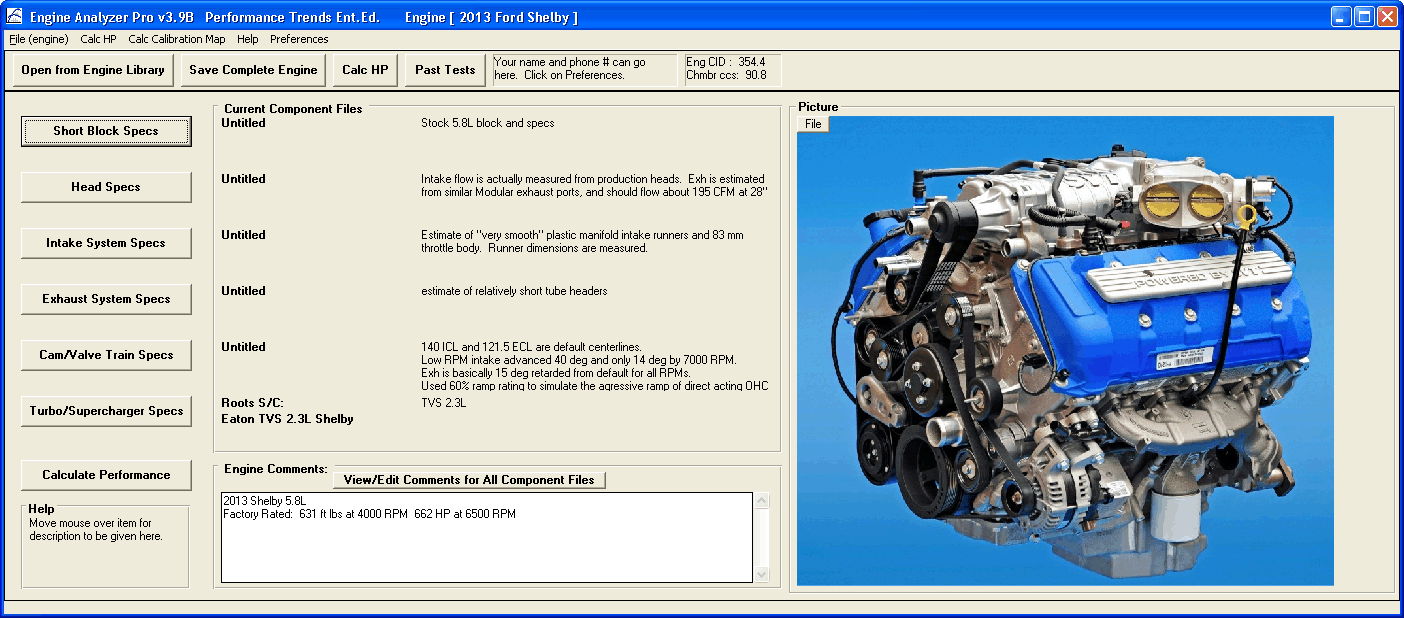 click image to enlarge valve lift graph in Cam Specs screen.

click image to enlarge it to show "ramping" (gradual changing) variable valve timing V.V.T.
Major enhancements to Engine Analyzer Pro v3.9 B include:
New choices for Roots Superchargers of "Modern" and "Modern 2010+" to more accurately simulate the superchargers on modern muscle cars.
New inputs like Direct Injection and Compression to Bind for the valve springs.
Valve Lift profiles are now graphed on the Cam Specs screen allowing instantly spotting changes and errors.
Many new example engine and component files.
Many new emailing options which works better with modern email services to automatically email reports, graphs, and data files to other computers.
Many new features for including company logo graphics images and engine picture files on the screen and in printouts.
Variable Valve Timing now allows for a "ramp" (gradual) change over an RPM range.
Many new options for exporting ASCII data files, including emailing these files in various formats.
New inputs like Direct Injection and Compression to Bind for the valve springs.
Major enhancements to Engine Analyzer Pro Enterprise Edition v3.9 B include:
Includes Valve Spring Details to simulate valve spring dynamics.
Can read Spring Wiz files into the Valve Spring Details screen.
Can import a centrifugal supercharger or turbo compressor map .jpg file to make it easier to translate the data from the .jpg file into the compressor table.
Has enhanced features for editing or modifying the centrifugal supercharger or turbo compressor data table.


click image to show input screen for Valve Spring Dynamics

click image to show graphing valve spring dynamics

for a PDF file of the User's Manual. All these new features are discussed in detail starting on page 277.

to visit our Engine Analyzer Pro page discussing all the program's details.

to visit our Engine Analyzer Pro Enterprise Edition page discussing all the program's details.
If you own the current v3.9 A, this is a $95 update. If you own v3.9 A Enterprise Edition, this is a $150 update charge. If you own Engine Analyzer Pro v3.5, this is a $200 update, and if you own and Engine Analyzer Pro v3.3 or earlier, this is a $300 update. You can not purchase an update on the website, but must contact us directly.

to send us an email requesting info on updating to v3.9B from an earlier version.
-------------------------------------------
7) Last September's Newsletter Here are the topics covered in our previous newsletter. If you would like another copy of September 2016's newsletter (or any previous newsletter) for detail on these topics, visit our website at: Performance Trends Newsletters
Engine Analyzer Pro v3.9 B Bug Fixes
PRI Show Coming
Sign Petition Allowing Street Vehicles to be Modified into Race Cars
Last August's Newsletter
Performance Trends reserves the right to discontinue, update, or modify its product line and pricing at any time.