Re: Performance Trends Newsletter (updates)

To: Visitors to Performance Trends Website

Subject: Product News/Updates, Sept 2008
Dyno DataMite v3.7 Released
Performance Racing Industry (PRI) Trade Show, Dec 11-13
Darin Morgan's Head Design Seminar
New Website Feature, the Funny Farm (humor)
Weekly Blog
Last August's Newsletter
-------------------------------------------
1) Dyno DataMite v3.7 Released Well, we've released a major update to our new Dyno DataMite, version 3.7.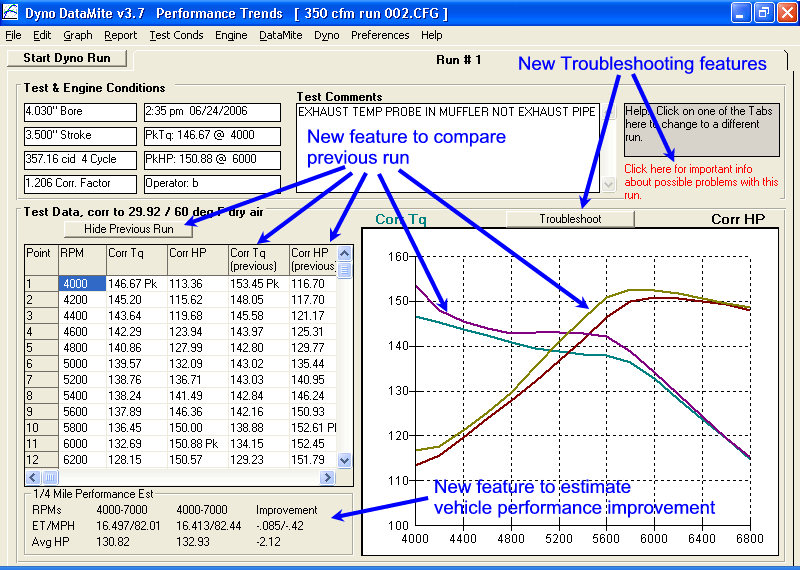 Some of its new features include:
| | |
| --- | --- |
| | Full compatibility with our new DataMite III USB and DataMite Mini USB |
| | Full metric units in Pro version. |
| | Allow for comparing the previous run with the current run on the main screen in Pro version. This makes for quick checks to ensure your dyno runs are repeating as they should. |
| | One click backup and restore features |
| | Emailing features in Pro version. |
| | New troubleshooting features |
| | Allow for making vehicle performance estimates based on measured power curves in Pro version. |
| | Automated coastdown tests for determining inertia dyno inertia Friction Losses in Pro version. |
| | Allow for correcting for engine and dyno inertia effects for water brake dynos in Pro version. |
| | Many more. |
Click on this link for detailed info on all the new features for version 3.7 http://performancetrends.com/PDFs/Dyno-DataMite-V37-Supplement.pdf
Click here for the latest Readme.doc file listing ALL changes in more detail
Click here for info on our Dyno DataMite v3.7 software: http://performancetrends.com/dtm-dyno.htm
Cost to update is $100 for the Pro version, $75 for the Basic version. You can try out the new program for 10 days without damaging your existing v2.0 or v3.2 installation, because it installs to a different default location. DO NOT try to force it to install over your existing DataMite program.
-------------------------------------------

2) Performance Racing Industry (PRI) Trade Show, Dec 11-13 It's not too early to start thinking about attending the worlds largest "hardcore" motorsports trade show, the PRI show in Orlando, Florida. This is the only trade show we attend because it's the biggest and best. We'll be in booths 5580, 5582, 5584, part of SuperFlow's "Test World". Stop by and see what new things we have for 2008. You must make reservations to attend, so call PRI at 949-499-5413 in California to make them.

-------------------------------------------
3) Darin Morgan's Head Design Seminar Darin Morgan (noted Head porter and designer, formerly of Reher Morrison), has his own head development company in partnership with Profiler Performance Products now: Darin Morgan Cylinder Heads. He's doing a 2 day seminar on Nov 15 and 16, covering all aspects of head, port and combustion chamber design, porting, flow testing, wet flow, theory and Engine Simulation, and much more. Click on these links for more information: www.darinmorgan.com www.profilerperformance.com or email Darin by clicking on this link: cylinderheadschool@profilerperformance.com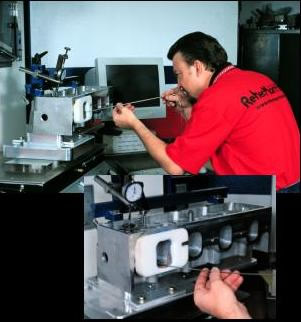 -------------------------------------------
4) New Website Feature, the Funny Farm (humor) Sometimes you need a good laugh, especially when that "#$@&*" computer won't work. When you are ready for the men in white coats to take you away, check out our new page under "Support" called the "Funny Farm". It's got short movie clips, pictures, and just some simple jokes and "down home wisdom" you'll enjoy. If you got something you want to share, there's a link to email it to us. Click here to visit the Funny Farm.
Redneck Smoke Alarm


click on image to enlarge it.
-------------------------------------------
5) Weekly Blog We're continuing to do the weekly blog.
Click here to visit the Blog's main page.
Click on the following links to view some recent topics of conversation:
Torque vs HP, Which is More Important
When a Pound weighs more than a Pound (about Rotating Inertia effects on vehicle performance)
-------------------------------------------
6) Last August's Newsletter Here are the topics covered in our previous newsletter. If you would like another copy of August 2007's newsletter for detail on these topics, visit our website at: http://www.performancetrends.com/news.htm#newsletters
New Produce Released, Weather Wiz v1.1
Dyno DataMite v3.7 Update Coming
Check out our Weekly Blog
Looking for Pics of your Car for our Website
Recent Media Coverage
Last June's Newsletter