Re: Performance Trends Newsletter (updates)

To: Visitors to Performance Trends Website
Subject: Product News/Updates, Sept 2015
Another Engine Log Book 'Plus' Feature Released
Weather Wiz now does Mechanical Fuel Injection
Updated Shock Dyno Movies
PRI Trade Show, Indianapolis, Coming in December
Ron Sutton's Suspension Tuning Workshops
Last August's Newsletter


to visit our facebook page and "like" us.
-------------------------------------------
1) Another Engine Log Book 'Plus' Feature Released Last month we release a Plus version of our Engine Build Log Book . This month we've added another feature to the Plus version, where the graphs of Bore Thickness and Bore Diameters can include the number data also. The 'Plus' features now include:
Adding picture files to your data files for saving and printing.
Allow editing of data with drop down lists of options.
Allow saving and opening of customer info, which can repeat often for different records.
Including data numbers on the Bore Thickness and Bore Diameter graphs.

(click image to enlarge showing Bore Thickness Graph with Number labels)

for more details on the standard and Plus versions of Engine Log Book.
If you already own the standard version of Engine Log Book, this is a $100 "add on".
-------------------------------------------
2) Weather Wiz now does Mechanical Fuel Injection Our Weather Wiz software has many features not found in other weather station/jet tuning software. Now we've added the ability to predict pill size adjustments for mechanical fuel injection. Not only will it predict a pill size change, it lets you see the fuel pressure change, A/F change, effect of changing nozzle sizes, and more.

Click image to show Mechanical Fuel Injection showing A/F change when not changing nozzles or pill.

Click image to show Mechanical Fuel Injection with almost no A/F change after changing nozzles and pill. You could have selected to just change pill size, which is what most tuners would do. Also, if you entered the exact pill size suggested, the A/F change would have been 0%, no change in A/F.

for more details on the Weather Wiz.
If you already own the Weather Wiz, this is a free update.

to install the latest version directly over the top of your existing version to update. This is not critical, but when asked, select to do a Refresh installation instead of a Complete (typical) installation.
-------------------------------------------
3) Updated Shock Dyno Movies We've updated some of the movies for our shock dyno. Some movies show some minor assembly when you first receive the dyno, and some describe the dyno's operation.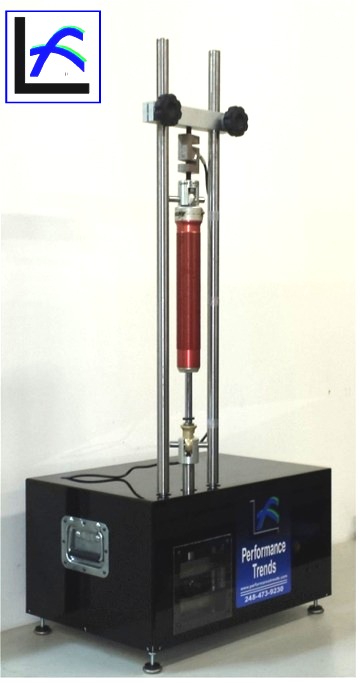 If you've been thinking about getting a shock dyno, but prefer to spread out the payments,

to send an email to Marlin Financing for info on leasing arrangements. Prices start at $3999.

for these Shock Dyno movies.

for more info on our Shock Dyno.
-------------------------------------------
4) Facebook Drawing for Ron Sutton's Suspension Tuning Workshops Only 1 of Ron's workshops left, Nov 5 in Las Vegas, NV. Topics will include Suspension and Steering Geometry, Shock Valving, Balanced Handling, Aerodynamics, and more.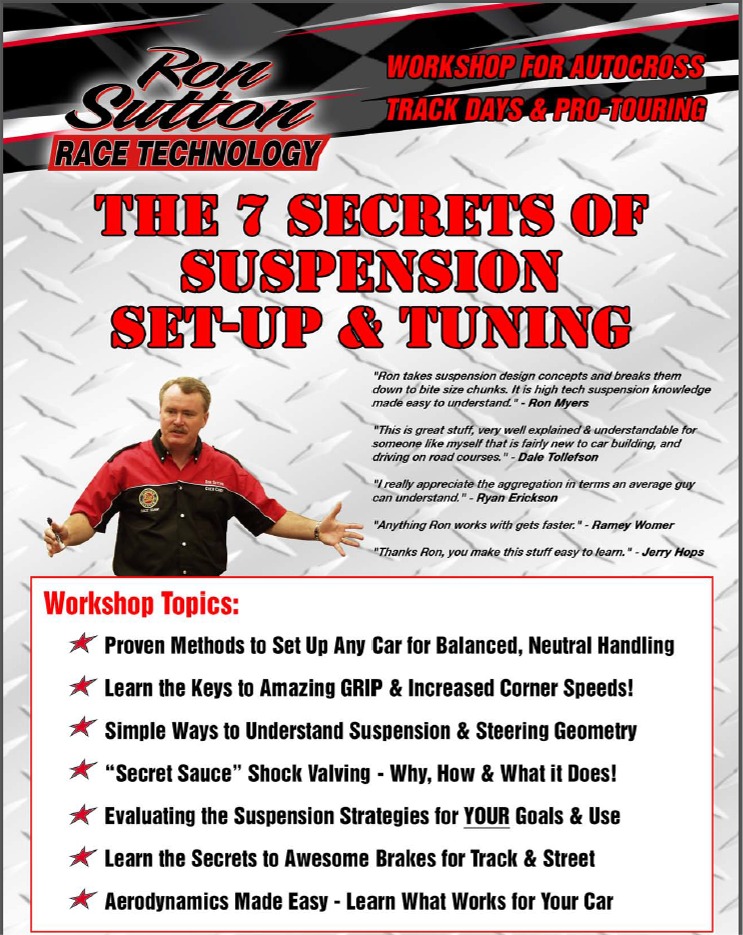 for the full brochure PDF
We've purchased tickets for our guests to attend one of Ron's workshops, a $349 value. One ticket will be given to someone who has "liked us" on facebook and owns most any Performance Trends product. (One ticket has been awarded already in a previous drawing.) To enter this contest, send us a facebook message saying "I want to be in the Ron Sutton drawing and I own xxx Performance Trends product" from our facebook page at the link below:


to visit our facebook page and "like" us.
The October 12 drawing is to attend November 5 workshop in Las Vegas before OPTIMA Ultimate Street Car Invitational. The drawing for this 1 remaining "facebook" ticket will be on October 12, so like us on facebook and message us right away.
Note: Performance Trends is not responsible for changes to Ron's schedule or workshops. You must arrange your own transportation and lodging. Also, in accepting a free ticket, you are allowing Performance Trends to use your name on our website and/or newsletter as someone who has won one a ticket the workshops.
-------------------------------------------
5) PRI Trade Show, Indianapolis, Coming in December We're exhibiting at the Best and Biggest racing products trade show in the world, the Performance Racing Industry trade show in Indianapolis, Dec 10-12. We're in nearly the same location as last year, but in a double booth # 134, so check their website floor plan, and be sure to register to attend ahead of time.


to find us on the PRI Trade Show floor.

to visit the PRI Trade Show home page for more info and to arrange to attend the show.
-------------------------------------------
6) Last August's Newsletter Here are the topics covered in our previous newsletter. If you would like another copy of August 2015's newsletter (or any previous newsletter) for detail on these topics, visit our website at: Performance Trends Newsletters
New Engine Log Book 'Plus' Version Released
Port Flow Software Enhancements for Automatic Valve Opener
More FAQs Answers Added
Last July's Newsletter