Re: Performance Trends Newsletter (updates)

To: Visitors to Performance Trends Website
Subject: Product News/Updates, May 2017
New Lift Sensor Mount for Quick Cam Checker
New Tach Signal Input for Blowby Recorder
New Movies
New FAQs
Last April's Newsletter

to visit our www.performancetrends.com home page or call 248-473-9230

to visit our

facebook page and "like" us.
-------------------------------------------
1) New Lift Sensor Mount for Quick Cam Checker We've never been satisfied with the lift sensor mounts we've been using on our Quick Cam Checkers. Well, we've developed a new mounting bracket with several new improvements:
More compact. Cable extends out the top instead of out the side.
More rugged. Wires and terminals are now protected from breakage and bending.
Cleaner installation. The picture below shows just how much better the new mounts look.

click image to enlarge
These are now standard on the Quick Cam Checkers. If you want to send back your Quick Cam Checker and have your sensors remounted, the cost is $150 for both sensors.

for more info on the Quick Cam Checker.

to send us an email if you have questions on updating your sensor brackets.
-------------------------------------------
2) New Tach Signal Input for Blowby Recorder We've developed a cable to use a tach signal for the RPM input for our Blowby Recorder. The advantage of using a tach signal, is no other modifications to the motor are required. There is no need for brackets, magnets, reflective tape, etc. Shown below are the 4 methods of recording Engine RPM with the Blowby measurements. The tach signal method is the one farthest to the right, part number DMC-BLRT.
Blowby Recorder Harness for RPM Input Magnetic RPM Sensor for Blowby Recorder Reflective RPM Sensor for Blowby Recorder DT3-RPMR 12 volt Tach Signal RPM Input DMC-BLRT


click image to enlarge

click image to enlarge

click image to enlarge

click image to enlarge
The picture below shows Blowby recorded with RPM on 3 Consecutive DTS Dyno Runs (one large segment) on 331 cid Ford. You can see how handy it is to have RPM recorded with RPM so you know what the engine was doing when it was producing a certain amount of Blowby.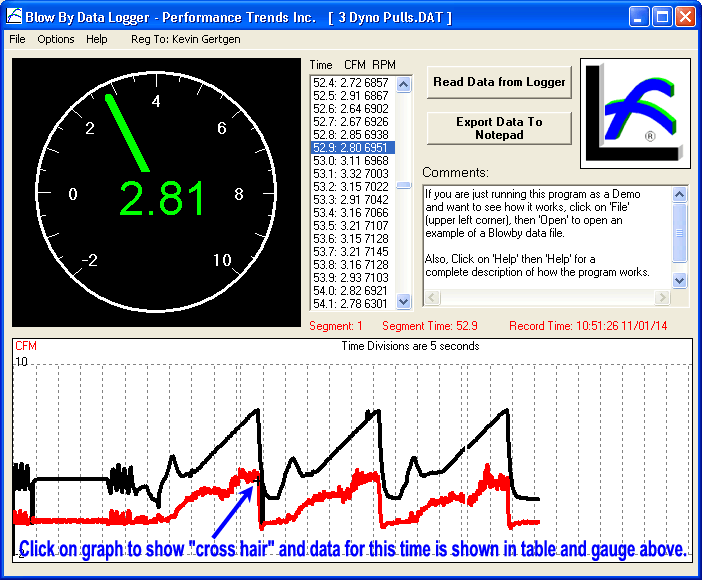 to review all the information on our Blowby Sensor and Recorder.
-------------------------------------------
3) New Movies We've published several new movies, helping to illustrate the features of our products and how to use our products. We're also publishing them on youtube. Youtube can be helpful because most any browser. Occasionally some browsers will have problems with a particular movie file format if you try to view them from our website. The advantage of checking our website first is we have more of a text description of each movie. This way you can find the movie describing what you need more quickly.

click image to enlarge

for new Spring Wiz movies.

click image to enlarge

for new Drag Race Practice Tree movies.

click image to enlarge

for new movie showing how to troubleshoot the Inductive Pickup for engine RPM on our DataMite Loggers.
-------------------------------------------
4) New FAQs Like just about every month, we publish more answers to FAQs (frequently asked questions). Our FAQ page is a wealth of information, even for products you may not own. Now only do we talk about the products, we talk about the theory, physics and chemistry behind our products, and engine building and vehicle dynamics in general. New for this month include:

I'm getting erratic Engine RPM readings. What can I do? (now includes topic of "Dithering RPM")

The torque and HP will peak at different RPMs depending on if I measure or calculate the engine RPM on my chassis dyno. Why?

When running my dyno, the computer will sometimes lock up and I have to restart it. How can I troubleshoot?

for the full Frequently Asked Questions FAQ page
-------------------------------------------
5) Last April's Newsletter Here are the topics covered in our previous newsletter. If you would like another copy of April 2017's newsletter (or any previous newsletter) for detail on these topics, visit our website at: Performance Trends Newsletters
Suspension Analyzer v2.4 B Released
Shock Dyno - Big Force Testing
Last March's Newsletter
Performance Trends reserves the right to discontinue, update, or modify its product line and pricing at any time.