Re: Performance Trends Newsletter (updates)

To: Visitors to Performance Trends Website

Subject: Product News/Updates, January 2012
Blowby Recorder
Transmission Gear Plus Refinements
Recent Media Coverage
Last December's Newsletter
-------------------------------------------
1) Blowby Recorder We're releasing a new option for our Blowby Meter, the Blowby Recorder. This hand held device lets you display the blowby as either CFM (cubic feed per minute) or LPS (liters/second) without need of a data logger. You can also record blowby for as little as a few seconds or for up to several hours. And then you can download the data to the free Blowby Analyzer software for graphing, printing, saving, etc.
Blowby Recorder's Main Screen Display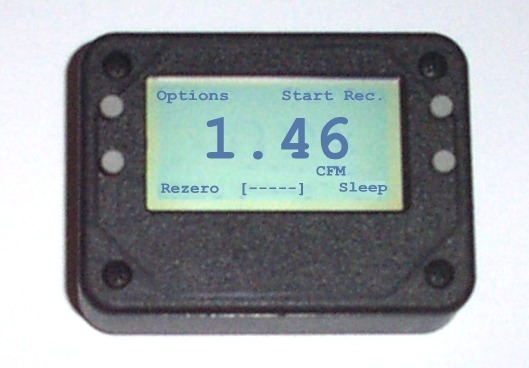 Main features include:
| | |
| --- | --- |
| | User selectable averaging time, from None (meaning 0.1 second readings to catch fast changes) up to 5 seconds for good average readings and long recording times. |
| | Recorder Options of Start and Stop recording, erasing data, and playback on the recorder. |
| | Free software lets you send recorded data to your PC for graphing, printing, saving, adding comments, and opening old data files (Win 98, XP, Vista, Win 7). |
| | Display blowby readings as either CFM (cubic feed per minute) or LPS (liters/second). |
| | Option to provide a linearized 0-5 volt DC output signal for easier recording by third party data loggers, for example a dyno system or vehicle data logger. |
| | Lithium Ion battery for long life and charging via USB cable to PC. |
| | Advanced Calibration factors let you fine tune your blowby meter's calibration. |
| | Priced at $249 if you are adding it to our Blowby Meter with a new purchase. If you are retrofitting an older Performance Trends blowby meter and you send back your old meter, cost is $279. |
FREE Blowby Data Logger Software


(click to enlarge)

for more details on our Blowby meter and Recorder.
-------------------------------------------
2) Transmission Gear Plus Refinements One user reported a couple bugs in the Plus version of our Transmission Gear Calculator. The Transmission Gear Calculator lets you calculate engine RPM for most any MPH or MPH for most any RPM, and compare 2 different combinations. Options let you save, open and print the results. In addition, the Shift Analysis screen lets you see how various combinations of gear ratios "stack up" or even let the computer pick when your shift RPMs based on engine dyno curves or curves from one of our Engine Analyzer computer programs.
Transmission Gear Calculator Main Screen


(click to enlarge)
The bugs found did not affect the calculations, just some confusion on making and printing graphs, fixed some graphing features which were not working correctly, and improved the appearance of the printed graphs, etc. If you own the Plus version, click on Help at the top of the main screen, then About Trans Gear Calculator. Make sure your version says 2.0 B.009. If it is older than this, download the latest version by reinstalling the complete program from this link: Transmission Gear Calculator If you have not purchased the Plus version, there is no significant reason to update to 2.0 B.009.
Just to refresh your memory, the Plus version adds the following features:
| | |
| --- | --- |
| | You can print the Main Screen and the Shift Analysis screen on 1 page. This is done by clicking on Print at the top of the Shift Analysis screen and selecting the Print with Main Screen option. |
| | The Graphs are higher resolution and have many more features for scaling, formatting, printing and using 'Cursors' to pin-point certain values. |
| | If the Shift Analysis screen you can select to graph the shift schedules or an added shift type of Tractive Force vs MPH. |
| | You have an option in the Engine Power Curve screen of Load from Engine Analyzer, allowing you to send a power curve from one of our latest Engine Analyzer programs to this program for automatic loading. |
| | You can right click on the Tire inputs, "Final Drive Ratio" or "Trans" and be presented with options to Save the current settings to a Component Library, or Open a set of saved component specs. |
| | You have addition inputs of "Vehicle has 'Secondary' Ratio" and the actual "Secondary Ratio" inputs. A "Secondary Ratio" includes things like a Primary Gear Reduction between the engine and transmission in a motorcycle or transfer case in a four wheel drive vehicle (4x4, 4WD or AWD). |
Tractive Force Graph (Plus Version only)


(click to enlarge)
The Plus Version is $99.95 compared to the standard version's $49.95, a $50 price difference. If you already own the Transmission Gear Calculator, you can add the Plus features for $50.

to review all the updates for the Transmission Gear Calculator from the program's Readme.doc file

for more information on our Transmission Gear Calculator

to download the free demo of our Transmission Gear Calculator
Important: After you download and install the demo, you can unlock this latest version yourself. Just be sure to use exactly the same Registered Name when you install this new version and then the same unlock number will unlock the update. You can view your Reg Name by clicking on Reg To: at the top of the main screen on your current version, before you download and install the new version.
If you want to upgrade to the Plus version, call with your credit card and get your additional Unlock Code to add the Plus features. You will click on File, then Unlock Plus Features to enter this code.
-------------------------------------------
3) Recent Media Coverage The December issue of Speedway Illustrated featured a story on our Circle Track Analyzer called "A Program for Your Program". It was on pages 56-58 and made the point that even the smallest race team can fine tune their setup using computer simulations. The article showed how you could first get the program to match your vehicle's lap times, and then pick an optimum gear ratio for a new track.

for more information on our Circle Track Analyzer
Virtual Scales Screen (ballast, jacking, etc)


(click to enlarge)
On Track Vehicle Dynamics and Lap Time Simulation


(click to enlarge)
-------------------------------------------
4) Last December's Newsletter Here are the topics covered in our previous newsletter. If you would like another copy of December 2011's newsletter for detail on these topics, visit our website at: Performance Trends Newsletters
| | |
| --- | --- |
| | IMIS and PRI Trade Show Recap |
| | We've got Great Christmas Gift Ideas |
| | Our Holiday Schedule |
| | Last November's Newsletter |