Re: Performance Trends Newsletter (updates)

To: Visitors to Performance Trends Website www.performancetrends.com

Subject: Product News/Updates, June 2011

Circle Track Log Book, New Lap Times Features
New Manual Valve Opener for Flow Bench
Last May's Newsletter
-------------------------------------------
1) Circle Track Log Book, New Lap Times Features We've just added a powerful feature to our popular Circle Track Log Book to record and analyze individual lap times. It also lets you communicate with our computerized stop watch program, our Lap Segment Timer.
click image to enlarge it

click image to enlarge it

to download a FREE Circle Track Log Book v1.1 Demo.

to view a PDF describing these Lap Time features in detail.
This is a FREE update to anyone who has purchased the Circle Track Log Book program. You can update by installing the demo right over the top of your current program. This is not critical, but when asked, select to do a Refresh installation instead of a Complete (typical) installation.
To communicate with our Lap Segment Timer, you need at least v1.1 A.004 or newer, which would be a free update if you own the program. If you don't own this program, it can be purchased for $79.95.
-------------------------------------------
2) New Manual Valve Opener for Flow Bench We've developed an affordable Manual Valve Opener for your flow bench testing. This is a lower cost alternative to our computerized Automatic Valve Opener.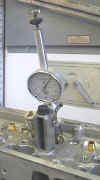 click image to enlarge it

to review the details about this manual opener.
-------------------------------------------
3) Last May's Newsletter Here are the topics covered in our previous newsletter. If you would like another copy of May 2011's newsletter for detail on these topics, visit our website at: http://www.performancetrends.com/news.htm#newsletters
Drag Racing Analyzer v3.4 Released
Valve Spring Tester Updates
Last March's Newsletter
Click on this link for our home page to view all our products: www.performancetrends.com